Video Codec: AVC/MPEG-4
Resolution: 1080p/24
Audio Codec: Chinese DTS-HD Master Audio 5.1, Chinese Dolby 2.0

Subtitles: English
Region: ABC
Discs: 1
Classification: 15
Studio: Metrodome
Blu-ray Disc Release Date: May 5, 2008
List Price: £24.99
 

[amazon-product align="right" region="uk" tracking_id="bluraydefinit-21"]B0015DLZXM[/amazon-product]



Shop with us for more Blu-ray
titles at Amazon.co.uk

Overall

The Film

Video Quality

Audio Quality

Supplemental Materials


Click thumbnails for high-resolution 1920X1080p screen captures
More Screen Captures (20 Total)
(Screen captures are lightly compressed with lossy JPEG and thus are meant as a general representation of the content and do not fully reveal the capabilities of the Blu-ray format)
The Film

Director Xiaogang Feng's Assembly is a slick and visceral look at the Chinese civil war split into two halves. A character study that questions heroism and duty, Assembly may falter and drift on too long at times, but it is a watchable if not completely rewarding film. Act I follows Captain Gu Zidi (Hanyu Zhang) as he fights for the People's Liberation Army with his regiment of 46 soldiers. After a bloody and hard fought battle against a group of Nationalist Kuomintang, Gu Zidi commits a war crime that gets him thrown in a cell for three days then sent off to an isolated front with his men on a suicide mission to defend a mine on the Wen river until they hear the bugle call to assembly. Another series of fierce, bloody battles ensue, with limbs flying, bullets piercing through the air and skulls grenades and whatever weapons are on hand being used to fight. But only the captain in left standing and the call to assembly never comes.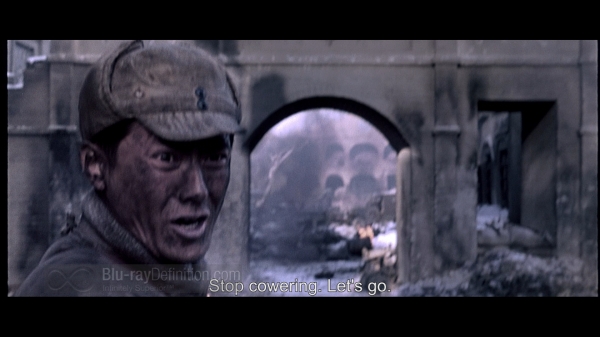 Afterward, Gu Zidi realizes that his men and their brave stand at that mine have been all but forgotten. They have been listed as Missing in Action, and their families shortchanged of rations after the war. After a brief stint in the Korean War, Gu Zidi sets out to find his old regiment and force the government to honor them as war martyrs.
After the adrenalin filled first half of Assembly, the second half seems like a let down and a bit of a contrivance. Gu Zidi goes from carefully eluding explosives to making his way through the red tape of bureaucracy. The timeline also begins to breakdown as the film leaps over years in the blink of an eye, without even a thought.  It feels like the Chinese version of Flags of Our Fathers, but with the back-stories taken out. There is a powerful character study waiting to get out in Assembly, but the characters that we are introduced to in the beginning are killed off by the end of the first hour and never referenced again, so that when we see Gu Zidi digging through the rubble of the old minefield where that fateful battle was fought years later searching for the remains of his dead comrades, we have already lost site of the humanity of what is driving him and it all seems so robotic.
One cannot argue against Xiaogang Feng's talent behind the camera, however. His vision capturing the epic battles and the slower-paced life of Gu Zidi after the war make the film feel more organic and touchable. The de-saturated look, the quick-paced edits and fast imagery put the viewers in the action, but the ending still disappoints. Assembly is more promising than fulfilling. A more fully-realized second half would have lifted this film into epic status, but instead it is only an average tale of a war hero struggling to come to terms with life after the bombs, and those stories are a dime a dozen.
Video Quality

Assembly has a purposely de-saturated color palette and gritty, textured grain structure, so it won't necessarily pop on your screen, but the AVC/MPEG-4 encoding of its 2.35:1 framing from Metrodome is presented solidly on this Blu-ray Disc release. It retains a film-like quality and there are no compression artifacts present. The image is unsullied by post-processing issues such as edge enhancement or excessive DNR and HD-DVNR and it shows strong shadow details and good contrast levels that do not clip.
Audio Quality

Like other war films of its ilk, such as Saving Private Ryan or Letters from Iwo Jima, Assembly is a full-on aural assault, particularly during the first half of the film where the majority of the battle sequences take place. The Chinese DTS-HD Master Audio 5.1 mix places the listener right at the center of the battle, with flying bullets, explosions and all of the requisite sounds of war. Low frequencies are resonant and high frequencies are smooth and reserved, making the constant sound of gunfire very tolerable and non-fatiguing. During the film's second half when things quiet down, the mix still retains a great amount of atmospheric effects in the surround channels with clean dialogue and good directional panning across the front channels. This is reference quality all the way.
There is also a Chinese Dolby 2.0 mix available.
Supplemental Materials

The supplements are rather thin on this Blu-ray release of Assembly, with only a trailer and a making-of featurette being offered up from Metrodome. Although the release is region-free and playable on all players, the supplements are all in standard definition PAL format, so unless you are in a Region B/PAL area or your player can convert PAL-to-NTSC, then you cannot access the supplements on this release.
The supplements available on this release are:
Trailer (2.35:1; PAL)
Making Of (1.33:1; PAL)
The Definitive Word
Overall:

Although Assembly may not be wholly original or even completely fulfilling in its premise, it will most likely be politically divisive. There are sure to be those who will seize upon the rather slight political aspects of this film as propagating China's totalitarian propaganda and the heroism of those who fought on the side of the PLA in China's civil war. This is not the case, however.  Assembly chronicles the struggles common to all people who have survived the very unnatural act of war.
This Blu-ray Disc release from Metrodome presents the film in a fine presentation that looks film-like and artifact free with a spectacular reference-quality soundtrack to accompany it.

Shop with us for more Blu-ray
titles at Amazon.co.uk