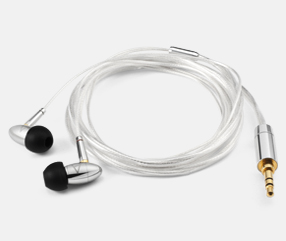 AKR02 In-Ear Monitors
The rise of the planet of the earbuds was due in no small measure to the huge popularity of Apple's iPod. The little plastic thingees plugged into our ears and delivered music just about anywhere. We have now entered the era of high-resolution FLAC, WAV, AIFF, and DSD downloads and digital players like the Astell&Kern AK120 (recently reviewed here), and its big brother, the AK240, can play such files (and most other high-res formats). Suddenly, those cheap earphones, just fine for mp3 tracks, fail to deliver the glory of these superior audio formats.
A&K, realizing that they needed high-end in-ear wear to match their high-end players, contracted with Japan's Final Audio Design to develop them. FAD launched A&K's in-ear monitors (IEMs) with the AKR01 earphones. A&K's newest product and the subject of this review, the AKR02, debuted at the 2014 International Consumer Electronics Show.
Hit the Road, Jack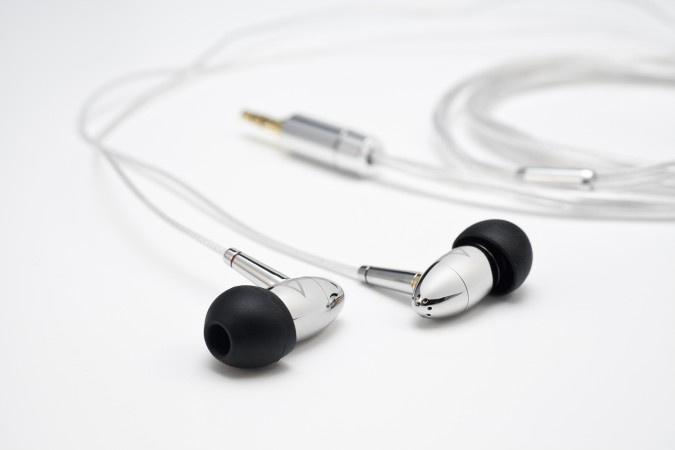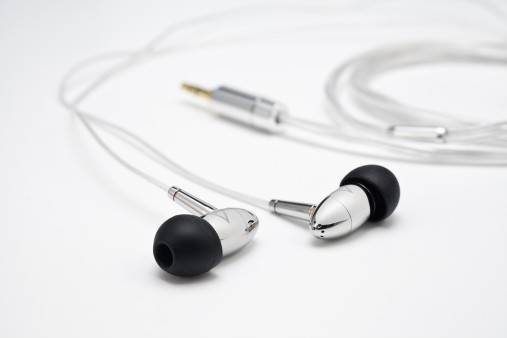 As an inveterate runner who listens to music on his daily jogs, my first iPod, purchased more than a decade ago, became a necessary accessory. I used the Apple earbuds included with my iPod until I discovered far better ones for sale; however, their cost often far exceeded that of the iPod itself. The iPod's DACs were only so-so and their music files highly compressed mp3s, a situation that even better earphones could not improve (think lipstick on a pig and you will get my point).
Earlier this year, my music-on-the-go life got a serious jolt when I received a review sample of the Astell&Kern AK120 Portable High Fidelity Audio System. Using my Audeze LCD-2 headphones, I reveled in the really good hi-res stuff. However, the LCD-2's size was not exactly road warrior friendly. An email to A&K PR guy Jason Henriques remedied this situation and the AKR02 earphones arrived promptly on my doorstep.
Dressed for Success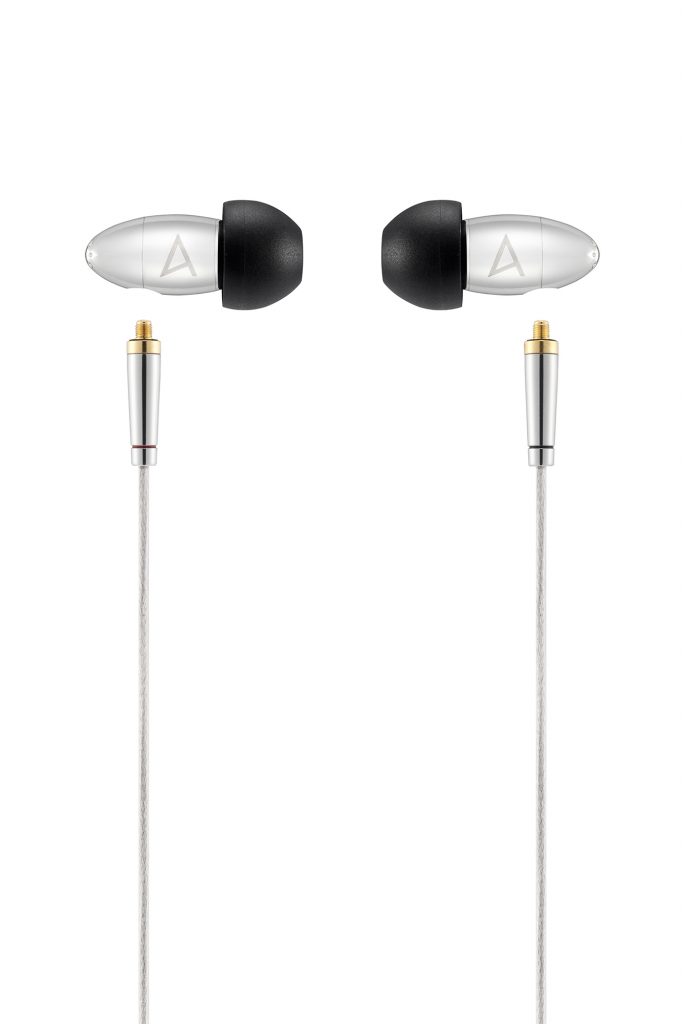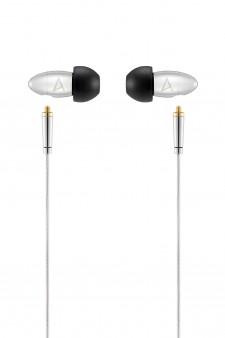 Beyond a superficial resemblance to conventional earphones, the AKR02 is unlike any other in-ear transducers that I have yet encountered.  For starters, the anodized copper 3.5 mm mini-plugs are housed in stainless steel, as are the two earpieces. Three different sized rubber ear pads provide a nice fit for ears of all sizes. The AKR02 also has removable cables of oxygen-free copper, a true audiophile material, and balanced armature drivers made of metal rather than of the vinyl in typical dynamic drivers. Balanced armatures excel at reproducing high frequencies, ideal for hearing aids but their Achilles heel has been their handling of low frequencies. The AKR02's Balancing Air Movement (BAM) technology adds holes to the back of each earpiece, controlling internal airflow to the balanced armature unit and improving bass response.
The AKR02 has a player-friendly impedance of 16 ohms and, while voiced for the AK240, it will work with other portable players, even iPods. The cable is nearly four feet long, enough leeway for stationary and active listeners, and insensitive to touch noise. In the A&K tradition of luxurious accessories, there is a nifty Italian leather carrying case lined with Chamude fabric and cutouts to hold the earpieces and cable.
My Ears are Smiling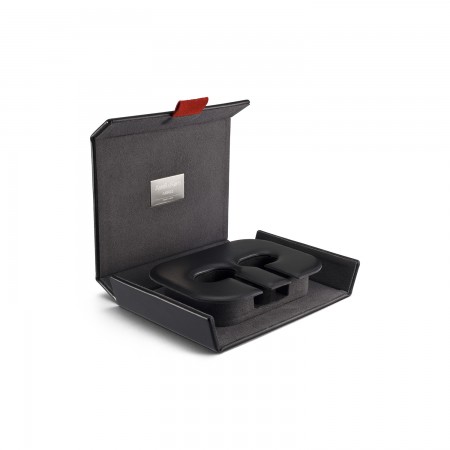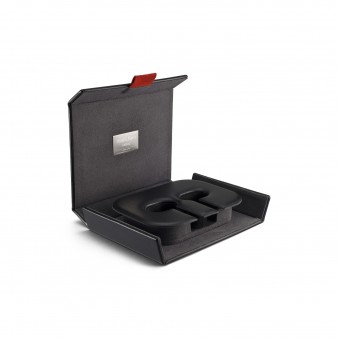 All right already, how do they sound? My review sample AK120 was gone, but I had an AK240 on hand. Beginning with Yo-Yo Ma's playing "Gabriel's Oboe," a DSD download (The Mission), I was caught completely off guard by the lush sound of Ma's cello, reproduced in all of its ineffable beauty. Compared to all of my previous listening experience with earphones, I had already concluded that such devices were simply not supposed to produce this kind of sound palette but there it was.
After this promising start, I switched to the Eagles' Hell Freezes Over (FLAC file, 44kHz/16-bit). The pulsating drum that leads off "Hotel California" will tax any speaker's low frequency response. I did not get the humungous whoompa-whoompas that my Audeze headphones delivered, but there was still more palpable bass than any conventional earbuds have ever given me. Staying in the bass kingdom, I loaded a 44kHz/16-bit FLAC file of Claude Bolling's Suite for Flute and Jazz Trio. The walking bass line was quite distinct and the piano's low end full-bodied in the lovely cut, "Javanaise"
The harp, like the piano, is a challenging instrument to reproduce properly and I tested the AKR02's resolving ability with Benjamin Britten's Suite for Harp (Musik mit Oboe, FLAC 44kHz/16-bit). What emerged were beautifully plucked high notes, a sonorous bottom, and rich overtones.
Accurate delivery of the human voice always puts loudspeakers to the test, and, by analogy, earphones as well. Beginning with higher resolution material, I checked out Christy Baron's take on Peter Gabriel's "Mercy Street" from her 96kHz/24-bit Retrospective download album. This track just exploded out of the tiny AKR02s with a huge soundstage, solid bass, and prominent vocals. Shifting to DSD files, Jacintha's sultry cover of "Danny Boy" (Here's to Ben) was a true revelation while Jeremy Monteiro's version of Karen Carpenter's "A Song for You" (A Song for You, Karen) was so intimately reproduced that you could hear every breath that Jeremy takes.
Other high-resolution recordings included 176kHz/24-bit WAV downloads from the Reference Recording HRx catalog: Percy Grainger's Lincolnshire Posy (Dallas Wind Symphony), Igor Stravinsky's Firebird Suite (Minnesota Orchestra), and Arnold Overtures (London Symphony Orchestra). As I examined my review notes, the terms "spacious," "full-bodied," "warm,"  "really big sound," and just plain "wow" cropped up repeatedly.
But I may have saved the best for last. Like many iPod owners, I have thousands of mp3 files (sigh!). Truth be told, I never had great sonic expectations for this format; it was always quantity over quality. To satisfy some guilty pleasures, I transferred a few mp3 pop files to the AK240 player. Clicking on the Spice Girls' "Get Down," and, while not hi-res by any means, the AKR02 opened up the space like nobody's business, complete with swirling electronic effects, a back beat that I never knew was there, and astonishing vocal clarity. To be certain that this was no sonic anomaly, I chucked a bunch more mp3s at the AKR02s, including Erasure's " River Deep, Mountain High," Yello's "Oh Yeah," and Boyzone's "No Matter What." Each selection yielded similar sonic impressions: improved space and definition with less harshness and sense of compression.
Portable listening has its price
If it is not obvious by now, the AKR02 earphones coupled with a state-of-the-art digital player like the AK240 took me to an entirely new level of portable listening. But most good things do come at a price and (are you sitting down?) these earphones will set you back $1399. Do you get these for your iPod (typical price range: $199 – $299)? I don't think so, as they will mercilessly expose the iPod's sonic shortcomings. (To be honest, I did try them out on my iPod Classic and SiriusXM portable player and got, by far, the best sounds ever from both). But if you have gone the hi-res player route, and any A&K player will get you there, then the AKR02 becomes a serious contender for your ears. After all, you wouldn't put low octane gas in your brand-new Ferrari convertible, would you?
The Good
Excellent build quality
Comfortable for long listening sessions
Sensational audio reproduction
Cable not sensitive to touch noise
The Bad
The Scorecard:
Design/Ergonomics:
[Rating:4.5/5]
Performance:
[Rating:5/5]
Value:
[Rating:3.5/5]
Overall:
[Rating:4.5/5]
The Definitive Word
Music fans with the highest quality portable digital playback systems such as those offered by A&K should take a hard listen to the AKR02. These earphones are built to last, nearly future-proof (their cables can be updated), and usable with other portable hi-res players. For those who want a taste of high-end earphone heaven for considerably less bread, the AKR01, also with balanced armature drivers, can be had for a mere $199. Hey, we are not talking cost-effectiveness here as my reference Audeze LCD-2 headphones are two-thirds the price of the AKR02s, and will produce much bigger sound.  But these big headphones simply won't do music-on-the-go. So for the very best portable sound, and, particularly if you have already shelled out major bucks for any of the A&K digital music systems, the AKR02 IEMs will certainly fill the bill and then some.
Specifications:
Case: Stainless Steel
Driver: Custom-made Balanced Armature Driver
Impedance: 16 ohm
SPL: 112 dB
Length: 3.9 ft (1.2 m)
Weight: 0.7 oz (20g)
More Information:
Astell&Kern AKR02 (SRP $1399 USD)
[amazon-product]B00IA8ULNK[/amazon-product]