As anyone who has watched season one of House of Cards will know Frank Underwood (Kevin Spacey, American Beauty) is the smarmy, silver tongued devil from South Carolina. He's taken his resentment at being passed over for Secretary of State to murderous levels plotting his way into the Vice Presidency which he maintains through the second season. But he won't stop there, Frank wants the Presidency. And what Frank wants, he gets. He has a remarkable way of bending people to his will. This is a must see for everyone that loved the first season and wants to see those loose ends tied up.
Ambitious journalist Zoe Barnes (Kate Mara, Iron Man 2) is hot on Frank's trail, rapidly piecing his schemes together with the help of the Scooby gang, her journalist boyfriend Lucas (Sebastian Arcelus) and fellow political journalist Janine (Constance Zimmer, Chaos Theory). Neither one of them know her sordid history with Frank yet they know they are "swimming with sharks" (another great Spacey movie) in Washington. Barnes mistakenly thinks she has the upper hand, handling a rattle snake as if it were a common garden variety serpent. She never saw the venom dripping from his fangs. And that is the brilliance of Frank, he's a magician. He creates a false sense of security and lures people in until he hangs them with their own rope. It's an ingenious trick.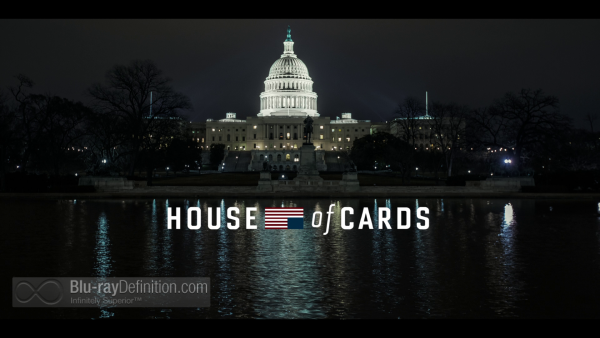 Obsessed with catching Frank and revealing the monster that lurks beneath, Lucas makes friends with a nutty hacker who's just another wolf in sheep's clothing. Failing to realize when he crosses the point of no return Lucas blindly drives forward, his journalistic instinct driving him crazy. As Lucas soon finds out anyone who seeks the truth is dealt with (in a Frank Underwood style).
Nothing will stand in his way, Frank simply won't allow it. Both his soliloquies directed at the audience and his actions within the show prove as much. Hell-bent on claiming the White House throne, Frank develops an elaborate scheme to unseat the president (his end game all along). His plans deftly unfold as he outmaneuvers Raymond Tusk (Gerald McRaney, Major Dad), pitting him against longtime friend President Garrett Walker (Michael Gill, Ideal).
While Michael Gill plays one of the least impressive presidents currently on television he at least does it well. He makes an excellent patsy, naïve, trusting, and dull. How did this guy get elected in the first place? He simultaneously lacks political savvy and charisma. I cannot imagine the public voting for him. And yet I can visualize Frank Underwood lying through his teeth telling the people what they want to hear to cement his votes. Frank not only fits in, he shapes the political circus unlike Walker who sticks out like a sore thumb.
Jackie Sharp (Molly Parker, Deadwood), however, was born for politics. Clean history, good contacts, a sharp tongue and bright mind. It doesn't hurt that she's attractive either. Taking on Frank's former position as House Majority Whip Jackie has to make some tough choices about her personal relationships. She actively pursues her own best interest, at times disregarding Frank's. And as we all know that's the quickest way to land in hot water.
Doug Stamper (Michael Kelly, Man of Steel)  is more than just an errand boy, he's the fixer, the listener, the closer and the executor. It's hard to imagine what Frank would do without his right hand man. So when newbie Seth Grayson (Derek Cecil, Parker) joins their little team jealousies run high. Not only does Doug not trust him, but he feels threatened by this intruder. Only time will tell whose side Seth is really on.
Meanwhile Claire's personal history has been brought to the forefront in a delightfully twisted way. This is the season Robin Wright (Forrest Gump)  proves just how alike Claire and Frank really are. Wright's skillful character  manipulation turns Claire into an enigma. Is she a sociopath just like her husband or has she developed survival skills that mask her true character?
They're a cool calculating  power hungry couple with a mutual respect for one another. Frank's admiration for his wife is one of his few humanizing qualities. Kevin Spacey has mastered the art of playing a repulsive character we just can't get enough of. Creating a monster we're inclined to root for is no easy feat. The more power he obtains the worse he becomes. He's rotten to the core. So what does it say about us when we can't look away? We're enticed by his horrible deeds but then left conflicted about whether or not to root for him.
In the context of the show Frank Underwood is the man to applaud (you want to be on his side at all costs), but if this man were real I'm not sure I'd want to live in Frank's world. His philosophy seems to be: the greater the risk the greater the reward, with no risk too great. With no real adversary Frank is becoming unstoppable. Will season three introduce someone worthy of Frank's opposition? We root for a man who unconscionably commits horrendous acts, we can't get enough of this anti-hero/villain, does that mean we're twisted too?
Season two flew by at a rapid pace obviously intended for a binge watching audience. Series creator/writer Beau Willimon (The Ides of March) mapped out a thoughtfully plotted revenge narrative that is sure to hook viewers. Much like Game of Thrones, characters who have very few morals are the ones that do best. Do yourself a favor and do not watch this sparingly.
VIDEO QUALITY
[Rating:4/5]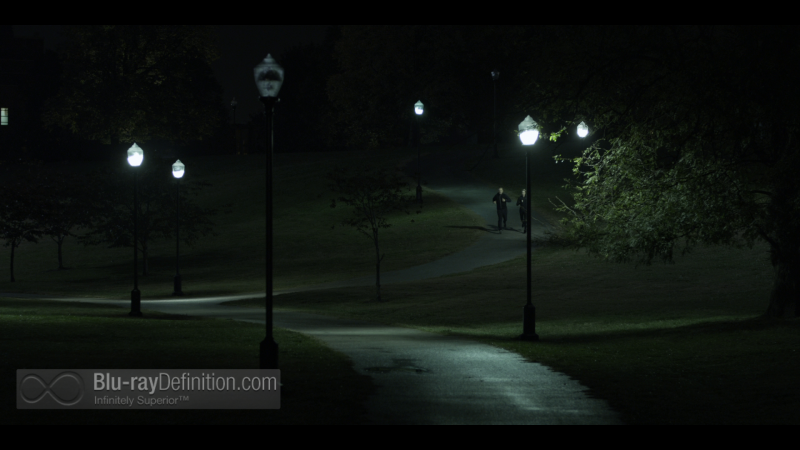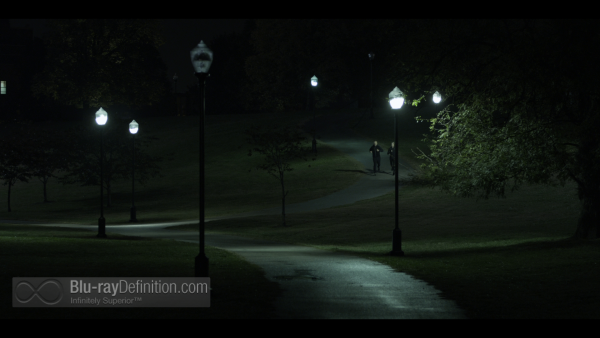 Sony Pictures Home Entertainment presents House of Cards in a dazzling 1080p AVC/MPEG-4 encoded transfer with an aspect ratio of 2.00:1. This series tends to err on the dark side, both with subject matter and their colors. Because of the darker hues, any tiny bit of color really pops, thrilling the viewer with a razzle-dazzle like sensation. High contrast levels make the whites radiant on screen. Frank's white button up shirt frequently glows with an angelic hue under his black suit jacket. It's an interesting way to play up the light and dark aspects of the show at hand. While there is an excessive use of black there is no sign of crushing and clarity is never lost due to it. Flesh tones often hover near the darker side but that may be intentionally done. There is some light banding, but it surprisingly does not detract from the picture quality.  Overall this is a fairly decent high-def presentation with every detail, pore and wrinkle on maximum display.
AUDIO QUALITY
[Rating:4/5]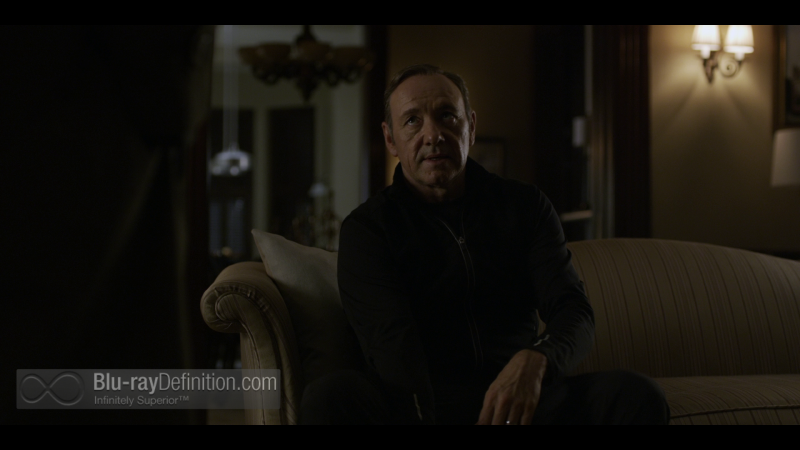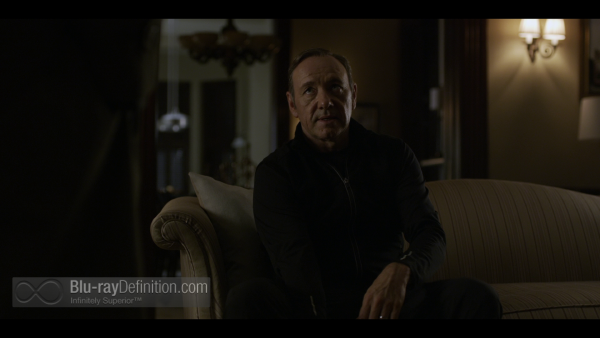 This DTS-HD Master Audio 5.1 soundtrack works hard to give the audience a sense of immersion. This is a primarily dialogue-driven show with crystal clear dialogue. Various speakers are used for the audio to make you feel like you're in the center of all that action. It's thoughtfully put together audio with a well blended score, highly effective at conveying the sound of a mood. Though there were a few moments when the sound went flat the overall mix was well arranged. It's an immersive experience with little to gripe about.
SPECIAL FEATURES
[Rating:2/5]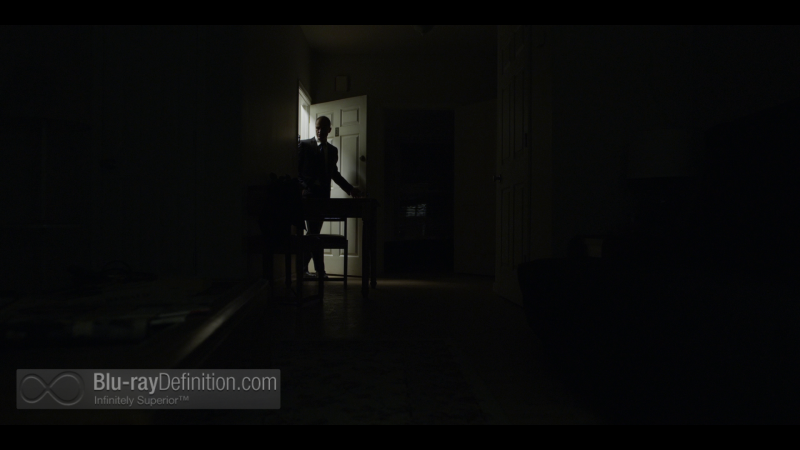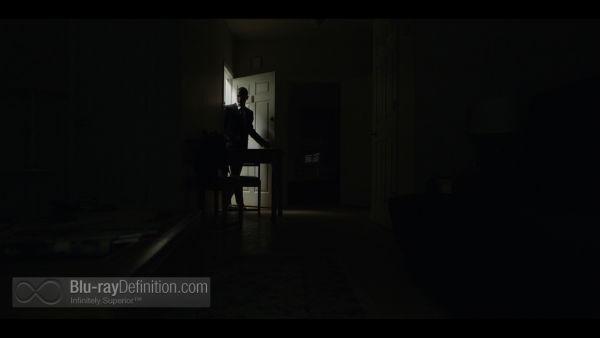 Disc One:
Politics for the Sake of Politics: cast and crew discuss the political machine and the various power seeking characters.
Direct Address: a key element of the project, this takes us behind the scenes of Frank's audience directed monologues.
Disc  Two:
Two Houses: interview discussing the differences between the American and British version as well as the book it was based on.
Disc  Three:
Table Read: a peek at what happens before a scene is filmed including interviews with cast and crew.
Disc Four:
Line of Succession: brief interviews with director James Foley, Kevin Spacey, producer Josh Donen, director David Fincher and  writer Beau Willimon about how the show comes together.
Aurora Snow Says
OVERALL:
[Rating:4/5]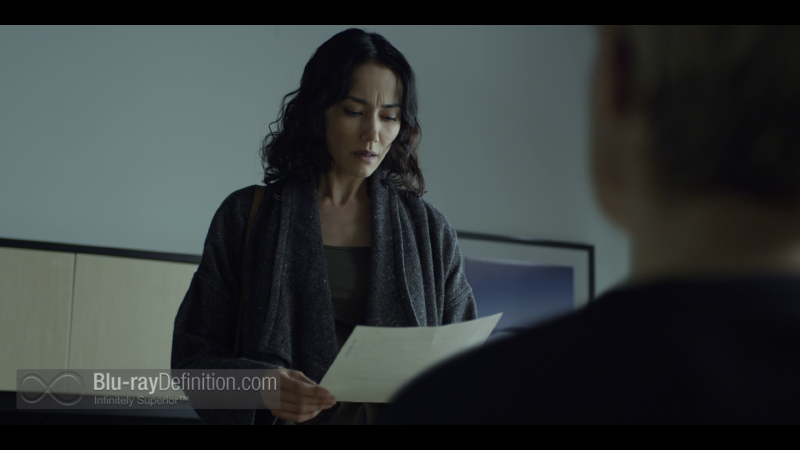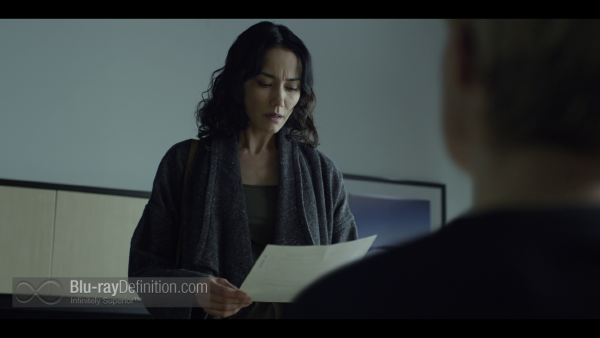 Another stellar series from NetFlix. House of Cards is a fast paced entertaining political thriller that keeps you on the edge of your seat for the three days it takes to binge watch it. I repeat, this is not a show to savor slowly. In order to keep viewers happy in the next season Frank is going to have meet another predator because while season two was fun Frank is in desperate need of worthy opposition.
More Screen Captures
[amazon-product]B00J5LXSOA[/amazon-product]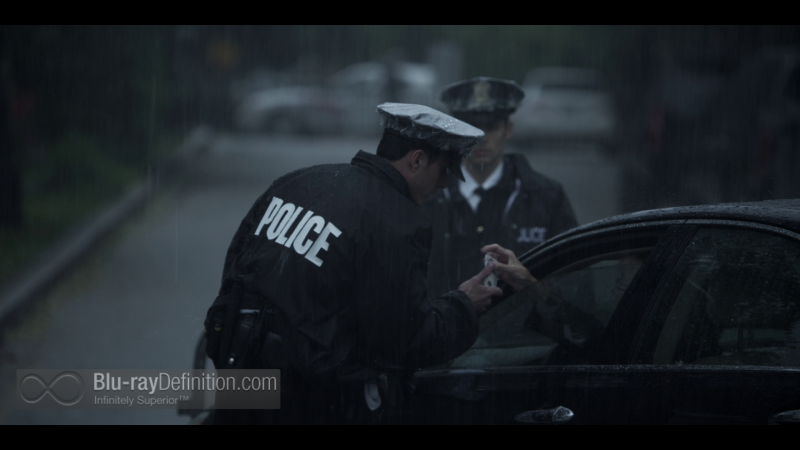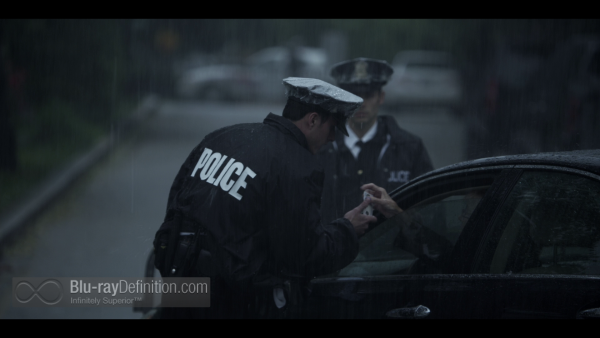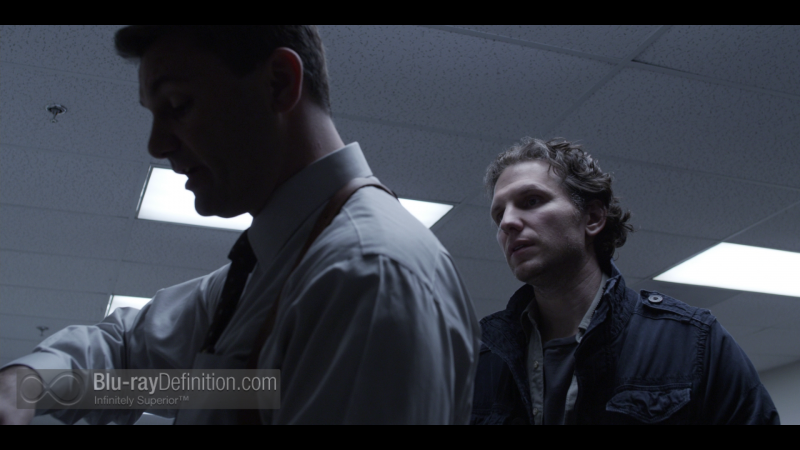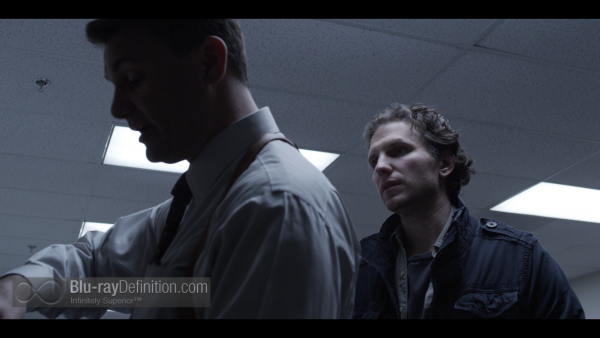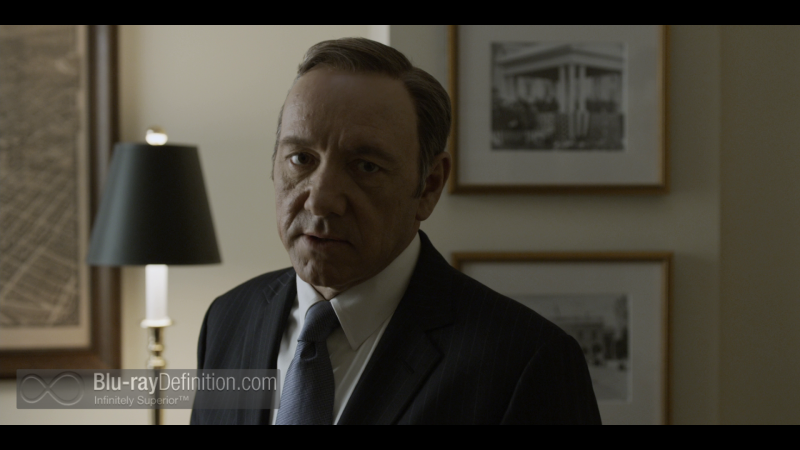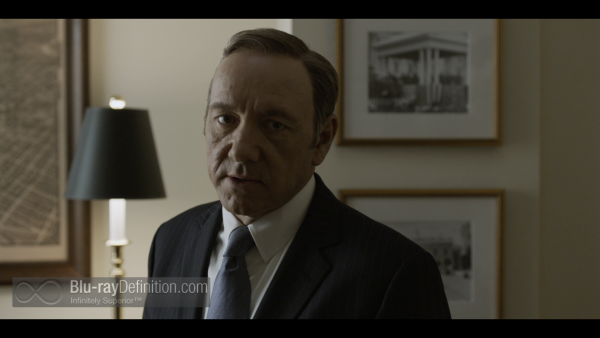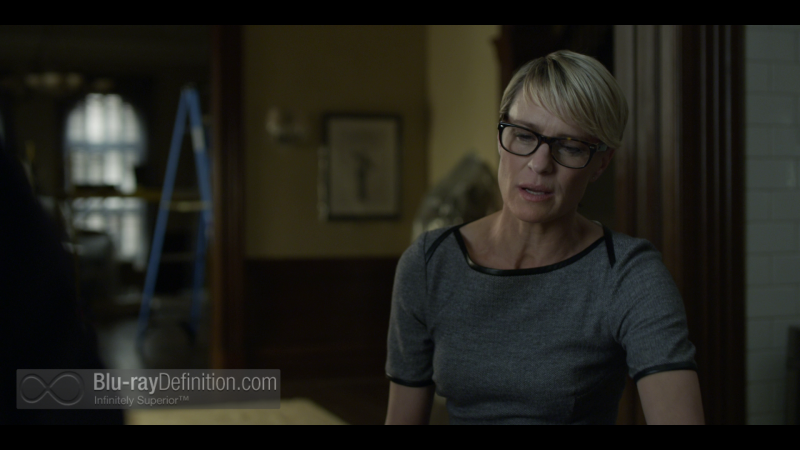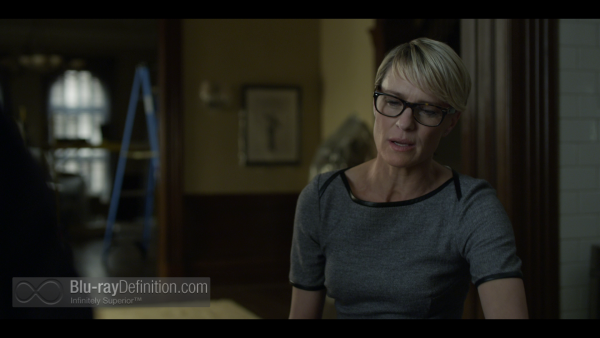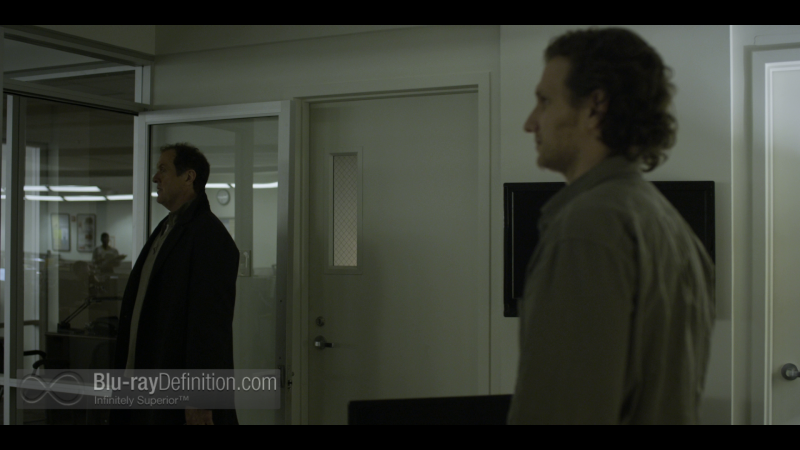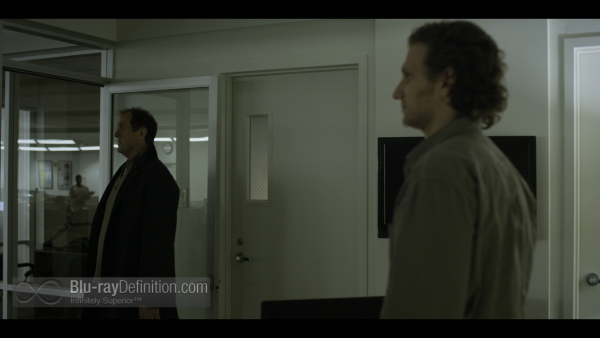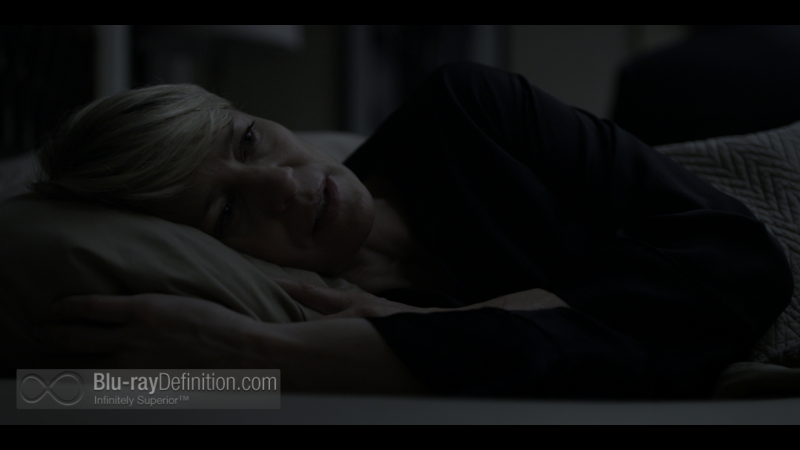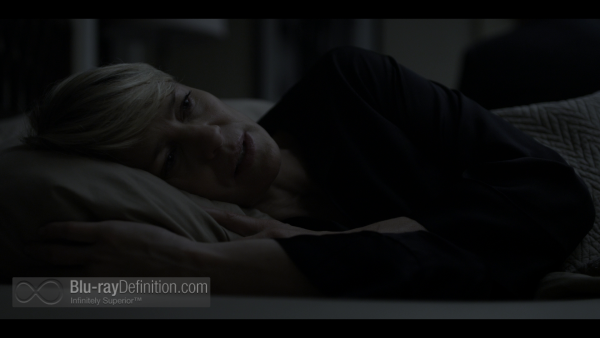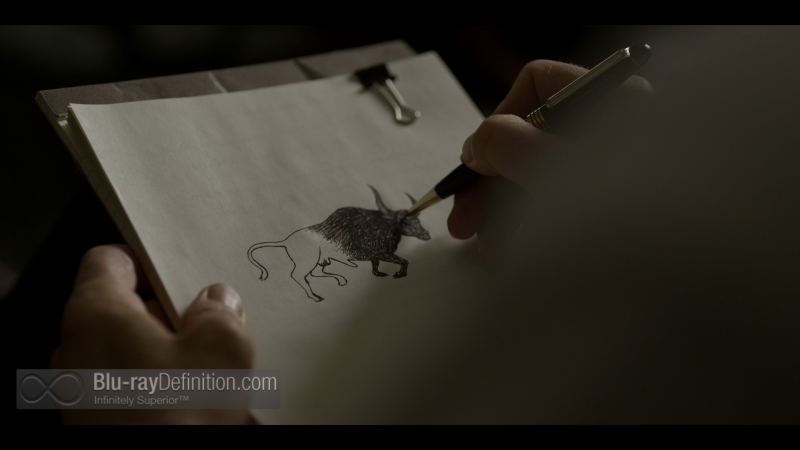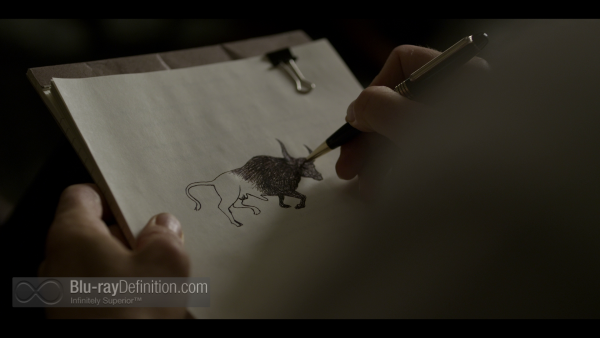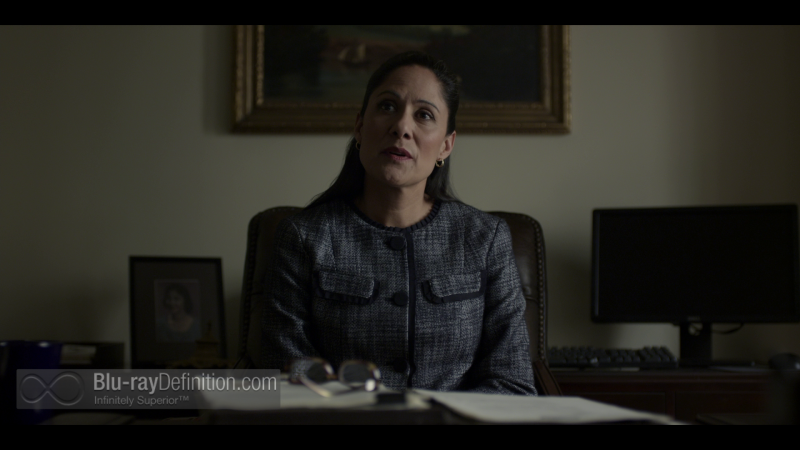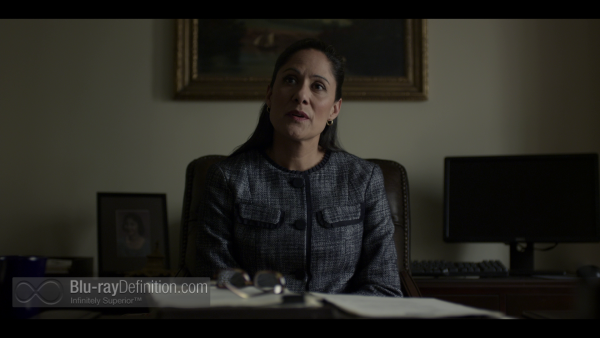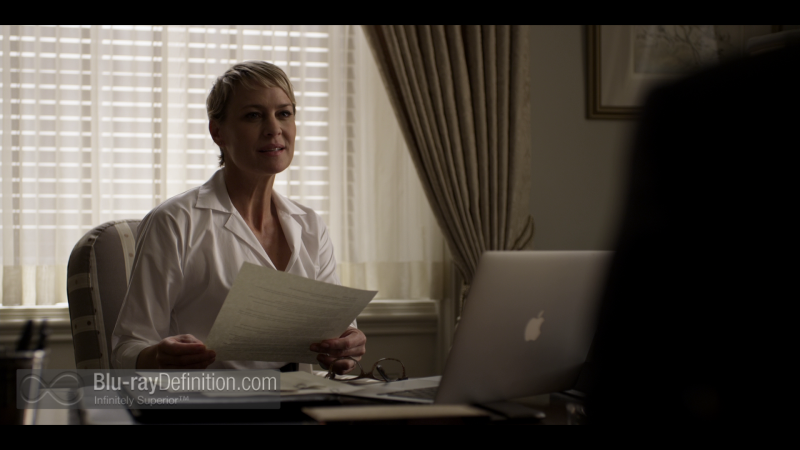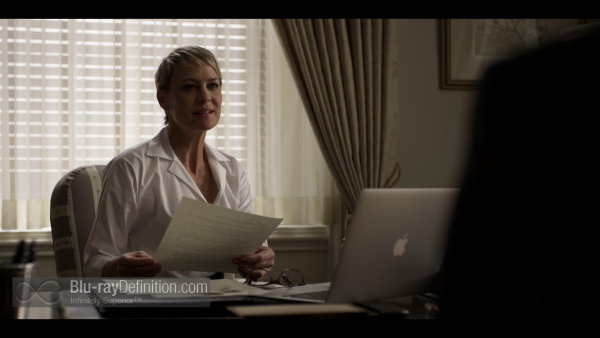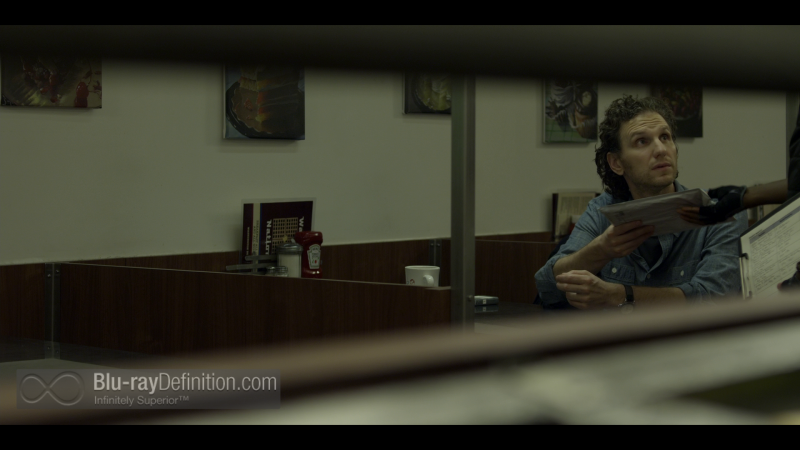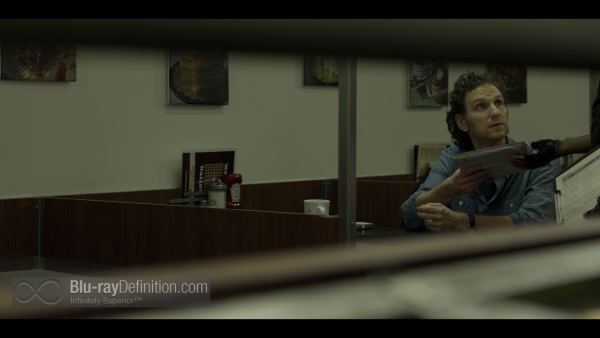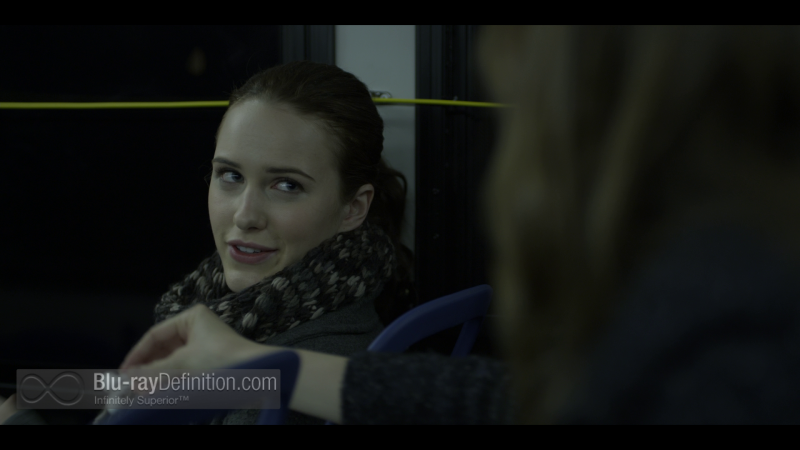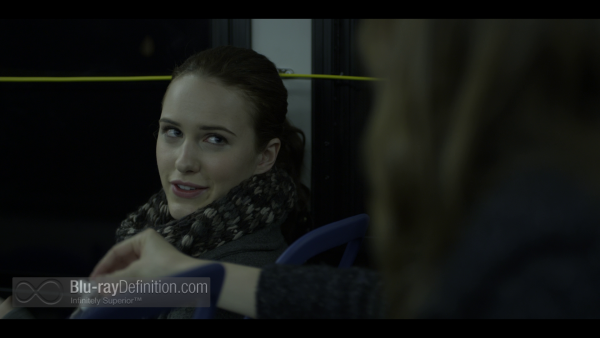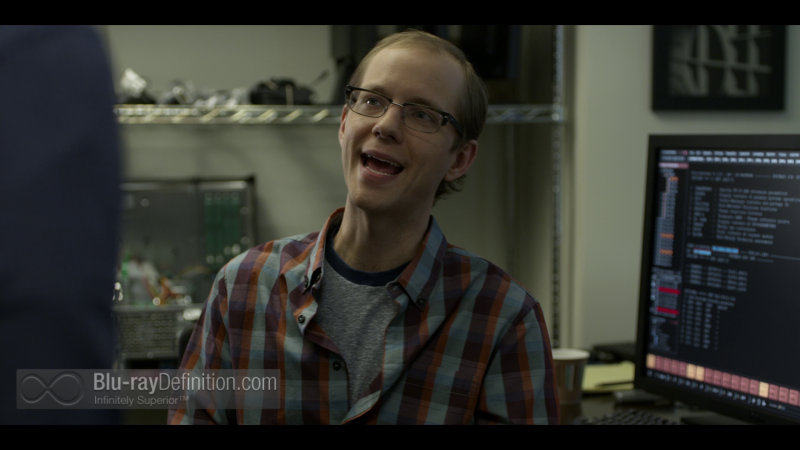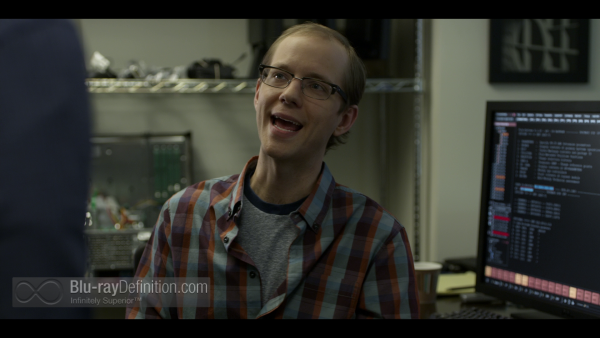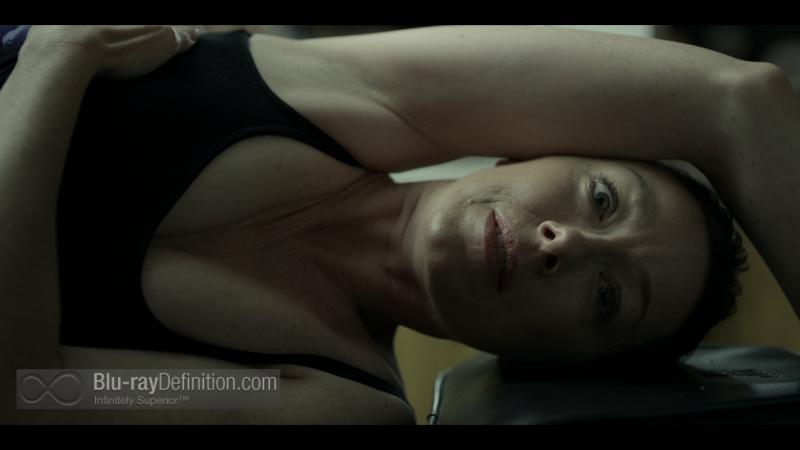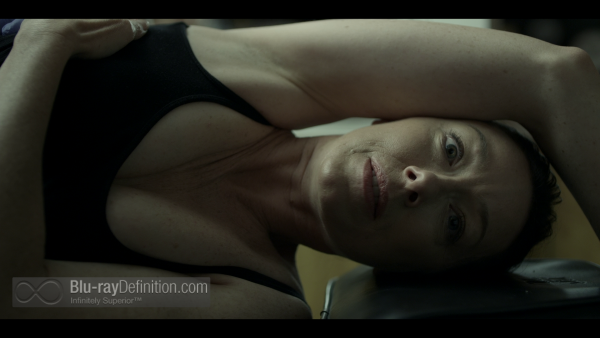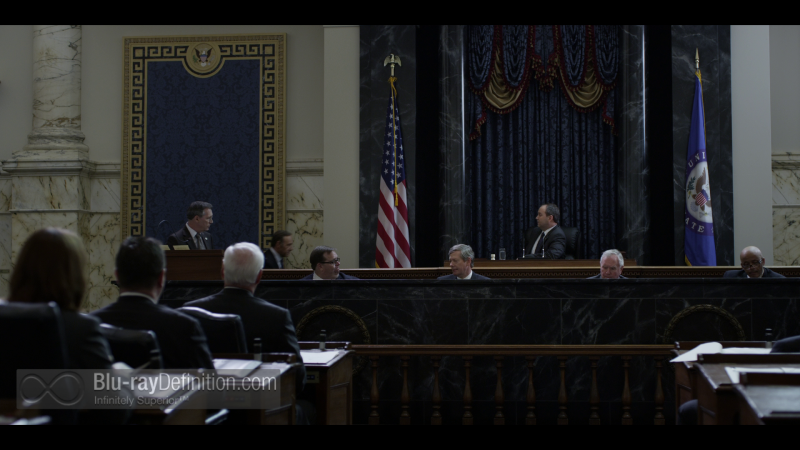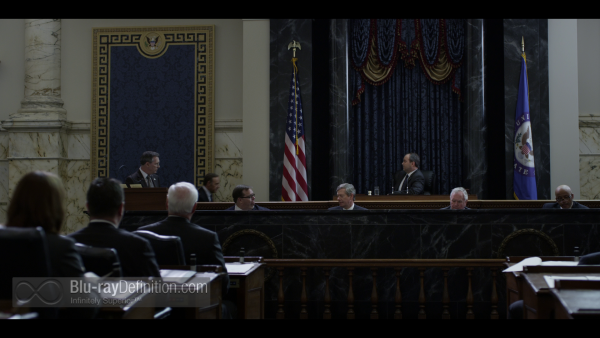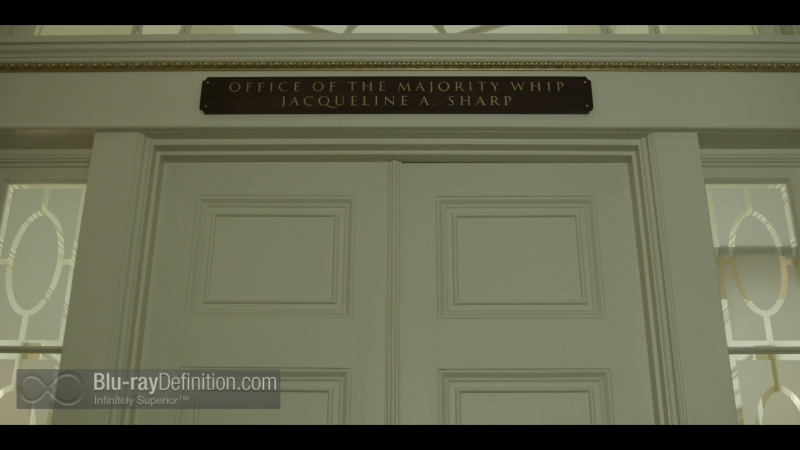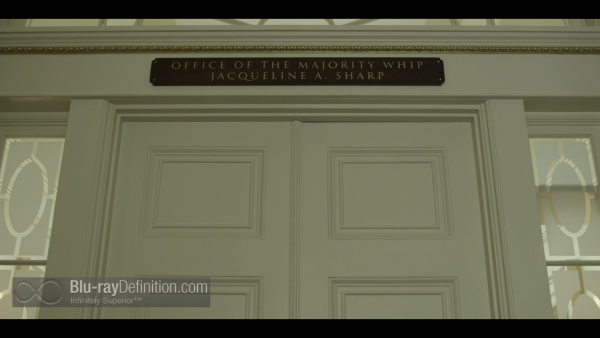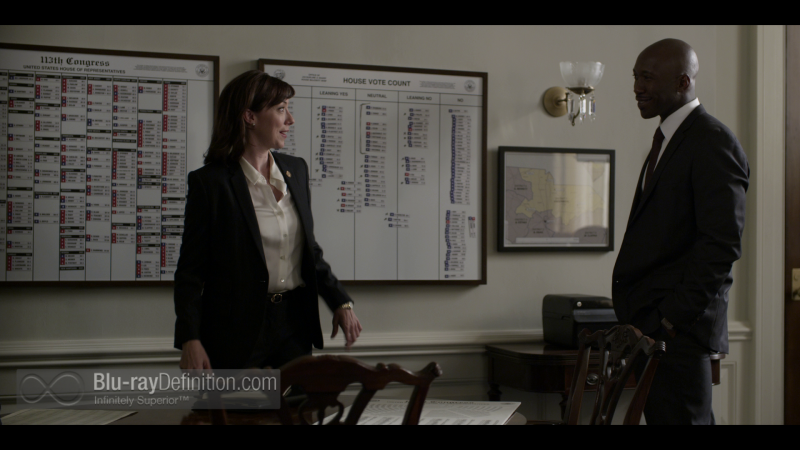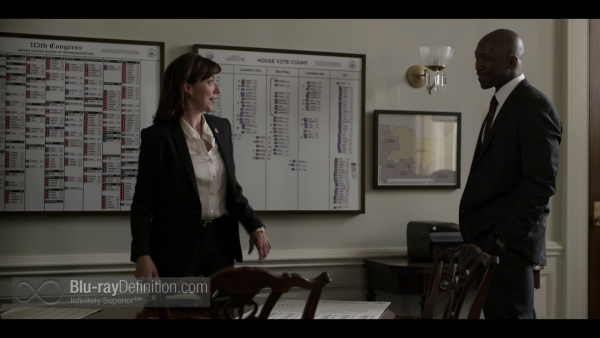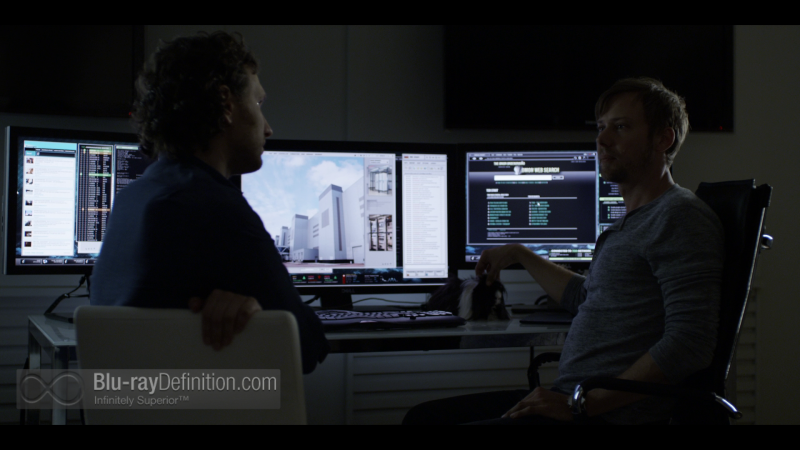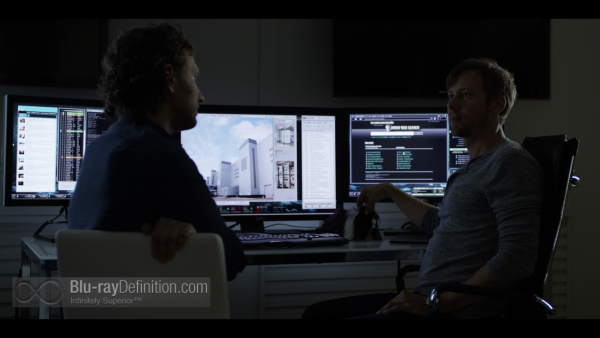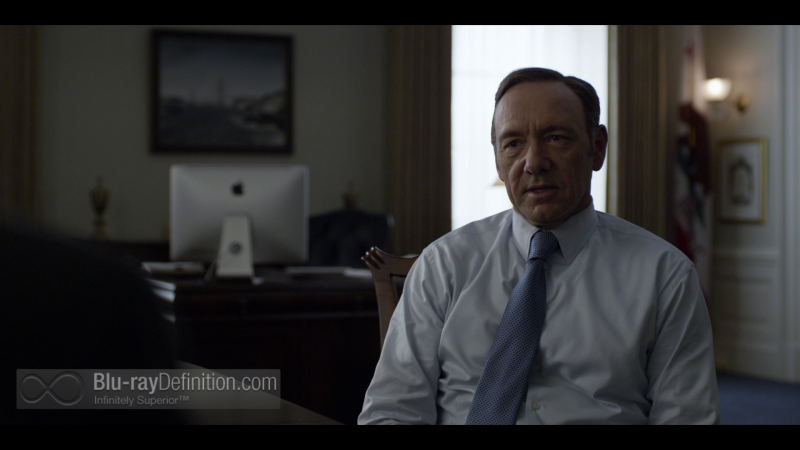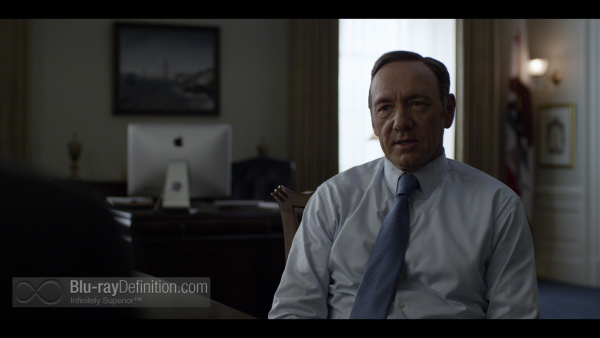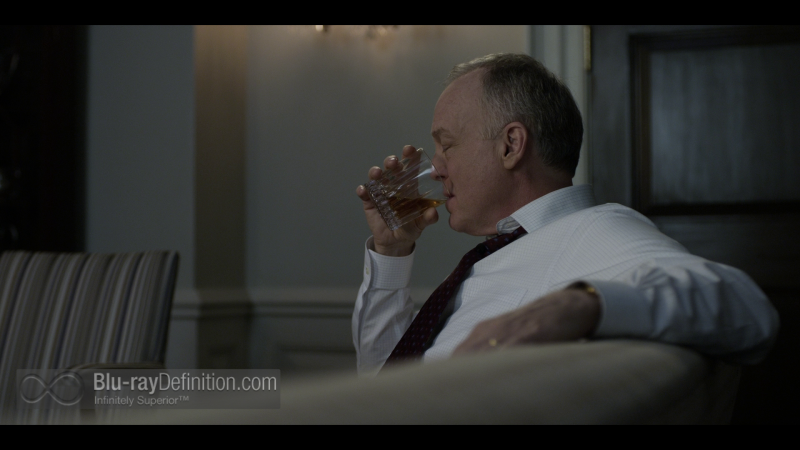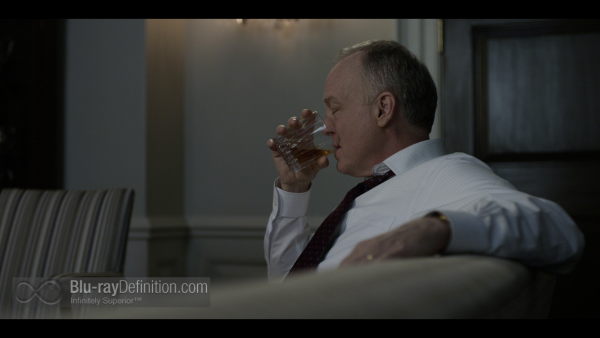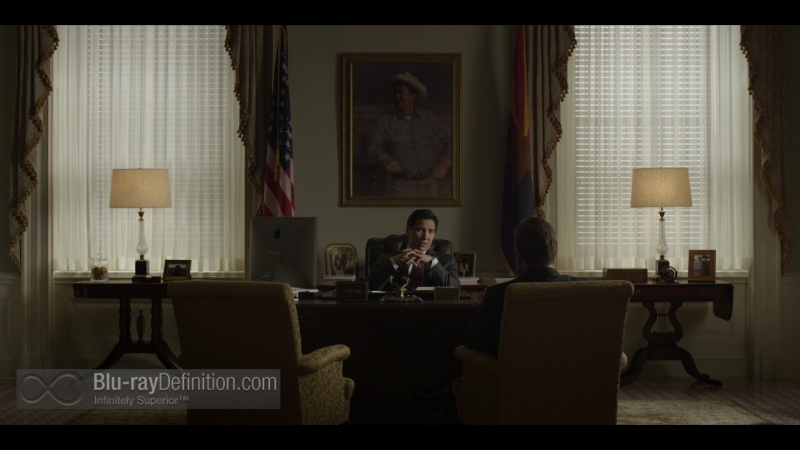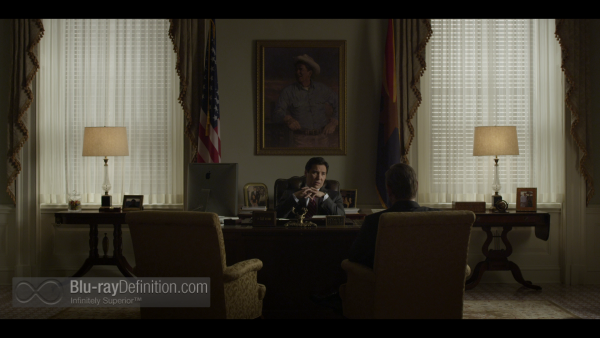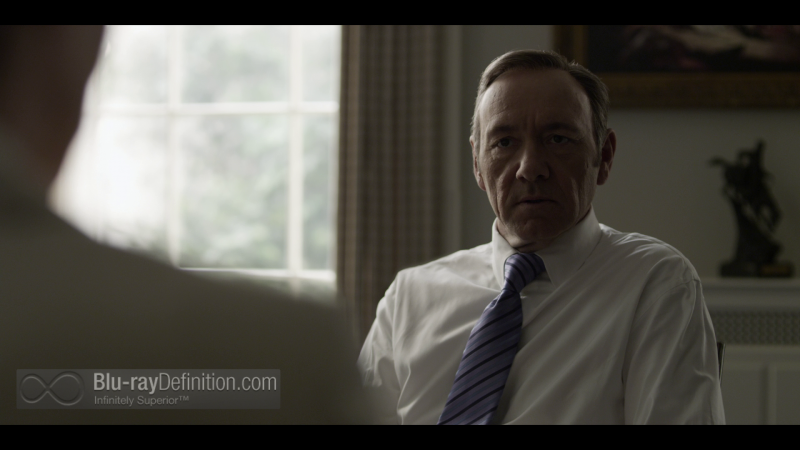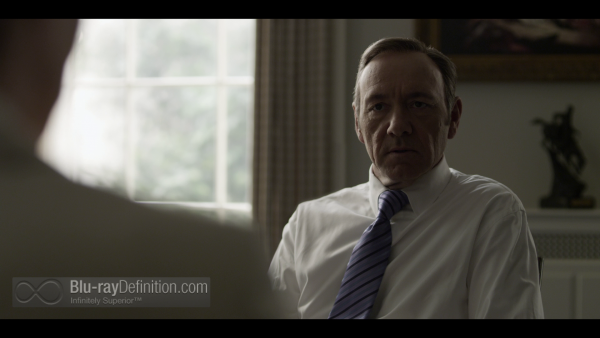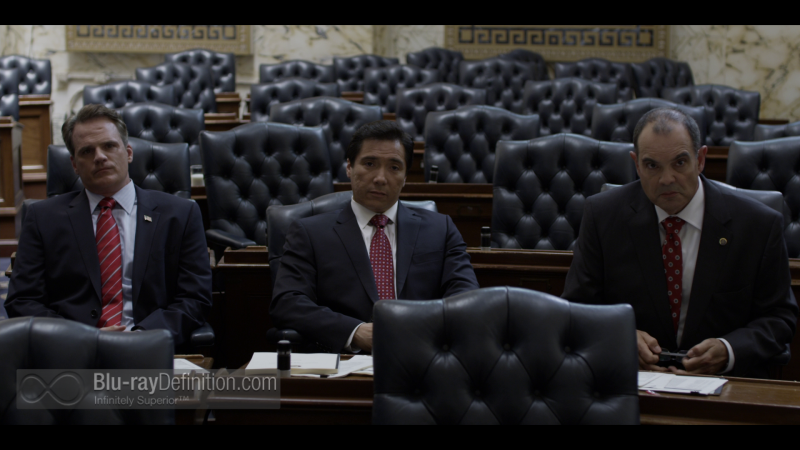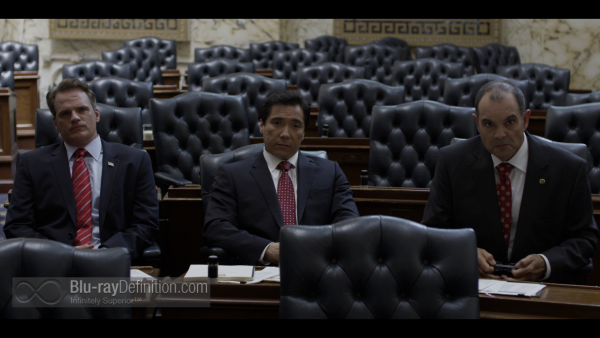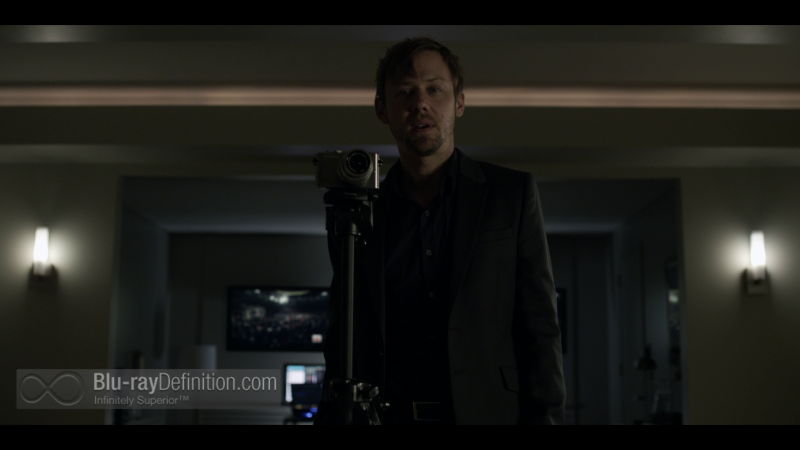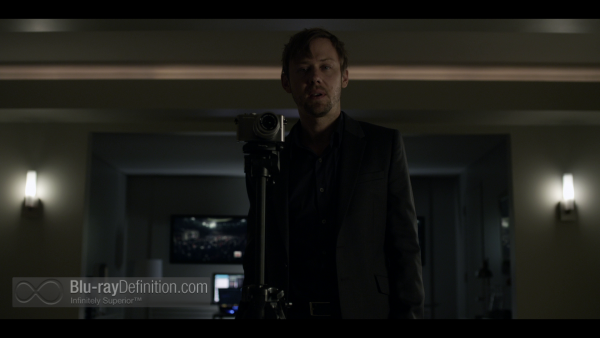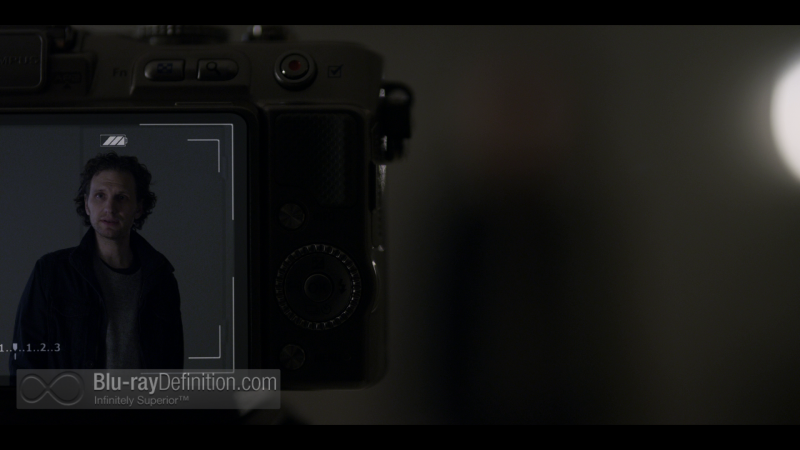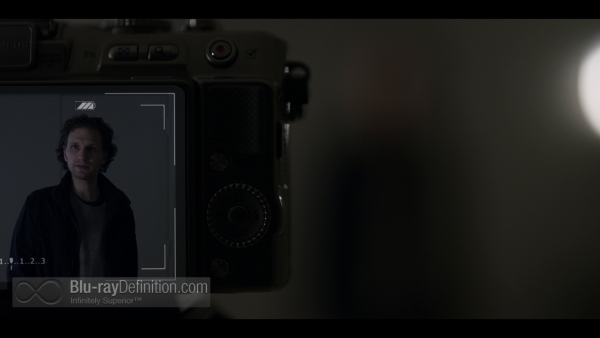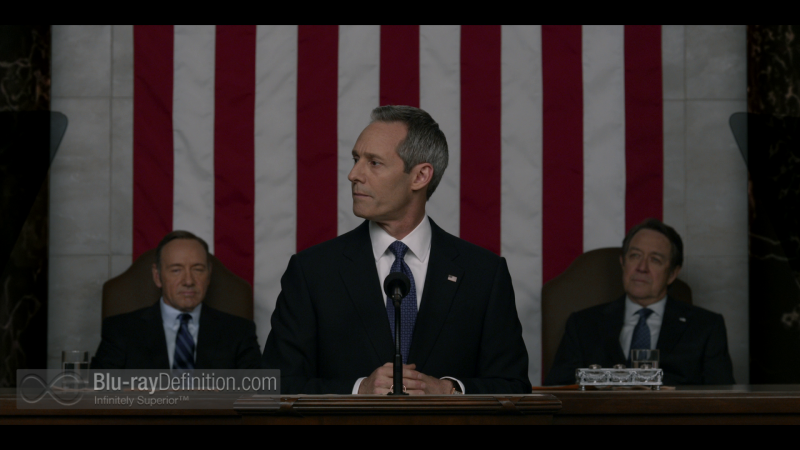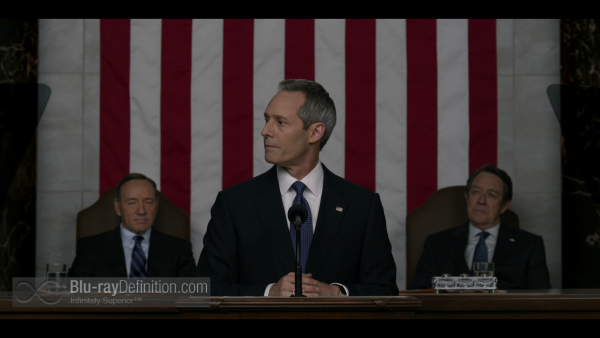 [amazon-product]B00J5LXSOA[/amazon-product]