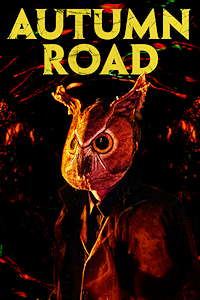 Ten years after Laura's (Lorelei Linklater) sister, Winnie (Maddy-Lea Hendrix), went missing on Halloween night, Laura continues to remain distant with her family due to the disappearance of her sister. When a tragedy befalls Laura, she decides now is the time to return home in hopes of rekindling lost time with her family. Upon arriving back home, Laura runs into Charlie and Vincent (Riley Cusick), twin brothers who were childhood friends of Laura's. It's soon Laura realizes that these brothers know far more about Winnie's disappearance than she ever knew.
While there are moments of Autumn Road that are very well done (mostly how Cusick captures the scope of a small town on Halloween – akin to that of Carpenter in the original Halloween,) too much of the film centers on the 'bad boy' twin in Vincent. Clearly the troubled twin, far too often does Vincent lash out at random people who he believes have wronged him and Charlie.
It's really here that the film stumbles. Instead of focusing on Laura and her story, Cusick tends to deal more with Vincent. This is a shame too, because I was really enjoying what Cusick was presenting, particularly the real emotion and pain Laura expresses with the disappearance of her sister.
While parts of the film are incredibly frustrating, there are numerous moments that show the type of writer and director Cusick could be and/or wants to be. Most effective are those quieter moments, scenes where we see the scope of the story – of the bonds (and displacements) this disappearance has caused both of the main characters, and those of the townsfolk.
All in all, Autumn Road should be a great horror film as Cusick clearly knows what he wants to do earlier on in the film; however, he spends far too much time focusing on the character of Vincent instead of Laura, resulting in an overall forgettable film.
Autumn Road is now available across North America November 23rd, on a number of digital and cable platforms, including iTunes, Amazon, Vudu, Google Play, Comcast, Dish and Shaw.
---
Rating Certificate: NR
Studios & Distributors: The Last Motel | Gravitas Ventures
Country: United States
Language: English
Run Time: 95 Mins.
Aspect Ratio: 2.35:1
Director: Riley Cusick
Written By: Riley Cusick
Release Date: 23 November 2021