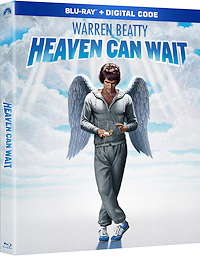 A film straight out of the "No Nukes" era of the 1970s, Heaven Can Wait from producer-director-writer-star Warren Beatty updates the 1941 light-comedy Here Comes Mr. Jordan for then contemporary audiences.
The superstar Rams quarterback Joe Pendleton (Beatty) is prematurely taken to Heaven by an overeager guardian angel after a car accident before Joe's time. Joe arrives there and won't follow the rules, he just senses it's not his time. Archangel Mr. Jordan (Buck Henry) realizes the error and offers to take Joe back to Earth and give him back his body, but when they arrive on Earth, Joe's body has already been cremated. So, Mr. Jordan offers to give Joe another body of someone who has died but hasn't been noticed yet. Joe has a stipulation, however. Being that it is right before the Super Bowl, he wants a young, in-shape body. He eventually settles for the older, soon-to-be-killed industrialist Farnsworth when he sees the beautiful environmentalist Betty Logan (Julie Christie) in Farnsworth's house. Joe hires his coach Max Corkle (Jack Warden) to help him get in shape for the Super Bowl while he tries to woo Betty by transforming Farnsworth's company into an environmentally friendly entity concerned with its impact on communities and weary of building nuclear power plants. Meanwhile, Farnsworth's wife (Dyan Cannon) and secretary (Charles Grodin) are still trying to kill him. Eventually, Mr. Jordan finds Joe the fit, Super Bowl ready body he wanted, but in order to enter that body, he may have to give up his memories of Betty.
Heaven Can Wait was a massive summer hit in 1978 coming in behind Grease as one of the biggest movies at the box office that season. The film is a successful comedic farce, a comedy of errors, and one that takes the 1941 fantasy/comedy and reworks it into the contemporary setting of 1978 while keeping the core of what made the original so enjoyable.
Beatty is funny in this role and Christie is commanding while also being a charmer, there is palpable chemistry between the two, which makes it a successful rom-com and a standout of lighthearted filmmaking in the downbeat, post-Watergate era of the 1970s.

The Video
Heaven Can Wait has been fully restored and remastered from the original camera negative under Beatty's supervision and brought to Blu-ray Disc in a 1.78:1 AVC 1080p encodement. The image in this film can vary between somewhat soft (the scenes in heaven's waystation) to fairly crisp (the scenes where Joe Pendleton returns to Earth). Both present organic grain structure that never overwhelms the image or tips over into noise or shows any compression issues. The color comes across naturally and looks much like the films of the era. Black levels are deep without crush, which is usually one of the weaknesses for Paramount remasters, but here everything is spot on.
The Audio
The original monaural audio is included in Dolby TrueHD 2.0. The sound is clean and full, with no issues concerning hiss or clipping.
The Supplements
This barebones release from Paramount comes only with a digital copy code. There are no additional bonus features included.
The Final Assessment
A reference level restoration of this forgotten gem from the late 1970s. Laughs, loves, and eco-comedy. Recommended.
Heaven Can Wait is out on Blu-ray November 30, 2021 from Paramount
---
Rating Certificate: PG
Studios & Distributors: Paramount Pictures | Paramount Home Entertainment
Director: Warren Beatty | Buck Henry
Written By: Elaine May (screenplay) | Warren Beatty (screenplay) | Harry Segall (based upon a play by) | Robert Towne (uncredited)
Run Time: 101 Mins.
Street Date: 30 November 2021
Aspect Ratio: 1.78:1
Video Format: AVC 1080p
Primary Audio: English Dolby TrueHD 2.0 Mono
Secondary Audio: German DD 2.0 Mono | Spanish DD 2.0 Mono | French DD 2.0 Mono
Subtitles: English | English SDH | German | Spanish (Castilian) | French | Japanese