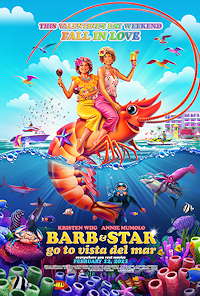 Longtime collaborators Kristen Wiig and Annie Mumolo, Oscar© nominees for their film Bridesmaids, come together again for the genre bending comedy Barb and Star Go to Vista Del Mar.
Based on characters that Wiig and Mumolo have been working since their earliest collaborations going all the way back to their early days in improv's Groundlings, the film follows two middle-aged divorcees and BFF's Barb (Mumolo) and Star (Wiig) who love wearing culottes, love their dream job working together at Jennifer Convertibles, and basically let life's stresses roll off their shoulders. When they get fired from their dream job, the two decide to take a vacation in Florida together in Vista Del Mar, where they make their way to a shimmering, sunny resort with azure swimming pools, beautiful people in swimsuits, and a musical greeting on a red carpet by an enthusiastic staff. The pair of friends even bump into dreamy Edgar Pagét (Jamie Dornan, Fifty Shades films) with whom they both end up having a triste with after a night of drinking and maybe some other mystery substance taking. But it turns out that Edgar is secretly working with a nefarious villain, Sharon Gordon Fisherman, who is trying to get even with the people of Vista Del Mar due to a tragedy the perpetrated upon her in her youth.
Wiig and Mumolo describe their script for Barb and Star as "a love story to middle-aged women," with the message that it's never too late to "find your shimmer." Barb and Star may be the prototypical middle-aged "moms" as they are described by Wiig and Mumolo, but they are also not made fun of here, they may be funny, but they are in fact celebrated. After all, the two leads are both also in their "middle years."


Barb and Star Go to Vista Del Mar (2021)
There is a weird, hyper-realism to the film in that it definitely exists in its own reality, even more so than a raunchy comedy like Bridesmaids. It skips through so many genres such as musicals (check out the Jamie Dornan shirt-tearing musical moment on the beach gals and guys), sci-fi, spy thrillers, action films, and slapstick comedy. It's all set against the lushly saturated setting of a hyper-tropical South Florida local where just about anyone would love to vacation.
While the film does have some lulls and not all of the comedy bits land, there are ample amounts of absurdity here to remind you that none of this is meant to be taken seriously. A running gag is the piano bar singer who seems to love singing about how much he loves boobies, and no one seems to even notice. Before you get insulted, do remember, this is a film written by and starring two women, granted it is directed by Josh Greenbaum. Speaking of which, Greenbaum does a good enough job allowing the cast, which also includes Damon Wayans Jr. as an incompetent contact to Dornan's Edgar, to do their thing and improvise a little magic on screen.
This is a fun and vibrant film to waste a little time with and escape the stresses of what is still the ongoing pandemic.
---
If you found this review useful please consider clicking the button below and donating to help keep TheaterByte funded and to allow us to continue posting great content.
---
Barb and Star Go to Vista Del Mar premiered on PVOD from Lionsgate on 12 February 2021.
---
Rating Certificate: PG-13 (for crude sexual content, drug use and some strong language)
 Studios & Distributors: Gloria Sanchez Productions | Lionsgate | Redrum | Stellie
Country: USA
Language: English
Run Time: 106 Mins.
Aspect Ratio: 2.39:1
Director: Josh Greenbaum
Written By: Annie Mumolo | Kristen Wiig