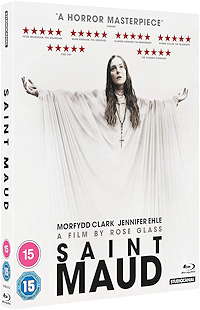 Saint Maud is the feature directorial debut from British writer/director Rose Glass. An eerie mixed-genre drama that easily blends paranormal horror, mystery, and thriller with real life drama, the film from the get-go establishes Glass as a force to be reckoned with in cinema.
Live-in nurse Maud (Morfydd Clark) arrives at the home of Amanda (Jennifer Ehle), a famous dancer who is now frail and dying from illness. The extremely religious Maud looks on Amanda's freewheeling lifestyle at the end of her life of partying, lesbian affairs, and nights out on the town with fascination, but she also believes she is there with a higher purpose. Voices speaking to her that she believes are from God tell her she is there to save Amanda's soul. Meanwhile, Amanda sees Maud as a curiosity, but one she at first doesn't mind having around. It doesn't take too long until things being to go awry, however.
With Saint Maud, Glass terrifying plays with the tropes of religious zealotry, allusions to mental illness, and paranormal horror. While we are watching the film, we are never really sure if Maud is simply suffering some sort of psychological break or if there is indeed something supernatural going on. If it's the latter, is she communing with God or is there something more nefarious going on?
Glass carefully builds the suspense, the mystery, and the terror using numerous visual techniques, like the dark photography, close-up fixations on minutia such as the clicking of a ballpoint pen, and some angular shots. The film builds up to horrifying and shocking levels with surprising and even perplexing twists that don't necessarily answer all the questions but certainly provide a dazzling finale.
---
If you found this review useful please consider clicking the button below and donating to help keep TheaterByte funded and to allow us to continue posting great content.
---
Saint Maud was originally released theatrically in the UK 9 October 2020
Saint Maud was released on DVD, BLU-RAY, Limited Edition SteelBook and Digital platforms on 1st February 2021 in the UK and is currently available for viewing on Epix in the US as of the writing of this review.
Extras Available on the StudioCanal UK Blu-ray, DVD, and Limited Edition SteelBook Edition of Saint Maud:
Audio Commentary with writer director Rose Glass & editor Mark Towns
Virtual Q&A with Rose Glass & film critic Robbie Collin
Constructing the Scene featurette
Maud and Amanda featurette
Creating the World featurette
---
Studios & Distributors: Escape Plan Productions | Film4 | BFI Film Fund | A24 (2020) (USA) (theatrical) | StudioCanal UK (2020) (UK) (theatrical)
Ratings Certificate: UK: 15 | US: R (for disturbing and violent content, sexual content and language)
Country: UK
Language: English | Welsh
Run Time: 84 Mins.
Aspect Ratio: 2.39:1
Director: Rose Glass
Written By: Rose Glass
Street Date: 1 February 2021 (UK) (Home Video)