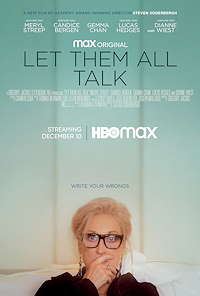 With a highly decorated trio of actresses—Meryl Streep, Diane Wiest, Candace Bergen—direction by Steven Soderbergh and a script from noted short story writer Deborah Eisenberg, Let Them All Talk looked like a lock for one of the best films of 2020. But sometimes the whole is less than the sum of all its parts as is definitely the case here.
Alice Hughes (Streep) is a highly successful novelist who has just won the prestigious Footling Award to be given to her in England. For reasons that will not become apparent until nearly the end of the film, Alice adamantly refuses to fly to receive her award. Her agent Karen (Gemma Chan) goes through private channels to arrange an Atlantic crossing on the Queen Mary 2 for Alice and her guests.  Alice invites her former college classmates Roberta (Bergen) a divorced lingerie saleswoman, and Susan (Wiest), a women's advocate lawyer. Nephew Tyler Hughes (Lucas Hedges) will keep tabs on these two women since Alice will be hard at work trying to overcome her writer's block and finish her new novel. Karen got her QM2 ticket by convincing her boss that she could find out what is in the tightlipped Alice's manuscript and, once on board, she recruits Tyler to spy on his aunt.
Nearly of the action takes place on the ocean liner. Alice gives Roberta, Susan, and Tyler copies of Realm of the Owl, a novel by the late Welsh author Bronwyn Pugh because she has planned a group visit to Pugh's grave after the Queen Mary 2 docks in Southampton.  There is little apparent chemistry between Alice and her classmates who have not seen each other in many years. As Alice works away, Roberta keeps hitting on wealthy older men (whom Tyler vets on the Internet) and Susan plays board games with her to pass the time. In a frank conversation, Roberta blames Alice for using the sordid details of her private life to fuel a best-seller, claiming that these revelations ruined her marriage to a rich husband.
Tyler becomes suspicious of a man (John Douglas Thompson) whom he sees leaving Alice's state room in the early morning hours. We begin to suspect that there is a connection between Alice and this stranger as she converses with him after a daily swim in the ship's pool. As the Queen Mary 2 nears its destination, it appears that Alice might be able to resolve the problem of what to do with her unfinished manuscript, as she drops a hint to Karen of "catching lighting in a bottle for a second time."
As the film rambled on, I got the distinct impression that much of the dialogue was improvised which was subsequently confirmed in a Steven Soderbergh interview.  Granted that this was Deborah Eisenberg's film debut, why wasn't she permitted to actually write a real script? This theater workshop approach might work on a stage but it falls far short of creating an interesting or even coherent film. Except for the scene during which Karen reveals to Tyler the explicit details of how her so-called life has gone very wrong, and Tyler responds in kind, there is little if any other character development. We really do not know these three older women much better at the end of  the film than we did at its beginning.  The storyline also has numerous unanswered questions such as the subject of Pugh's novel or why Alice chose it or why she really invited her classmates whom she has not seen in decades. The insertion of highly successful mystery writer Kelvin Krantz (Daniel Algrant), a dramatic foil for the more gifted Alice Hughes, turns out to be a time-waster.
The only justification that I could uncover for enduring the film's two-hour running time was the opportunity it afforded to explore the eye-popping interiors of this gorgeous cruise ship and to get the occasional views of the huge kitchen and numerous staff needed to feed its passengers. Just pass this one by.
---
If you found this review useful please consider clicking the button below and donating to help keep TheaterByte funded and to allow us to continue posting great content.
---
Let Them All Talk is streaming now on HBO Max
---
Rating Certificate: R (for language)
Studios & Distributors: Extension 765 | HBO Films | LS Productions | Warner Bros. | HBO Max
Country: USA
Language: English
Run Time: 113 Mins.
Aspect Ratio: 2.39:1
Director: Steven Soderbergh
Written By: Deborah Eisenman
Release Date: 10 December 2020