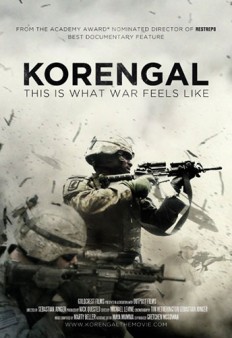 – –

The Film
Sebastian Junger is a journalist who has been around and seen it all. Now he's back with a new documentary called Battle Company: Korengal.
Junger first popped into the national conscious with his book The Perfect Storm, a true story about a group of fishermen who encountered a massive storm in the North Atlantic ocean. It was turned into a hit movie starring George Clooney and Mark Wahlberg. Junger then turned his focus into covering war zones and became more famous for being in the trenches with soldiers in Afghanistan. In 2009, Junger, along with Tim Hetherington, made a documentary called Restrepo. They both spent a year with one platoon in the Korengal Valley and turned their footage into this documentary, which was nominated for an Academy Award for Best Documentary.
Some of the footage, left over from Restrepo, now makes it into the new documentary Battle Company: Korengal. Just like Restrepo, the story is about U.S. Military platoons stationed in Afghanistan's Korengal Valley, also known as the "valley of death". It's a valley of mountains, cliffs, trees, hilltops – enough camouflage to disguise the enemy they were sent there to fight against — the Taliban. The Korengal Valley was a highway for Taliban activity, so thus it was important for the U.S. Military to prevent the Taliban from supplying their networks with weapons and supplies.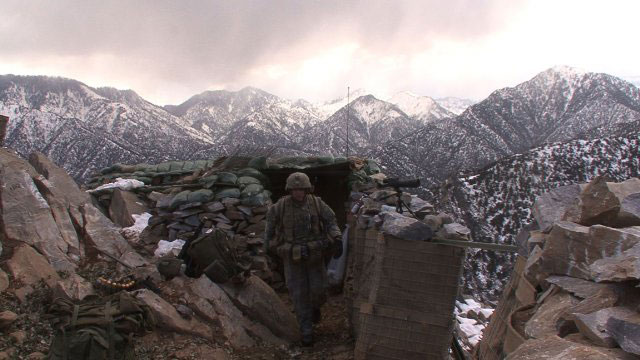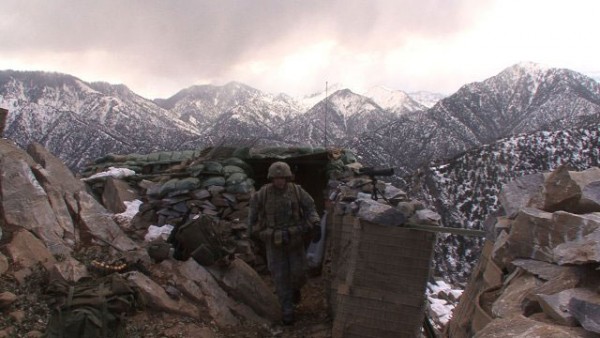 In this 90-minute documentary we meet the soldiers. Not one soldier stands out, they are all what you would expect from a military team facing almost certain death at their doorstep, which is a makeshift small military compound with very cramped quarters containing bunk beds, with running water and electricity (important for computer use). They are young, mostly white guys sent their to fulfill a mission. They live in a camp called Restrepo, which was named after a combat medic, Juan Restrepo, after he was killed in action.
The men, belonging both to the Second Platoon, B Company, 2nd Battalion, 503rd Infantry Regiment and the 173rd Airborne Brigade Combat Team of the U.S. Army have been assigned this post for over one year, and they're there in four seasons. For ten months, both Junger and Hetherington embedded themselves with them at Restrepo to capture their lives and activities. The soldiers have lots of down time, and during this time they are extremely bored. The only highlights for them are when they get to actually shoot against the enemy, as well as their occasional trips into the villages to meet the village elders, whom they are skeptical whether they can or cannot trust, meanwhile the Taliban could be hiding anywhere.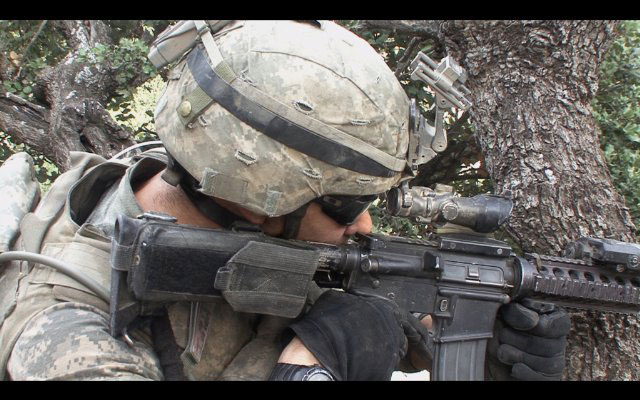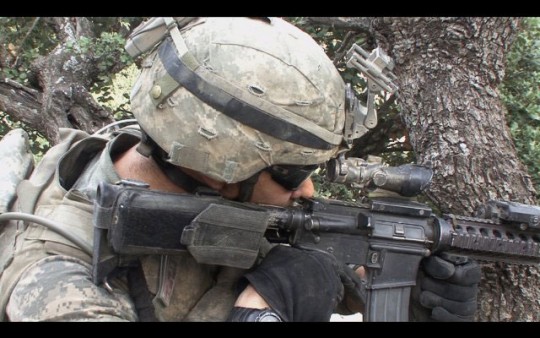 One soldier memorably says that in Korengal — "bad guys come to you, you don't go to them." Another soldier tells the camera that his mother told him to join the army, yet he still questions why he's there. Another soldier, one of the few black men, says that being black is still not acceptable in the military, he says that he feels some of the guys still don't accept him as one of their own because of the color of his skin. But what is said the most throughout the documentary is how they all watch out for each other, they consider each other like brothers. And alas, this is all we get from the documentary. There are no new revelations, nothing that we've not seen before, and fortunately, none of the soldiers were killed or hurt during the making of Battle Company: Korengal. So what was the point of making this in the first place? Because the filmmakers had leftover footage from Restrepo that they felt could be used to make another documentary, exploring more of the soldiers' lives at Restrepo,  and focusing less (if not at all) on the war side of the story. Unfortunately, this makes for an uninteresting documentary. Sadly, Hetherington, who shot a lot of this footage, was killed in 2011 while covering the Libyan War. Battle Company: Korengal is a last tribute to the work that he produced in his short life. He died at the age of 40.
Movie Rating:
[Rating:2.5/5]
[amazon-product region="uk" tracking_id="bluraydefinit-21″]B00J2WFITK[/amazon-product]