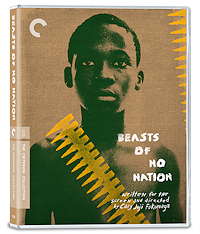 Beasts of No Nation is the acclaimed "Netflix Original" film from writer/director Cary Joji Fukunaga based on the novel by Uzodinma Iweala. The film shows the consequences of war through the eyes of one of its most vulnerable and innocent casualties, a child soldier.
Set in an unspecified African nation in the throes of a violent civil war, the film begins in the buffer zone where we meet young Agu (Abraham Attah) and his family, a father, who is a schoolteacher, an older brother who is concerned about staying fit and attracting girls, a younger sister, and a mother caring for her newborn baby girl. It's a tightknit family trying to make the best of their circumstances, but their little patch of peace is destroyed when one of the warring factions invade the buffer zone, his mother and sisters are sent away to safety and his brother and father are shot dead. Agu flees into the jungle where he comes across the Commandant (Idris Elba) and his group of child soldier who are fighting the rebel groups in the name of the Supreme Commander (Jude Akuwudike) back in the capital city.
The charismatic Commandant takes Agu under his wing and turns him into a brutal killer like the other children he has in under his command, using not only psychological means to sculpt them, but drugs to lower their inhibitions and convince them of their invincibility.
The story is told from Agu's perspective with him providing the narration along the way and we can follow along how his attitude and outlook change from the beginning to end. He goes from a naïve young boy trying to sell the frame of a television as an "imagination TV" to soldiers protecting their village to war-hardened killer who doesn't trust anyone.
Fukunaga avoids moralizing and allows the story to stand on its own, which is what makes this such a powerful film. His background in cinematography no doubt helps him to bring out the best in the locations as well, that make it more immediate. Elba's performance is one of the best of his career, from his accent to his complete amorality. All of this brought together by a director who obviously knows how to handle difficult material about a subject of very real concern.

Beasts of No Nation (2015)
The Video
Beasts of No Nation was shot on the Arri Alexa XT with Panavision Primo, C-, E-Series and ATZ anamorphic lenses and utilized a completely digital workflow with a 2K DI. Director Cary Joji Fukunaga oversaw the color timing. Criterion presents the film in an AVC 1080p encodement framed in its original 2.39:1 aspect ratio. Apart from some areas where the digital noise is heightened due to lighting or in-camera issues, this presentation is nearly flawless with crisp details and extended shadows. You can see beads of sweat as they run down people's faces or the tiniest of scars and make out individual blades of grass. In scenes with fires at night, there is beautiful contrast, and the flames glow bright orange and red against the dark background.
The Audio
The lossless DTS-HD Master Audio 5.1 soundtrack was remastered from the original digital audio master files using Avid's Pro Tools. The sound is dynamic and clear going from whisper level to bombastic as explosions go off and bullets whiz by your ears sounding like mosquitoes. There are a few instances with rainfall filling the soundstage and thunder that also has deep extension in the LFE.
The Supplements
All new supplements with in-depth discussions and new revelations about the filming and cast make this collection of bonus materials worth going through from start to finish.
Commentary recorded in 2021 featuring director Cary Joji Fukunaga and first assistant director Jon Mallard.
Passion Project (1080p; 01:01:41) – This documentary was made for the Criterion Collection in 2021 and features director Cary Joji Fukunaga; author Uzodinma Iweala; producers Amy Kaufman, Daniela Taplin Lundberg, and Riva Marker; and actors Abraham Attah and Idris Elba.
Cary Joji Fukunaga and Franklin Leonard (1080p; 00:21:27) – This conversation, recorded for the Criterion Collection in 2021, director Cary Joji Fukunaga discusses Beasts of No Nation, his career, his artistry, and the challenges of representation in filmmaking with film and television producer and cultural critic Franklin Leonard, founder of the influential annual screenwriting survey the Black List.
Costume Design (1080p; 00:20:09) – Costume designer Jenny Eagan won a Costume Designers Guild Award for her work on Beasts of No Nation. In this interview, recorded by the Criterion Collection in 2021, she discusses her research and designs for the film.
Trailer (1080p)
Essay, 'A Different Kind of African War Film' by film critic Robert Daniels
The Final Assessment
A powerful film about a universal issue that has been with us forever, from World War II Germany to the present day in South East Asia and in Sierra Leone and elsewhere, Beasts of No Nation is incredibly shot and looks and sounds great.
Beasts of No Nation is out on Blu-ray & DVD August 31, 2021 from Criterion Collection

---
Rating Certificate: TV-MA
Studios & Distributors: Red Crown Productions | The Princess Grace Foundation (funding) | Participant | Come What May Productions | Levantine Films | Mammoth Entertainment (funding) | New Balloon | Oak Street Films | Wonder Street | Bleecker Street Media | Netflix | The Criterion Collection
Director: Cary Joji Fukunaga
Written By: Cary Joji Fukunaga (written for the screen by) | Uzodinma Iweala (based on the novel by)
Run Time: 136 Mins.
Street Date: 31 August 2021
Aspect Ratio: 2.39:1
Video Format: AVC 1080p
Primary Audio: English DTS-HD MA 5.1
Subtitles: English SDH