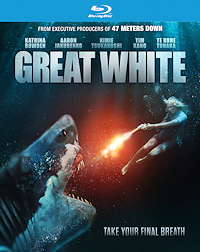 On paper Great White seems like it may be a decent Jaws knockoff going in to pass the time with or at the very least a poor man's version of The Shallows, especially with a decent cast of genre actors like Katrina Bowden (Piranha 3DD), Aaron Jakubenko ('Tidelands"), Kimie Tsukakoshi (Riptide), Tim Kano ("Neighbours"), and Te Kohe Tuhaka (Love and Monsters). Unfortunately, this film never hits its stride. For the first forty-minutes we follow couple Bowden and Jakubenko who we are supposed to be getting to know, but we never really develop a rapport with them. Jakubenko gets a call from Kano who wants to book a trip with Jakubenko's tourist company to a remote atoll, where we have earlier seen a great white attack a couple. Kano and his girlfriend Kimie are there to spread her father's ashes and things are going smoothly until a washed-up body is found. Jakubenko decides to take everyone in his plane to go search for the other passenger on the boat they saw in the man's phone. A freak accident leaves them stranded in an escape raft with a man-eating great white hunting them.
As much as director Martin Wilson tries to build up suspense and tension in this film, it is marked by too many long stretches of inactivity, no character development, and, frankly, a lot of predictable twists and scares. The pacing is painfully slow so that by the time there is a lot of action, if you're still awake, you'll just be hoping the shark is well fed and you can move on with your life. If you really want a much more entertaining contemporary shark monster film go see The Meg or The Shallows or something.

The Video
Great White was shot digitally and arrives on Blu-ray in a 2.39:1 framed AVC 1080p encodement from RLJE. The colors look vibrant and flesh tones are natural. When they are on the beach in the sunlight and the camera pans across the shore the sea looks pristine and azure. That said, the image suffers from a lot of banding and posterization which is heightened in the dark scenes on the open water and the underwater scenes.
The Audio
The DTS-HD Master Audio 5.1 is a bit disappointing for a film like this. While there is a lot of deep extension in the LFE channel, it doesn't really sound clean and there is a lot of balance or nuance in the mix. The dialogue is clear and natural sounding even in the more active scenes, which is a plus.
The Supplements
There are a meager set of bonus features including a brief 'making of' featurette that has some interviews and behind-the-scenes footage and a photo gallery with some production stills.
The Making of Great White (1080p; 00:06:09)
Behind-the-Scenes Photo Gallery (1080p)
The Final Assessment
Great White is a greatly disappointing horror film but if one is inclined to collect these shark genre films, then it does fit neatly into that slot.
Great White is out on Blu-ray September 7, 2021 from RLJE
---
Studios & Distributors: Thrills & Spills | Altitude Media Group | Chop Shop Post | Cornerstone Pictures | Filmology Finance | Piccadilly Pictures | ProdigyMovies | Truth or Dare | RLJE Films
Director: Martin Wilson
Written By: Michael Boughen (screenplay)
Run Time: 91 Mins.
Street Date: 7 September 2021
Aspect Ratio: 2.39:1
Video Format: AVC 1080p
Primary Audio: English DTS-HD MA 5.1
Subtitles: English SDH | French | Spanish