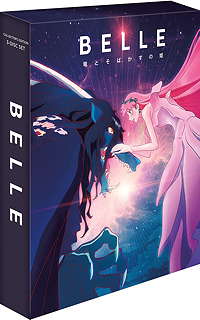 Belle is the latest anime feature film from director/writer Mamoru Hosoda (Mirai, Wolf Children, Summer Wars). A coming-of-age fantasy with a strong female protagonist, the film takes Hosoda's animation style to brave new heights and breaks new ground, putting the director firmly on the level of a master like Hayao Miyazaki, and out of his looming shadow as well.
Suzu is a shy high school girl in the rural Kōchi Prefecture of Japan who is still coping with her mother's death years earlier. The loss of her mother, which she personally witnessed as her mother drowned trying to save a stranger's child, left her with feelings of abandonment and the loss of her ability to sing.  She and her father now live alone together but don't speak much. She is isolated from much of her classmates except her best friend Hiroka Betsuyaku and her childhood friend and self-appointed protector Shinobu Hisatake, who has now grown into one of the school's most popular guys and a great basketball player.
On the advice of her bestie Hiro-chan, Suzu joins an advanced online VR (virtual reality) community called "U" that can scan one's internal emotions and abilities and bringing them out of someone. Inside U, Suzu's "AS," Bell (the English translation of her name), a gorgeous, freckled avatar, becomes a virtual singing sensation around the globe and she garners massive audiences. Her fans start calling her "Belle," meaning beautiful.  A character inside U known as The Dragon" (or "The Beast") begins disrupting her performances. The powerful, nearly unbeatable Dragon is being hunted by the self-appointed superheroes of U led by Justin, who plans to unmask Dragon's true identity to the world. Suzu, feeling drawn to the Dragon, wants to find out who he really is on her own and makes a connection with the unruly "beast".
Belle makes obvious nods to Beauty and the Beast, even giving us its own version of the classic ballroom dance scene from Disney's adaptation, but in the hands of Hosoda, this becomes a cyberpunk fantasy version of that scene that acts an homage while taking on a life of its own.
Hosoda also manages to weave together three plots reasonably well, although it takes a little time to ease into it all and get a handle on what is going on. There is the main plot following Suzu's coming of age and coming to terms with losing her mother, then the world inside U and finally the story of the Dragon which delves into some very complex domestic issues.
Hosoda wraps this whole thing up in his usual, magical world, breaking even new ground visually, tying together the dazzling techno-anime styles of Summer Wars with the somewhat more traditional but no less pleasing styles of The Girl Who Leapt Through Time for a heavenly visual delight.
The Video
Belle is a digital animation from a 2K digital intermediate with Dolby Vision. As such this 4K Ultra HD release is upscaled and does not provide any real added resolution over the previous Blu-ray release, but it does grant more bandwidth for the encodement and Dolby Vision, which is a big upgrade in visuals. The image is clean and free from banding or noise and the Dolby Vision, while subtle, does give more balanced shading and brightness in the more natural, everyday life scenes while bringing even more 'pop' to the U virtual reality world. Take a look at the ~18:20 mark for an example of how the visuals are handled as we shift from Suzu at home and walking outdoors to a dazzling scene in U.
The Audio
Belle's audio mix on 4K Ultra HD gets an upgrade to Dolby Atmos for both the original Japanese-language track and the English dub. This really expands things over the DTS-HD Master Audio 5.1 with more subtle height awareness, such as birds chirping in the distance, and spreads sounds and ambience more during the musical performances in U. Again, just as an example, you can check the 18:20 mark for a sample of what the mixes do.
The Supplements
Shout! Factory and GKIDS load this set up over the previous Blu-ray Combo release. While some of the bonus features from before reappear on the included feature film Blu-ray Disc, there is a second special features Blu-ray with new featurettes and new collectible items as well.
The new special edition 4K release comes with new matte finish deluxe slipcase packaging, art cards, poster, sticker, and a booklet with interviews, cast credits, sketches, reviews, and more.
On Blu-ray Only:
The Making of BELLE (1080i/60; 00:44:05; Japanese)
A Conversation with Director Mamoru Hosoda (1080p; 00:29:13; Japanese)
The Music of BELLE (1080p; 00:15:32; Japanese)
Finding the Voice of Belle (1080p; 00:11:49; English)
Scene Breakdown: The Train Station (1080p; 00:10:37; Japanese)
Scene Breakdown: The Ballroom (1080p; 00:12:06; Japanese)
Hosoda @ Animation is Film (1080p; 00:18:05; English)
Hosoda Draws Belle (1080p; 00:08:50; Japanese)
Design Gallery (1080p)
Kylie McNeill Performs "Gales of Song" (1080p; 00:02:37)
Trailers (1080p; 00:07:05)
On Special Features Blu-ray:
NEW Behind the Japanese Dub (1080i/60; 00:41:31)
NEW Promo Events with Hosoda and Cast (1080i/60; 00:40:27)
NEW Special Dialogues with Cast (1080i/60; 00:24:17)
NEW Interview with Takeru Satoh (1080i/60; 00:06:02)
NEW Eric Wong Interview (1080p; 00:26:33)
The Final Assessment
Mamoru Hosoda returns with another gorgeous and heartfelt feature film that will astound you with its magnificent visual style and endearing characters. This collector's edition with 4K Ultra HD, Dolby Atmos, deluxe packaging, new bonus features, and collectibles, would make an excellent gift for any anime fan.
Belle: Collector's Edition is out August 30, 2022, from Shout! Factory and GKIDS
---
Rating Certificate: PG (for thematic content, violence, language and brief suggestive material)
Animation Studio: Studio Chizu
Distributor: Toho | GKIDS | Shout! Factory
Director: Mamoru Hosoda
Written By: Mamoru Hosoda
Run Time: 122 Mins.
Street Date: 30 August 2022
Aspect Ratio: 2.39:1
Video Format: HEVC 2160p (4K UHD)
HDR Format: Dolby Vision (HDR10 Compatible)
Primary Audio: Japanese Dolby Atmos
Secondary Audio: English Dolby Atmos| English 5.1 Descriptive Audio
Subtitles: English SDH | English for Original Language Version | Spanish for Original Language Version