Although this California-based company has around since 2009, Starke Sound was a new brand name for me. Besides its three lines of loudspeakers and a series of subwoofers, Starke Sound makes high-quality amplifiers, ranging from an upcoming Class A flagship A2.640 to three multi-channel A/B amplifiers. Recently, Starke Sound dived into the Class D switching amplifier pool beginning with the Fiera4 (4-channel) and more recently the Fiera8 (8-channel), the subject of this review.
Out of the Box
As a reviewer with a bad back, I am always grateful when I receive a component that can be readily hoisted onto my equipment rack without stress or strain. The Fiera8 certainly fills that bill, tipping the beams at a mere 22 pounds and making it easily fit into one of the Sound Anchors component racks in my home theater. My 7.1.4 Dolby Atmos-capable audio/video system includes two Martin Logan CLXs (main channels), Illusion ESL34A (center channel), two EFXs (surround channels), two Script-i's (rear channels), a pair of BalancedForce 212s (subwoofers), and four Motion AFX (height channels). A Theta Digital Casablanca V music and cinema processor running Dirac 2.0 room correction software feeds a team of Pass Labs amplifiers— two XS150 monoblocs, a X260.8 monobloc, a X150.5 and a X150.8—which the Fiera8 will replace during this review. An Oppo UDP 205 Universal Player and an Apple 4K TV supplied the audio sources for the Casablanca V.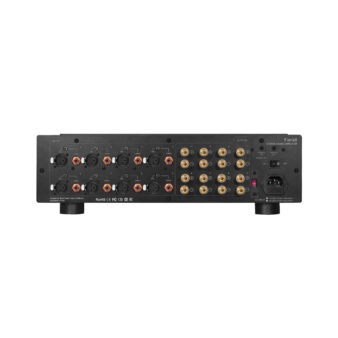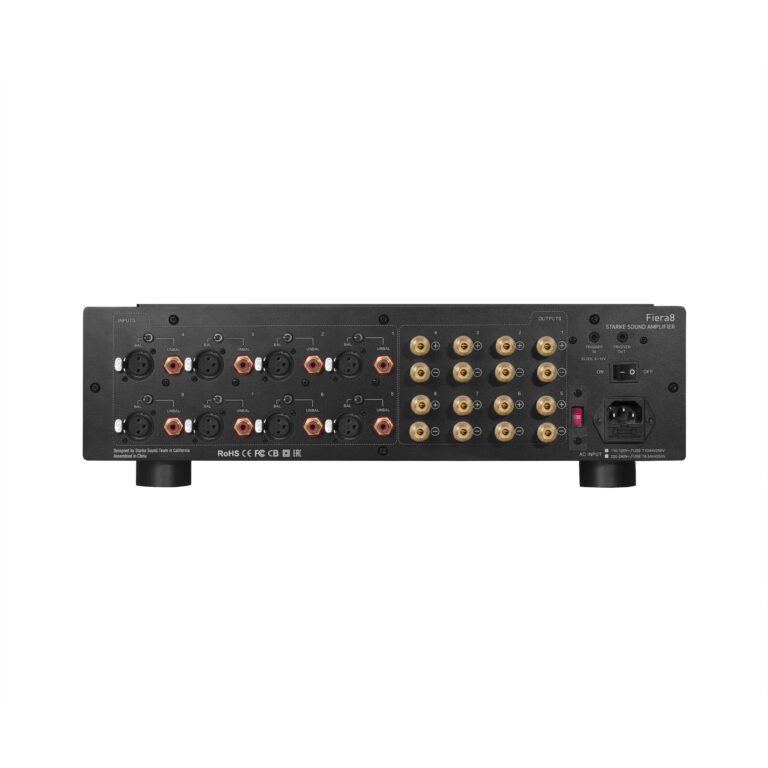 Running along the bottom of the "stark" black front panel of the Fiera8 is a deep groove, divided by a power switch that turns green when powered on (a problem will trigger a yellow light that prompts a power down).  The rear panel is pretty busy. On the left is a bank of 8 inputs with toggle switches that select between balanced and unbalanced operation. In the center is a bank of 8 pairs of speaker terminals that will accept banana plugs or wires (it is too crowded for 8 pairs of spade lugs). On the right are a pair of inputs for 12-volt triggered-in or triggered-out operation, an on/off switch, and a power cord receptacle.
Some key features of this amplifier, as noted in the product literature, are its proprietary SAPS power mode, proprietary NS600 amplifier module, high sampling rate up to 600kHz, and eight channels, each capable of generating up to 260 watts RMS @ 4 Ω or 130 watts RMS @ 8 Ω.
Putting the Fiera8 through its paces
A no-nonsense illustrated owner's manual will get you up and going in a few minutes as all connections are clearly marked. Since my subs have their own amps and the height channels are driven by an Amplifier Technologies AT524 four-channel Class D amplifier, only seven of the  Fiera8's eight inputs and speaker terminals were needed. Once the Fiera8 was powered up,  I challenged it with a series of topflight 4K UHD discs featuring either original or remastered Dolby Atmos soundtracks (TrueHD 7.1 core).  Included in this list of reference Blu-ray discs were the 4K-remastered The Fifth Element, and Indiana Jones: Raiders of the Lost Ark as well as newer releases like Tenet, Black Panther, and 1917.
After letting the system warm up, I began serious listening and was not prepared for what was coming out of my MartinLogan speakers driven by an amplifier considerably smaller than any it had replaced. There was astonishing clarity in its reproduction of dialogue and an openness of the audio soundstage that let me hear details like the Leeloo's reconstruction scanner in The Fifth Element, the pulsations during the running sequences in 1917, and individual voices in Black Panther's huge concert scene.  At no time did I feel that I was getting an underpowered response from my ML's with their nominal sensitivities of 90 dB/2.83 volts/meter. While I had to crank up the volume control somewhat higher on the Casablanca V processor to get the same sound levels I was getting with the Pass Labs amps, once that was accomplished, I got highly engaging delivery of these discs' powerful soundtracks. Listening to streaming films in Dolby Atmos like Top Gun: Maverick was also a revelation, bringing sound nearly as potent as what I had experienced at our local movie theater.
Nearing the end of my listening sessions, I played a truly remarkable audio-only Blu-ray disc of Lost Voices of Hagia Sophia (Capella Romana) with an unearthly Dolby Atmos recording of thousand-year-old Greek liturgical chants. Once again, the Fiera8 acquitted itself extremely well in its reproduction of the mixed choral voices.
The Final Assessment
BTW, "fiera" is Spanish for fierce animal, but does this name apply to the Fiera8 amplifier?Even if it doesn't in all respects, the Fiera8 home theater amplifier is a component that fights fiercely and hits well above its weight when it comes to performance in a home theater.  I am not getting rid of my Pass Labs amplifiers—they have unfettered Class A power and an even greater sense of space, particularly noticeable on the Lost Voices  and Black Panther discs. But when you compare this component priced at $1799 with an army of amplifiers weighing in at more than $85K, the Fiera8 must be considered a crazy bargain. For home theater aficionados as well as for those assembling their first home theater system, this Starke Sound amplifier demands their attention and would provide more than enough power for most A/V systems. Highly recommended.
---
At the time of publication Starke Sound is running a 30% off everything Black Friday sale on their website. You can also use the code 3P51Y7R5S3RG at checkout for an additional 10% off.
---
Pros:
High build quality
Lots of power
Sufficient inputs and outputs for a standard 7.1 home theater system
Compact size for easy placement
Easy-to-read owner's manual
Cons:
Real estate is tight for inserting all the speaker leads
---
Technical Specifications
Continuous power (both driven):

260 W RMS at 4 Ω (1% THD,per channel)
130 W RMS at 8 Ω (1% THD,per channel)

Total Harmonic Distortion

<0.1% at 1kHz, at 200 W, 4 Ω

Intermodulation Distortion (60 hz: 7kHz)
S/N Ratio (IHF "A" weighted)

>110dB, "A" weighted at 4 Ω 260W

Input Sensitivity/Impedance
Input Impedance
Minimum Load Impedance
Power consumption

Standby 12W, Idle 14W, Maximum 1500W

Weight
Dimensions (H x W x D)

5.5 x 17.7 x 13.4 inches (w/ foot)
140 x 450 x 340 mm (w/ foot)
---