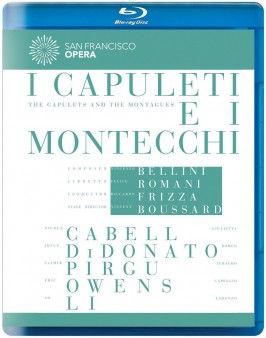 –
The Performance
[Rating:4/5]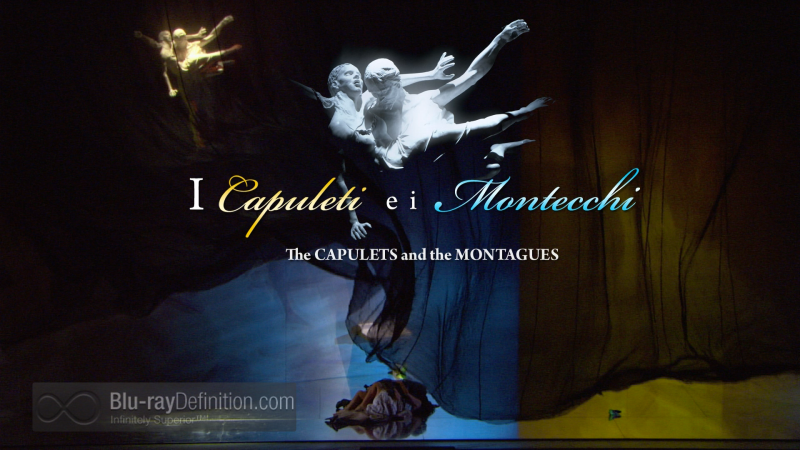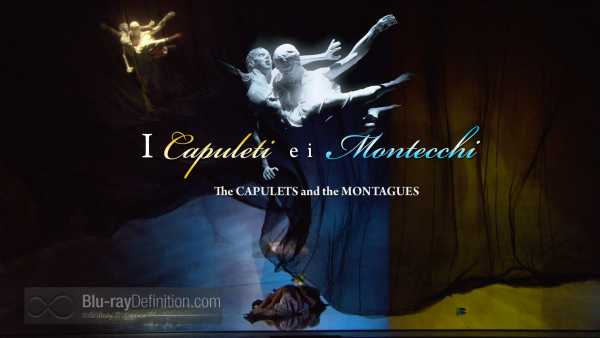 There have been several operatic renditions of the timeless story of young lovers doomed by their feuding families. Vincenzo Bellini's version, I Capuleti e i Montecchi (The Capulets and the Montagues) differs significantly from Charles Gounod's better known Romeo et Juliette, in both plot and characterization, as it is based on an account by Matteo Bandello, not the more familiar one by William Shakespeare.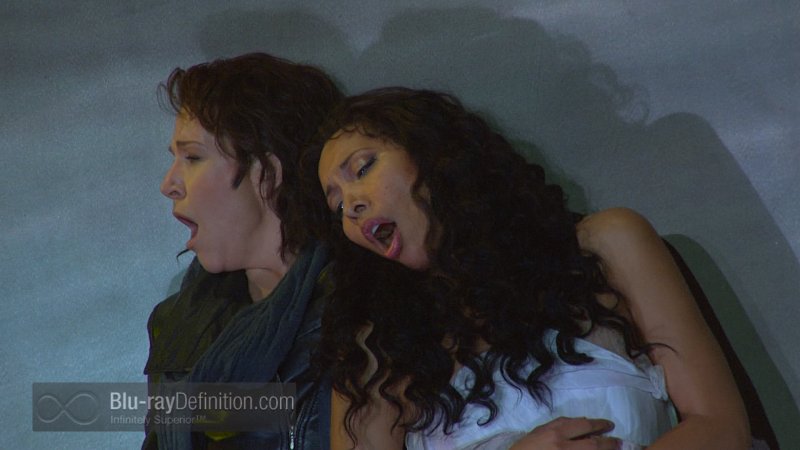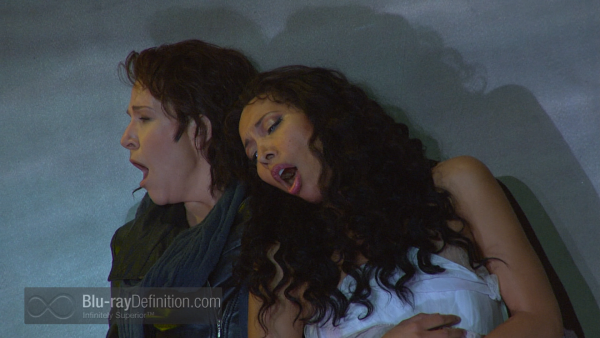 Act 1 finds Capellio (Eric Owens) and Tebaldo (Samir Pirgu) discussing Romeo's (Joyce Di Donato) offer of peace between the warring clans. Romeo is in love with Giulietta (Nicole Cabell) but Capellio has already offered his daughter's hand to Tebaldo.  Lorenzo (Ao Li) recommends that the wedding be postponed, stating that the prospective bride is indisposed. However, Capellio forges ahead to ensure that the ceremony will take place that very same day.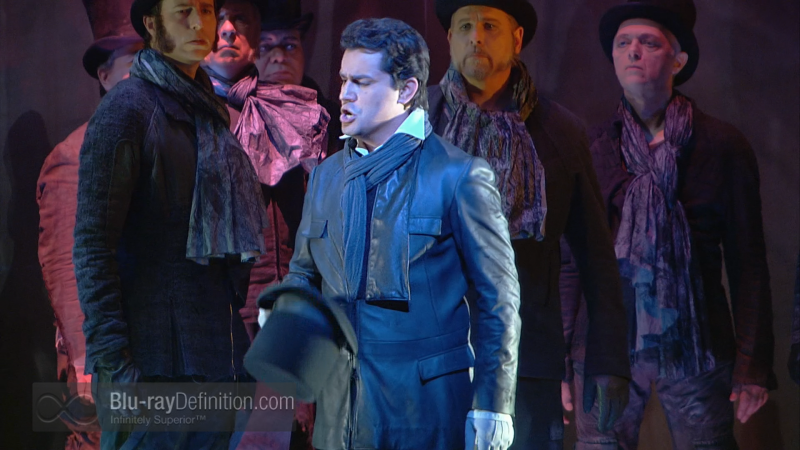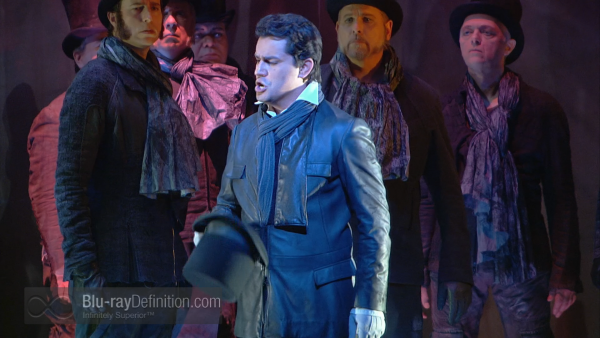 Romeo enters, disguised as a Montecchi envoy, and suggests that Giulietta marry him to secure peace between the families. Capellio rejects this offer and declares war on the Montecchi. Giulietta is distressed at the prospect of a marriage to Tebaldo and longs for Romeo. Lorenzo has arranged a secret visit from Romeo who entreats Giulietta to elope with him. She is conflicted by her sense of duty to her family and decides not leave with her lover.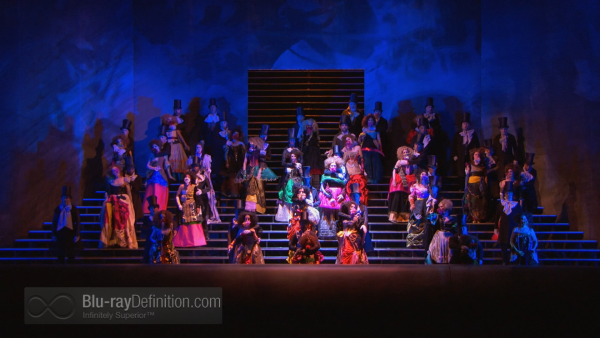 As the Capuleti anticipate the impending nuptials, Romeo (again in disguise) appears and reveals to Lorenzo that he has massed his troops to prevent the wedding from taking place. The Montecchi forces storm the palace and Romeo again begs Giulietta to flee with him.  Capellio and Tebaldo discover the couple, Romeo reveals his true identity but the Montecchi protect him from harm. The two lovers are each sequestered by their respective families.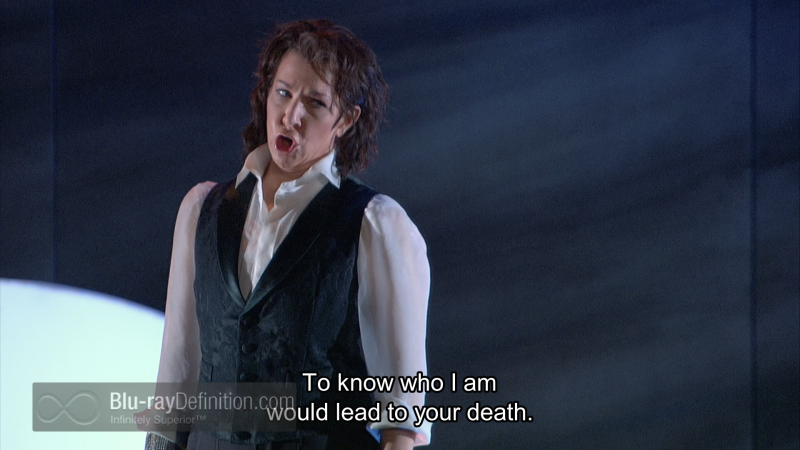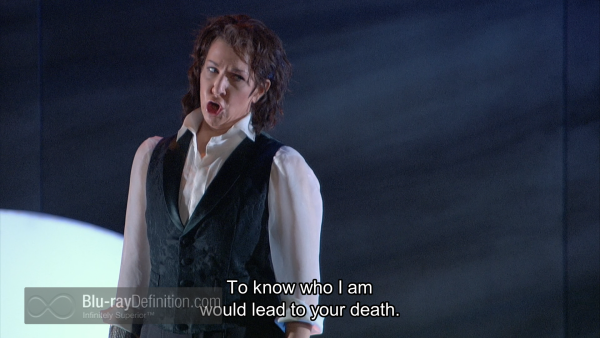 Act 2 opens in the Capuleti palace. Lorenzo offers Giulietta a sleeping potion that will simulate death so that she can be placed in her family's mausoleum. Lorenzo will then arrange for Romeo to join her when she awakes. Capellio arrives and orders Giulietta to go to Tebaldo's castle, while keeping a suspicious eye on Lorenzo. Romeo returns and encounters Tebaldo but before the men can fight, they hear a funeral procession and sadly realize that it is for Giulietta.With his Montecchi entourage, Romeo enters the Capuleti tomb and asks to be left with his beloved Giulietta. Believing her to be dead, Romeo takes poison and when Giulietta awakens to find a dying Romeo, she dies, clinging to his corpse.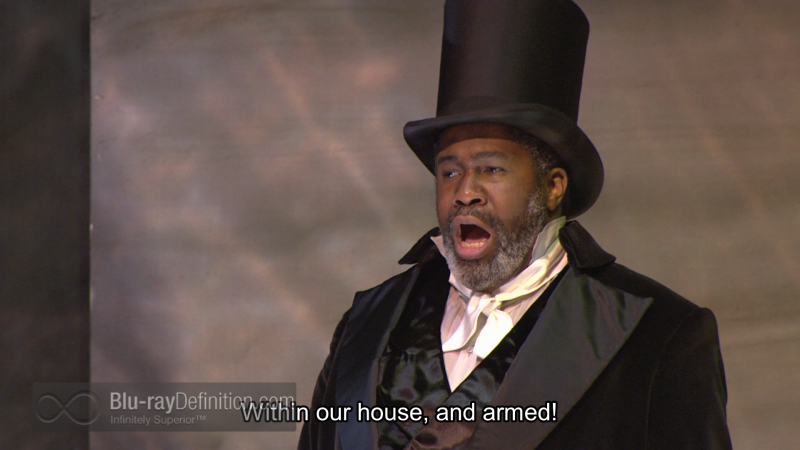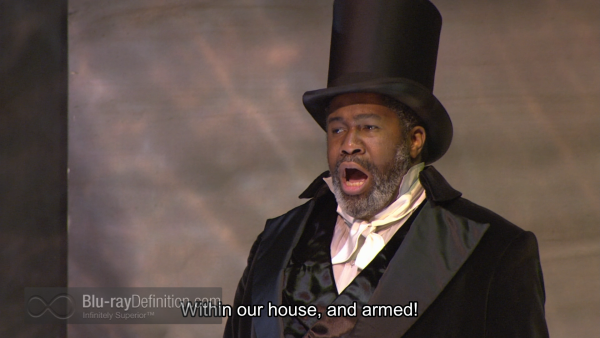 This 2012 San Francisco Opera production gets a star-powered treatment for its principal roles with singers who deliver a vocally thrilling account of a work rarely mounted in American opera houses.  Bel canto veteran maestro Roberto Frizza extracts the heart and soul of Bellini's work, making this an event that should not be missed.

Video Quality
[Rating:3.5/5]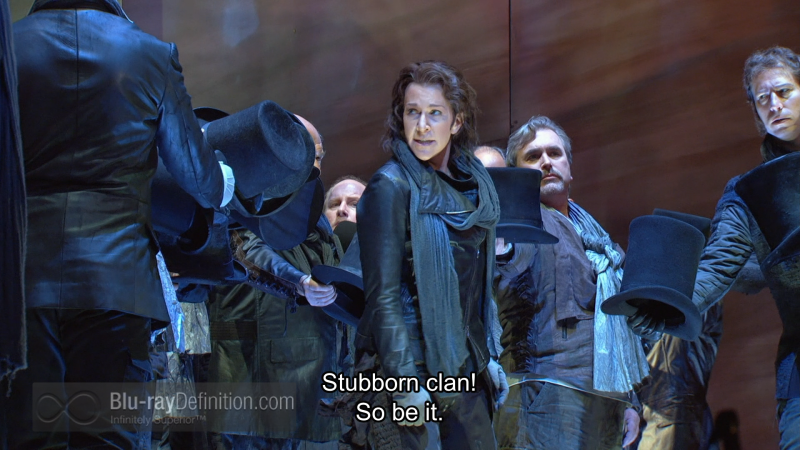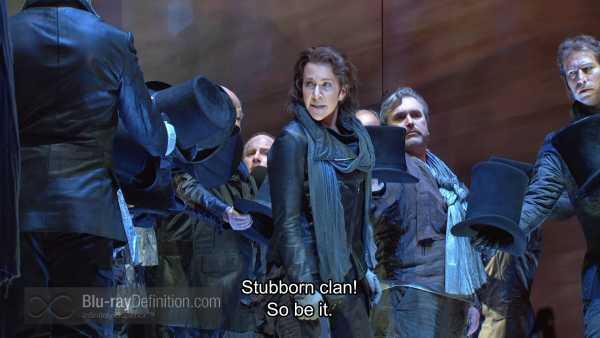 As I have noticed with several of the previously reviewed SFO Blu-rays, when the lights are dimmed, the colors and details are noticeably diminished. Outside of that visual issue, that is only intermittent, Frank Zamacona's cameramen give us an honest account of the onstage proceedings. The frequent close-ups mitigate the stark effect of a mostly bare stage.

Audio Quality
[Rating:4/5]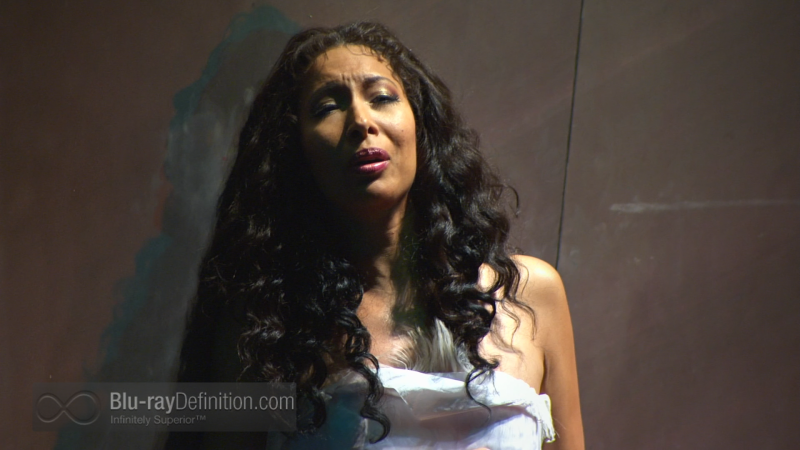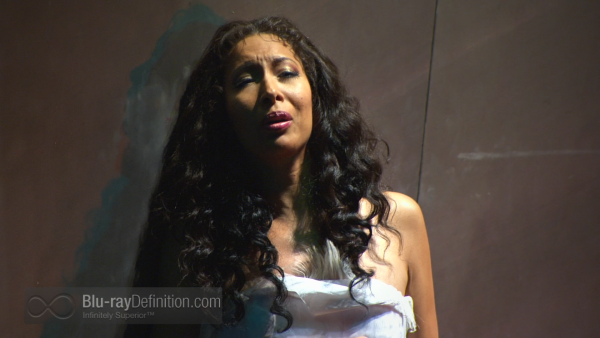 The surround soundtrack in glorious 96kHz/24-bit high-resolution is just spectacular with crystal clear vocals and fine orchestral details. The DTS-HD Master Audio 5.1 version outpoints the two-channel option with regard to ambience.

Supplemental Materials
[Rating:2/5]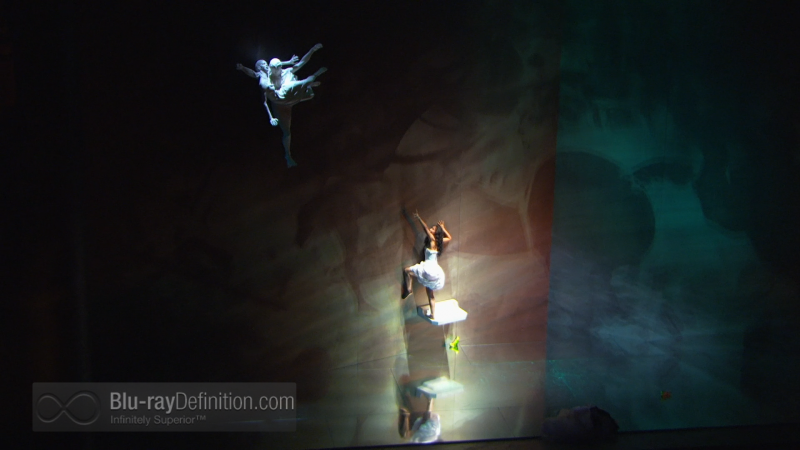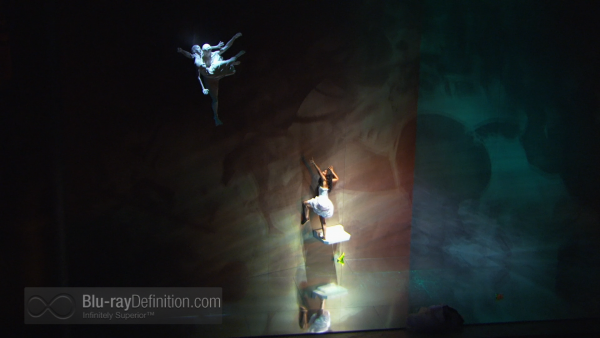 A program booklet with cast and production credits features a synopsis, track listings, and a brief essay by director Vincent Broussard. Short interviews, all in 48kHz/24-bit resolution, with Joyce DiDonato (8:38) and Nicole Cabell (5:33) and a brief retrospective of Ms. DiDonato's early days in San Francisco (2:06) round out the extras.

The Definitive Word
Overall:
[Rating:4/5]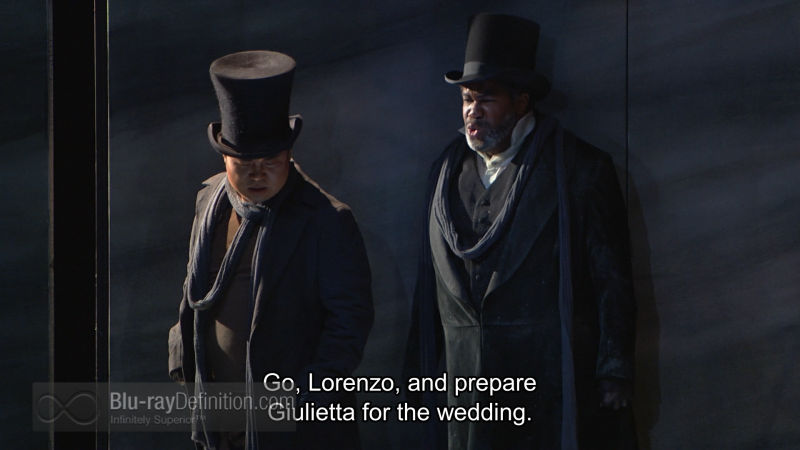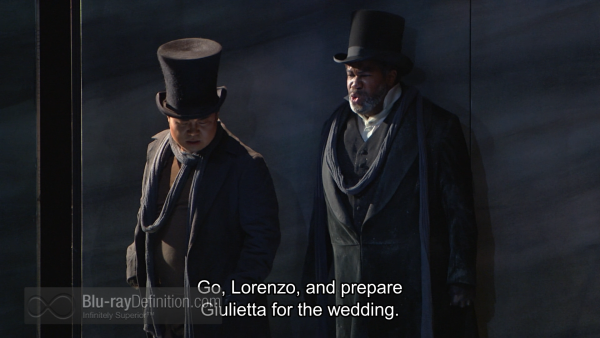 This Bellini rarity receives its Blu-ray debut with a dream cast and musical direction that truly does this work justice that is unlikely to be equaled any time soon. Minimalist sets aside, seemingly de rigeur in many contemporary productions, viewers will be treated to bel canto singing with some of its best current proponents. I Capuleti e I Montecchi is another winner in a SFO Blu-ray opera series that just keeps getting better and better.

Additional Screen Captures