–
The Film
[Rating:3/5]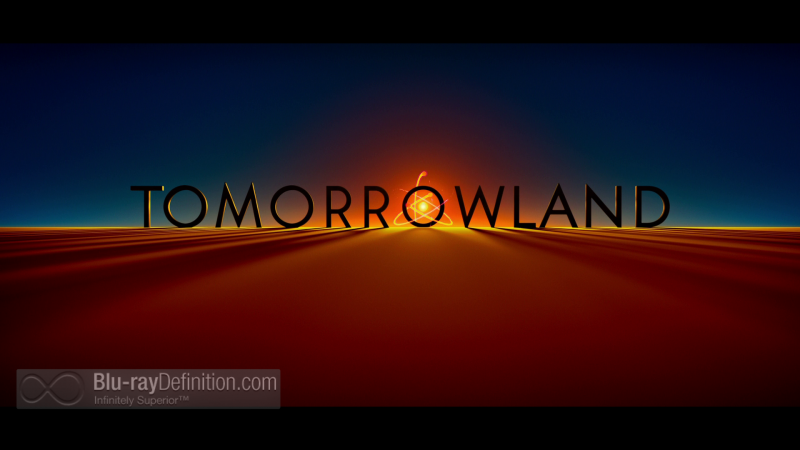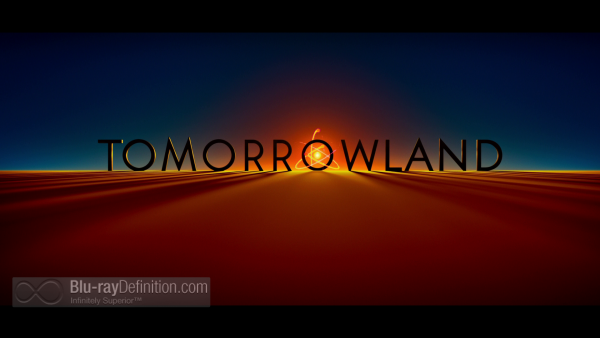 With Tomorrowland, Disney takes another dip into adapting one of their theme park rides into a movie, bringing on director Brad Bird (Ratatouille, The Incredibles) and writer Damon Lindelof (TV's The Leftovers, Prometheus) to handle the task. Just as Pirates of the Caribbean before it, Tomorrowland has about as much depth to it as an amusement park ride, but is far less fun.
The story follows science enthusiast Casey Newton (Britt Robertson) who is so committed to keeping progress alive that she risks everything to break into a NASA facility to stop them from decommissioning a launch facility and putting her engineer dad out of work. The stunt lands her in jail, but she does come across a strange artifact in the form of a pendant that allows her to see a wondrous, futuristic world filled with advanced technology. Casey is then contacted by an enigmatic young recruiter for this world named Athena (Raffey Cassidy) who informs her that that advanced world is int trouble and it needs her help to save it. Casey must also recruit the help of former scientific prodigy, Frank Walker (George Clooney), from the futuristic world now living back in our world in exile, to help her get to this "tomorrowland" and save it.

Tomorrowland is a visual feast for the eyes, that much is true, but it is also abundantly pie-eyed in its belief that science can cure all the ills of the world, while also contradicting itself with its own plot twist involving an invention by scientist Frank Walker that begins to have the opposite effect. In that regard, the screenplay becomes quite overbearing and perhaps a little to eager to ride the contemporary wave of anti-corporatism, even as it is plugging its own corporate interests, the first being the Disney theme parks, and the second being the obvious product placements like bottles of Coca-Cola.
Thankfully, the movie does offer a lot of bright spots, the biggest of all is the shining performance from young British star Raffey Cassidy as Athena who shows a maturity beyond her years and lots of promise for a bright future ahead of her. The aforementioned visual effects, which are actually less abundant than promos and trailers would lead one to believe, supply excellent eye candy when they do take center stage and certainly look like money well spent. One scene showing a 19th century rocket ship (yes, you read that correctly) taking off from within the Eiffel Tower is just awesome to look at, you'll probably want to make note of it for reference purposes.

Video Quality
[Rating:5/5]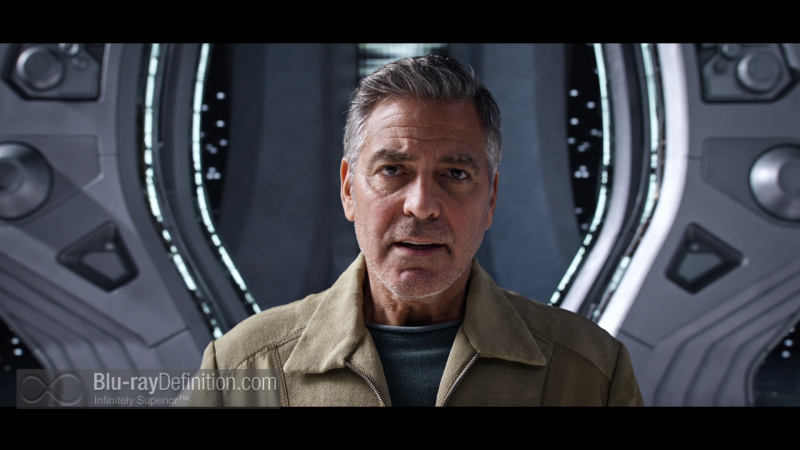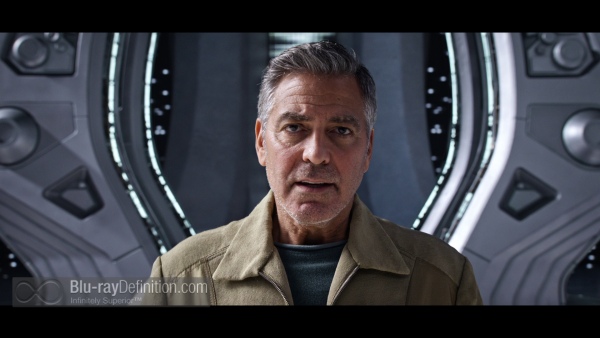 Tomorrowland was shot in 4K on the Sony CineAlta F65 and CineAlta PMW-F55 cameras and brought to Blu-ray in a perfect, eye-popping AVC/MPEG-4 1080p encodement from Disney. The image here is clean and crisp with little to no video noise, no artifacts of any kind, and natural color reproduction of flesh tones. Contrast is strong, shadows are nuanced, and the depth of field is greatly extended.

Audio Quality
[Rating:5/5]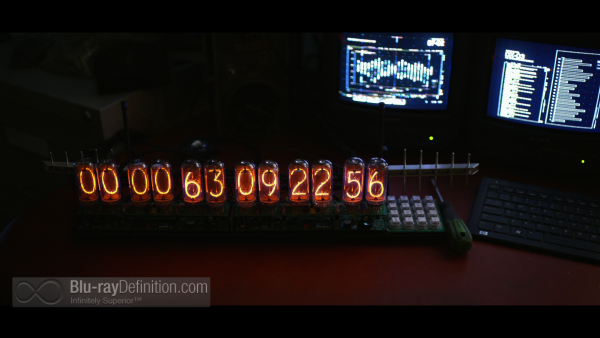 Tomorrowland gets a superb English DTS-HD Master Audio 7.1 (48kHz/24-bit) soundtrack on Blu-ray that has wonderful balance of musical score, atmospheric effects, and sound effects, with excellent use of the surround channels for solid, discrete sound effects and panning, wide stereo effects across the front channels, and full, clean and natural sounding dialogue that doesn't get lost.

Supplemental Materials
[Rating:4/5]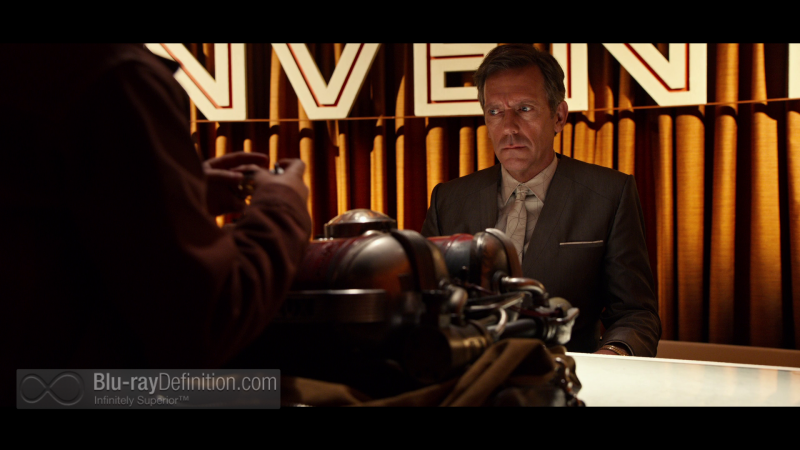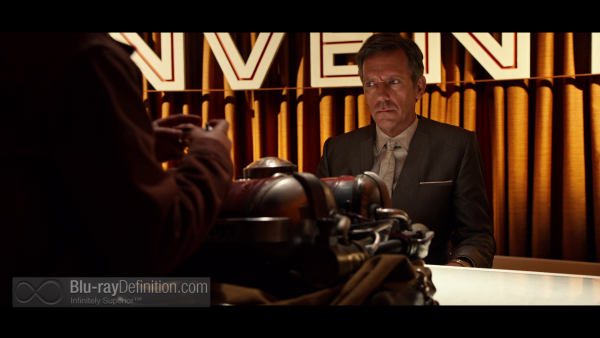 This disc is packed with extras on the production and more. We get a fantastic animated short from Pixar that ties into the film perfectly, plus some "faux" lost TV footage hosted by Hugh Laurie and more.
Disney Movies Anywhere Digital HD – Supports the Disney Movies Anywhere app, iTunes, VUDU, Google Play, and Microsoft devices.
DVD
Remembering the Future: A Personal Journey through Tomorrowland with Brad Bird (1080i/60; 00:07:09)
Casting Tomorrowland (1.78:1; 1080p/24; 00:07:27)
A Great Big Beautiful Scoring Session (1.78:1; 1080p/24; 00:06:03)
The World of Tomorrow Science Hour – Hosted by Futurologist David Nix (1.33:1; 00:05:08)
Animated Short: The Origins of Plus Ultra (2.35:1; 1080p/24; 00:03:26)
Brad Bird Production Diaries (1.78:1; 1080i/60; 00:04:34)
Blast from the Past Commercial (1.78:1; 1080p/24; 00:00:41)
Deleted Scenes with Filmmaker Introductions (1.85:1; 1080p/24; 00:23:28):

Joking on the Eiffel Tower
Young Casey vs. the Volcano
Doomsday Living Room
As Originally Written Casey the Downer
What Happened to Tomorrowland?
What is Tomorrowland?

The Definitive Word
Overall:
[Rating:4/5]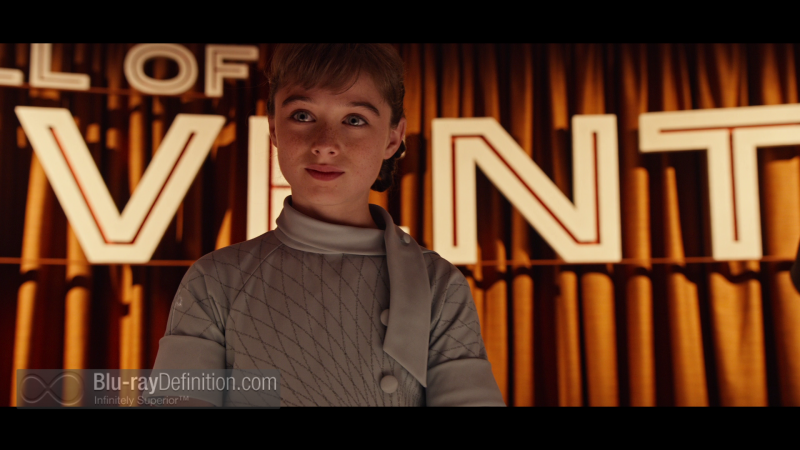 Tomorrowland is family fun that ironically doesn't stretch the imagination too far despite the story's emphasis on how imagination and science can save the world. Even so, it can provide some good family entertainment and certainly an awesome home theatre workout on Blu-ray.
Additional Screen Captures