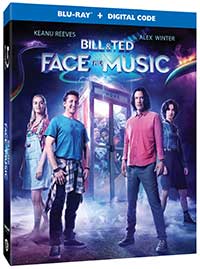 Bill & Ted Face the Music, the follow-up to the 1990's cult-comedy classics Bill & Ted's Excellent Adventure and Bill & Ted's Bogus Journey, is easy comedy that never takes itself seriously, just like the two original films in this franchise. It's fun, funny, goes down easy, and is ultimately unnecessary mindless entertainment, but it is a good distraction for these difficult days.
1990s high school musicians Bill S. Preston (Alex Winter) and Ted "Theodore" Logan (Keanu Reeves) were supposed to unite the world with the greatest song ever, or so they were told by the future, but now they are middle-aged dads and their musical careers have stalled. The Great Leader (Holland Taylor) visits them to ask about the song they were supposed to compose that would unite humanity, but their esoteric tastes in music leave them unable to write a song that anyone wants to listen to and now they are facing a deadline to get it done as reality itself is beginning to fray and so are their marriages to the beautiful princesses, Joanna (Jayma Mays) and Elizabeth (Erinn Hayes) from the Middle Ages they brought with them back to their time. The two pals take off in their trusty time traveling telephone booth to try to get the song they need from their future selves.
Meanwhile, Bill and Ted's teenage daughters, Thea (Samara Weaving) and Billie (Brigette Lundy-Paine), themselves walking encyclopedias in music and pop culture thanks to their dads, witness their dads' meetup with the time traveler from the future and make their own plan to go back through time to assemble the greatest backing band the world has ever seen to help their dads out. Their journey through history has them meeting people like Jimi Hendrix, Louis Armstrong, Mozart, and others.
The direction from Dean Parisot keeps this story moving along at rapid-fire and even though one does once in a while stop to think, "why is Keanu doing this at this stage in his career?" he slides right into the role wholeheartedly. The musical journey the film provides is enjoyable and Face the Music, even as its main characters grapple with the issues of middle age, never gets bogged down in taking itself seriously or message signaling. This is pure empty calories and it works.
The Video
Bill & Ted Face the Music was shot on the Arri Alexa Mini with Panavision Primo lenses and the Arri Alexa XT Plus also with Panavision Primo lenses in ARRIRAW at 2.8K and 3.4K. The film was mastered with a 4K Digital Intermediate on brought to Blu-ray in an AVC 1080p encodement. This is a clean, crisp, detailed transfer to Blu-ray with flawless shadow details, natural flesh tones, and not a hint of banding, edge enhancement, or noise. There is a 4K UHD with HDR digital version of the film available as well, but I have not viewed that to be able to compare how the streaming 4K compares to the Blu-ray.
The Audio
Face the Music comes with an excellent lossless English DTS-HD Master Audio 5.1 mix that sends lots of discrete foley effects around the room for this action-packed comedy. It has great balance, the rock-inspired music sounds open and punchy, low end is extended down into the lowest frequencies, high frequencies are natural without being fatiguing and the film's finale sounds awesome.
The Supplements
We don't get much worth going through here, but the ComicCon@Home panel is cool.
Movies Anywhere Digital Code
The Official Bill & Ted Face the Music Panel at Comic-Con@Home (1080p; 00:43:14)
Be Excellent to Each Other (1080p; 00:01:20)
A Most Triumphant Duo (1080p; 00:01:17)
Social Piece (Excellence) (1080p; 00:00:48)
Death's Crib (1080p; 00:01:12)
The Final Assessment
Newcomers to this franchise can easily turn off their minds and enjoy this quick-paced throwback. The casting of Samara Weaving and Brigette Lundy-Paine is a turn of genius that can take this franchise into the future, but Reeves and Winter slide back into their roles with ease as well with what could likely be their farewell turns in this franchise. This Blu-ray is reference quality but it is disappointing that Warner has for now chosen to keep the 4K as digital only.
Bill & Ted Face the Music is out on Blu-ray November 10, 2020 from Warner Bros.
---
Rating Certificate: PG-13 (for some language)
Studios & Distributors: Hammerstone Studios | Dugan Entertainment | Many Rivers Productions | Endeavor Content | Lakeview Entertainment (II) | TinRes Entertainment | Dial 9 | Warner Bros. Home Entertainment
Director: Dean Parisot
Written By: Chris Matheson | Ed Solomon
Run Time: 91 Mins.
Street Date: 10 October 2020
Aspect Ratio: 2.39:1
Video Format: AVC 1080p
Primary Audio: English DTS-HD MA 5.1
Secondary Audio: English Descriptive Audio | German DD 5.1 | Spanish DD 5.1
Subtitles: English SDH | German SDH | Spanish