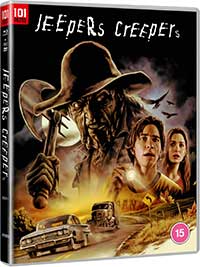 Jeepers Creepers, 2001 horror flick from writer/director Victor Salva (Clownhouse, Powder), doesn't exactly reinvent the horror genre. In fact, the cynic would say that Salva sticks so closely to the prototype that Jeepers Creepers is actually the exact sort of film lampooned in the Scary Movie horror parody franchise, which launched only a year earlier. Still, the film does manage to house some genuine moments of tension and horror even if they all come in the most expected places.
As brother and sister Trish (Gina Philips) and Darry (Justin Long) are heading home on a lonely, desolate country highway, they are nearly run off the road by a maniac in a beat-up jalopy of a pickup truck. A little farther down the road, they
see the driver of this same truck pulled off the road dumping what looks like a body wrapped in a bed sheet down a drainage pipe. This being a horror film, rather than getting the hell out of there as fast as they can, Trish and Darry decide to go back and investigate, because of course that's exactly what you do when a madman who just ran you off the road is dumping dead bodies down drainage pipes, right? When Darry slips down the pipe, he finds himself in a world of horrors worse than he could have imagined and the siblings become the target of a virtually unstoppable killer with a taste for human flesh.
If you put together A Nightmare on Elm Street, Halloween, and almost every other slasher film from the 1970s on, you pretty much have Jeepers Creepers in a nutshell. As I said, Salva's film is not long on originality, but there are genuine scares and even some inadvertent laughs. Who could not find the killer's theme song "Jeepers Creepers" as he gets ready to chow down absolutely hysterical? However, Salva's absolute reverence for the horror of old is what keeps Jeepers Creepers restricted from feeling fresh and standing out at all in the packed crowd of horror/thrillers like Scream or ultraviolent horror like Saw that dominate its era.
The Video
This 101 Films release of Jeepers Creepers is taken from the 2016 Scream Factory restoration, which was a brand-new 2K scan taken from an inter-positive. The image isn't quite as good as it would have been if taken from the original camera negative, but this is still a solid transfer and 101 Films presents the transfer in an AVC 1080p encodement framed at 1.85:1 on Blu-ray. Grain looks natural though there's some slight washout, but not enough to be distracting. Flesh tones are spot on and overall detail is crisp.
The Audio
This is listed as having a LPCM 2.0 stereo track but my check disc from 101 only had a DTS-HD Master Audio 5.1 mix. That said, the mix is great. I have always found the 5.1 mix on home video for Jeepers Creepers to be a good one. It is just the sort of mix you want for this kind of horror film. It has a lot of atmospherics and just the right amount of discrete effects in the surround channels. The dynamics are superb, so the jump-scares are bone chilling. Dialogue is clear and no hints of clipping can be heard when the screams begin.
The Supplements
For anyone who owned the U.S. Shout!/Scream Factory 2016 Collector's Edition release from 2016, nearly all the bonus features from that release are carried over to this 101 Films UK release other than a radio spot that was included on the Shout! release and the featurette, The Town Psychic which was an interview with the actress Patricia Belcher. The supplements are generally solid with good contemporary interviews and a couple of good audio commentaries.
DVD with Feature Film
Commentary with writer/director Victor Salva and stars Gina Philips and Justin Long
Commentary with director Victor Salva
Jeepers Creepers: Then and Now (1.78:1; 1080p/24; 00:36:45) – Features interviews with writer/director Victor Salva, producer Barry Opper, director of photography Don FauntLeRoy, editor Ed Marx and actor Tom Tarantini.
From Critters to Creepers (1.78:1; 1080p/24; 00:19:38) – Interview with producer Barry Opper.
Deleted Scenes and Extended Scenes (1.85:1; 1080p/24; 00:17:13) – Includes an alternate opening and ending sequence
Photo Gallery (1.85:1; SD; 00:07:56)
Theatrical Trailer (1.85:1; 1080p/24; 00:01:54)
The Final Assessment
This is a solid release from 101 Films for horror fans in the UK or elsewhere looking to get this piece of early aughts horror. Recommended for genre fans and collectors.
Jeepers Creepers is out on Blu-ray Combo in the UK 26 October from 101 Films
---
Rating Certificate: UK 15
Studios & Distributors: United Artists | American Zoetrope | Cinerenta-Cinebeta | Cinerenta Medienbeteiligungs KG | VCL Communications
Director: Victor Salva
Written By: Victor Salva
Run Time: 90 Mins. feature / 273 Mins extras
Street Date: 26 October 2020
Aspect Ratio: 1.85:1
Video Format: AVC 1080p
Primary Audio: English DTS-HD MA 5.1
Subtitles: English HOH