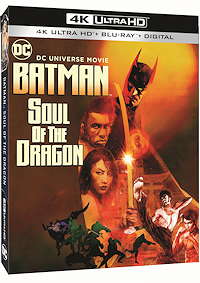 Batman: Soul of the Dragon is a DC Universe Elseworlds movie (see Batman: Gotham by Gaslight for another example) that places the DC heroes in unusually circumstances. This adventure is set in the swinging 1970s and finds Bruce Wayne training in kung fu under a master sensei alongside other elite martial arts students.  When a nefarious character from their past steals a precious sword that was placed in the care of one of Bruce's former fellow martial arts students to unleash a powerful evil onto the world, Batman, world-renowned martial artist Richard Dragon, Ben Turner, and Lady Dragon, all former fellow students of the sensei, must work together to recover the sword and save Gotham and the world.
The movie is animated and written in the style of a 1970s martial arts film and the exploitation films of the decade, complete with funky music soundtrack and '70s sideburns. Richard Dragon is very much a Bruce Lee kind of character and much of the story definitely borrows heavily from Hong Kong cinema of the era from Shaw Brothers and so forth, films like Enter the Dragon or even more mystical films like Raining in the Mountain to an extent. That's not to say there's a lot of depth or character development in Dragon, most of the influences are very surface level, but the movie is still ultimately a fun little popcorn distraction.


The Video
The digital animation for Batman: Soul of the Dragon arrives on 4K Ultra HD Blu-ray in a HEVC 2160p (4K UHD) encodement with HDR10. It is one of the better-looking DC Universe 4K Ultra HD releases offering up rich colors and a few scenes with some good peak highlights that 'pop' nicely, but ultimately, it's not a huge leap in quality over the included Blu-ray, which itself looks good and maybe even superior in some circumstances, offering better shadow details and less hints of banding, at least on my LG CX OLED display.
The Audio
As per usual, this DC Universe movie gets a rollicking DTS-HD Master Audio 5.1 mix that is pretty aggressive in its usage of the surround channels, has extended low end, clear dialogue, and wide dynamics.
The Supplements
There are two new featurettes, some previews of currently available DC Universe movies and a sneak peek of the next DC Universe movie, as well at two Batman the Animated Series episodes. The best inclusion here is the Batman: Raw Groove featurette discussing the martial arts exploitation film boom in the US during the 1970s.
Digital Code
Batman: Raw Groove (1080p; 00:30:30) – A look at the rise in popularity of martial arts and martials arts exploitation films in the United States and how that ties into Batman: Soul of the Dragon.
Producer Jim Krieg's Far-Out Highlights (1080p; 00:18:03)
A Sneak Peek at the Next DC Universe Movie, Justice Society: World War II (1080p; 00:08:07)
A Preview of Superman: Red Son (1080p; 00:11:21)
A Preview of Batman: Gotham by Gaslight (1080p; 00:08:30)
From the DC Vault: Batman the Animated Series, "Day of the Samurai" (1080p; 00:22:21)
From the DC Vault: Batman the Animated Series, "Night of the Ninja" (1080p; 00:22:19)
Trailers
The Final Assessment
Bruce Wayne/Batman goes back to the funky 1970s in this high-kicking kung fu Elseworlds adventure from DC Universe that won't win any awards, but is still a fun watch for Batman fans looking for something a little different.
---
If you found this review useful please consider clicking the button below and donating to help keep TheaterByte funded and to allow us to continue posting great content.
---
Batman: Soul of the Dragon is out January 26, 2021 on 4K Ultra HD Combo & Blu-ray from Warner Bros. Home Entertainment


---
Rating Certificate: R (for some violence)
Studios & Distributors: Warner Bros. Animation | DC Comics | Warner Bros. Home Entertainment
Director: Sam Liu
Written By: Jeremy Adams
Run Time: 83 Mins.
Street Date: 26 January 2021
Aspect Ratio: 1.78:1
Video Format: HEVC 2160p (4K UHD)
HDR Format: HDR10
Primary Audio: English DTS-HD MA 5.1
Secondary Audio: Spanish DD
Subtitles: English SDH | French | German SDH | Danish | Finnish | Norwegian | Swedish