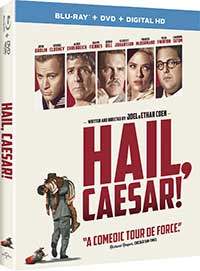 The Coen Brothers look back to Hollywood's 1950s-era Golden Age in the witty dark comedy Hail, Caesar! The film is a series of films within a film that follows a day in the life of studio boss Eddie Mannix (Josh Brolin) who runs the day-to-day affairs for Capitol Pictures Studios, which mostly involves rustling up the studio's stars and keeping them from breaking the morals clauses in their contracts. To be more precise, Mannix has to keep the eyes of the prying press, like competing twin gossip columnists Thora and Thessaly Thacker (Tilda Swinton) from finding out when the studio's big stars inevitably run afoul of their goodie two shoes public images. On this day in particular, the studio's big star Baird Whitlock (George Clooney) has been kidnapped by a mysterious group of communists, write in the middle of his filming of the studio's latest big budget sword-and-sandals spectacle Hail, Caesar! Mannix has to try to recover Baird while keeping it quiet, but he also has to cover up the pregnancy of Capitol's sweetheart aquatic acrobat DeeAnna Moran (Scarlett Johansson), appease the studio's western draw Hobie Doyle (Alden Ehrenreich), its master director Laurence Laurentz (Ralph Fiennes), and its favorite song and dance man Burt Gurney (Channing Tatum).
As the Coen's easily glide through their 1950's studio dream world of Esther Williams-like aquatic ballets, On the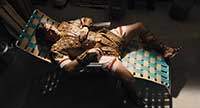 Town-style sailor suit musicals, fancy high dress dramas like The Importance of Being Earnest and the historical epic that gives the film its titles, they also weave a studio-era allegory reminiscent of a film noir, but one with the biting comedic sensibility the Coens are known for.
It isn't easy to categorize Hail, Caesar!.It doesn't quite lend itself to either being a mere send up of studio era Hollywood with a comedic undercurrent, or an honest portrait through the lens of time, again with comedy. Is there a message hidden in this film? I honestly don't know. Hail, Caesar! is an enigma. What I do know is that there are easily hilarious moments throughout, such as one scene where, when director Laurence Laurentz tries to coach western star Hobie Doyle to speak the simple phrase "Would that it were so simple," his opening line in the high drama Merrily We Dance that he has now been reassigned to in the studio's effort to change his image. It is classic absurdity, as is the entire subplot involving the "study group" that kidnaps Baird Whitlock. An obvious reference to the Red Scare, but without the political reference point, it really becomes one long bit of satire.
The Video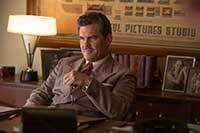 Hail, Caesar! was shot in the Super 35 format on slow, medium, and fast speed Kodak Vision3 50D 5203, Vision3 200T 5213, Vision3 500T 5219 film stocks and a 4K DI was used, so this one could turn up on UHD Blu-ray some day. The film obviously seeks to simulate the look and feel of a bygone era through several approaches and techniques. One is through the "movie in movie" scenes, which often have a slightly coarser (not to be mistaken as gritty or grainy) look and much more vibrant color saturation, perhaps intended to simulate the pop of Technicolor, such as the swimming aquatic acrobatics film scene with Scarlett Johansson. The main story with Josh Brolin has a subtler palette and much finer grain structure, often favoring midtones. Either way, the AVC 1080p encodement from Universal on Blu-ray looks stunning. There are no problems to complain about at all. The depth of field is greatly extended, nuance is superlative in the shadows and the picture is crisp and clean.
The Audio
The English DTS-HD Master Audio 5.1 soundtrack is more serviceable than anything awe-inspiring. The swelling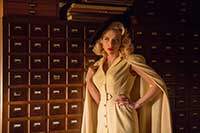 brass and string score sounds quite dynamic and natural and there's some good low-level ambience in the surround channels as well as a hint of discrete, atmospheric effects. Dialogue is perfectly clear and sound full and natural.
The Supplements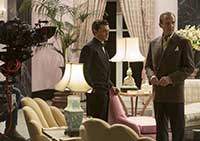 The brief featurettes included on this release are really more promotional in feel and aren't necessary viewing at all, while they do include interviews with the cast and the Coens and brief looks at the making of the film, in particular the "Golden Era"-style musical numbers.
DVD
iTunes Digital HD Digital Copy & Digital HD UltraViolet
Directing Hollywood (1.78:1; 1080p/24; 00:04:11)
The Stars Align (1.78:1; 1080p/24; 00:11:34)
An Era of Glamour (1.78:1; 1080p/24; 00:06:22)
Magic of a Bygone Era (1.78:1; 1080p/24; 00:06:01)
The Final Assessment
Hail, Caesar! is not the Coen's strongest film given that there are some lulls in the comedy and the various threads tend to drift a bit and get just a little unwieldy before coming together for an ending that seems just a tad abrupt and somewhat open-ended given the long journey the film takes us on. That said, it is an adventure well worth taking for the overall hilarity, wit, and obvious command of the feel of the Golden Age the Coens have. Plus, there are a couple of brilliant musical numbers that would fit in perfectly in a 1950s production.
Hail, Caesar! (TheaterByte Blu-ray Review)
PG-13 (for some suggestive content and smoking)
Rating Certificate
Universal Studios Home Entertainment
Studios & Distributors
Ethan Coen, Joel Coen
Director
Joel Coen, Ethan Coen
Writer
$34.98
MSRP
1.85:1/1.37:1 (certain scenes)
Aspect Ratio
English DTS-HD MA 5.1 | English DVS | French DTS 5.1 | Spanish DTS 5.1
Audio
English SDH, French, Spanish
Subtitles
Summary
The Coens take us on a witty tour through Hollywood's Golden Age, and poke fun at the studios, the stars, and the cult of celebrity while doing it in the star-studded Hail, Caesar!. The Blu-ray from Universal also looks divine.
What people say... Login to rate
Be the first to leave a review.
Show more