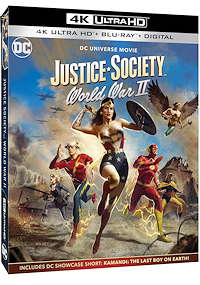 Justice Society: World War II is the latest DC Universe animated feature on disc from Warner Bros. In this feature film, Barry Allen AKA The Flash (Matt Bomer) takes girlfriend Iris West (Ashleigh LaThrop) to Metropolis for a peaceful getaway but takes a side trip to help Superman (Darren Criss) in a fight. His speedy aid to stop a kryptonite bullet from striking the Man of Steel ends up taking Flash into the past where he ends up in the middle of World War II and meets Wonder Woman (Stana Katic) and top-secret group of superheroes, Justice Society of America, who are helping the allied forces fight the Nazis. As Flash tries to get back home to his time, he must also avoid rewriting history.
The story, like all of those involving time travel, is a little convoluted, but the action in this feature does not disappoint – neither does the animation and the background artwork. They have really created some beautiful cityscapes in the backgrounds here and the battlefields are also quite detailed. Character designs are superb for DC-style anyway, while I have a preference for anime-style animations and designs, they have done quite well here. The voice cast also does an exceptional job emoting without being too hammy.


The Video
The digital animation for Justice Society: World II arrives in a 1.78:1 HEVC 2160p (4K UHD) encodement with HDR10. It was mastered on a display with a maximum of 4000 nits but MaxFALL is just under 150 nits, so this is not an exceptionally bright looking HDR animated release, but it does have some good 'pop' in the highlights and contrast, especially in darker scenes, is just a little more evident on the 4K disc than on the Blu-ray. I saw very mild hints of banding and one moment of stairstepping creep in, but other than that, this is one of the cleaner and better-looking Warner DCU 4K releases I have seen.
The Audio
An English DTS-HD Master Audio 5.1 mix is included. It's in keeping with most DCU animated features as far as the quality, that is to say, it's good, aggressive, not quite at the level of the big screen feature films, but it will give your sound system a good workout. Low end is beefy, there's rather wide dynamic range, and many of the foley effects are placed around through the surrounds.
The Supplements
All supplements are on the included Blu-ray Disc and consist of a Kamandi short, a 'Making Of' featurette on Justice Society: World War II, previews of other DCU features, and a two-part episode from the animated Justice League series.
Blu-ray
Digital Code
DC Showcase Short: Kamandi: The Last Boy on Earth! (1080p; 00:18:03)
Adventures in Storytelling: Justice Society: World War II (1080i; 00:30:04)
A Sneak Peek at the Next Animated DC Universe Movie, Batman: The Long Halloween Part One (1080p; 00:10:29)
A Preview of Justice League vs. Teen Titans (1080p; 00:11:29)
A Preview of Wonder Woman: Bloodlines (1080p; 00:09:59)
From the DC Vault: (1080p)

Justice League: "Legends (Part 1)" (00:21:57)
Justice League: "Legends (Part 2") (00:21:45)
The Final Assessment
I liked this one. These DCU features can be very hit or miss, but this is fun, and it looks and sounds great. Definitely check it out if you're a DC fan.
---
If you found this article useful please consider clicking the button below and donating to help keep TheaterByte funded, which will allow us to continue posting great content.
---
Justice Society: World War II is out on 4K Ultra HD Combo May 11, 2021 from Warner Bros. Home Entertainment
---
Rating Certificate: PG-13 (for violence and some bloody images)
Studios & Distributors: DC Comics | Warner Bros. Animation | Warner Bros. Home Entertainment
Director: Jeff Wamester
Written By: Jeremy Adams | Meghan Fitzmartin
Run Time: 84 Mins.
Street Date: 11 May 2021
Aspect Ratio: 1.78:1
Video Format: HEVC 2160p (4K UHD)
HDR Format: HDR10
Primary Audio: English DTS-HD MA 5.1
Secondary Audio: French DD 5.1 | German DD 5.1 | Spanish DD 5.1
Subtitles: English SDH | French | German SDH | French | Spanish | Danish | Finnish | Norwegian | Swedish