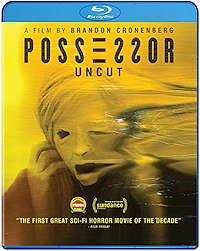 Possessor Uncut – the name a bit misleading since this is in fact the theatrical version and there is no other "cut" version – is writer/director Brandon Cronenberg's, (son of David Cronenberg) second feature film. It is obvious Cronenberg has inherited his father's sense of the macabre, off kilter, and heightened sense of reality with this highly stylized, sci-fi, horror/thriller.
Tasya Vos (Andrea Riseborough) is an agent for a covert organization that uses cutting edge brain-implant technology to allow Tasya to invade people's minds and carry out perfectly untraceable assassinations for high paying clients. When someone wants one of the nation's leading businessmen, John Parse (Sean Bean) killed, Tasya possesses the body of his daughter Ava's (Tuppence Middleton) boyfriend Colin (Christopher Abbott), begins to live his life and setup a plausible murder-suicide scenario.
But Tasya has a hitch in her programming/implant. She begins to fall in love with Ava and she has also been unable to 'end' her assignments by killing, or rather, committing suicide while possessing her host, which leads to complications.
Cronenberg creates an atmospheric, stylistic alternate world with Possessor where everyone seems to be living in a heightened sense of reality. Gorgeous, modernist settings, shadowy rooms, tight closeups on faces, a score from Jim Williams that is lush and atmospheric. The film begins as a mysterious thriller and slowly builds towards more visceral gore porn that's both shocking and ultimately a release of the slow-building tension.
Possessor cuts across genres blending the best of sci-fi, horror, and thrillers of old. This is both contemporary and throwback territory and one that is awesome to watch alone in the dark.


The Video
For whatever the reason, Possessor Uncut is yet another title from Well Go that is available on 4K Ultra HD with HDR Blu-ray and digital formats that they have only sent me the Blu-ray for despite my request for the 4K combo and despite the 4K going out to other outlets, so I can only review the Blu-ray for our readers. This is a film that was shot on the Arri Amira with Canon K35, Laowa 24mm Macro Probe, 90mm Macro Kilar and Angenieux 25-250 Vintage Zoom lenses in ProRes 4444 (2.8K).  A 4K master was used and this Blu-ray arrives in an AVC 1080p encodement framed at 1.78:1. This is in fact a great looking disc and despite the lack of HDR is superior to the digital 4K version in that it is just as detailed, looks just as filmic, and has superb shadow detail that lacks the banding and noise of the digital 4K version (which I bought). Colors aren't exactly natural here, but this is an artistic choice. Flesh tones can look a little bit pushed to the red, but not excessively so. Overall, this is fantastic, filmic, reference quality digital production on Blu-ray.
The Audio
The English DTS-HD Master Audio 5.1 mix for Possessor Uncut is brilliant and just the sort of mix you want for a thriller like this. Doors swing open from off to the side, footsteps creep up from behind you, conversations waft in from rooms off to the left, and the score caresses you in its lushness.
The Supplements
There's a good bit of 'making of' type featurettes included and three lengthy deleted scenes, all in HD.
Deleted Scenes (1080p)

Panic Attack (00:03:45)
Reid's in the Pool (00:03:02)
Wake up and Count (00:01:25)

Behind the Scenes

A Heightened World (00:10:30)
Identity Crisis (00:14:42)
The Joy of Practical (00:12:12)

Green Band Teaser
Red Band Teaser
Uncut Trailer
The Final Assessment
A visceral film that shows growth for Cronenberg who continues to move out from his large looming father's shadow. The Blu-ray from Well Go is also a fantastic disc and is unquestionably still better than the digital 4K version.
---
If you found this review useful please consider clicking the button below and donating to help keep TheaterByte funded and to allow us to continue posting great content.
---
Possessor Uncut is out on Blu-ray & 4K Ultra HD Combo December 8, 2020 from Well Go USA
---
Rating Certificate: R (for strong bloody disturbing violence, strong sexual content, some graphic nudity, language and brief drug use)
Studios & Distributors: Rhombus Media | Rook Films| Particular Crowd
Director: Brandon Cronenberg
Written By: Brandon Cronenberg
Run Time: 104 Mins.
Street Date: 8 December 2020
Aspect Ratio: 1.78:1
Video Format: AVC 1080p
Primary Audio: English DTS-HD MA 5.1
Subtitles: English SDH