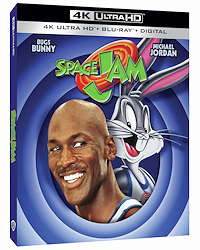 In the tradition of Who Framed Roger Rabbit?, Space  Jam is the 1996 mixed live action/animated comedy starring basketball superstar Michael Jordan as himself, and the Looney Tunes.
The setup is an alien race of cartoons controlled by a boss who lives to be entertained arrive on Earth looking for a new form of entertainment. They plan to enslave the Looney Tunes characters until Bugs Bunny in his wily way convinces them that they must allow them to compete to win their freedom. They settle on basketball as the competition of choice given the diminutive size of the aliens. But these aliens have a trick up their proverbial sleeves – they steal the talent from some of the NBA's top players and the Looney Tunes characters are in a bind. So, Bugs and co. decide to kidnap the recently retired Michael Jordan, who's off trying unsuccessfully to start a new career in baseball. Jordan arrives in the animated world and must now train these screwball characters to compete in the game of their lives.
This is pure family fare, for anyone looking for anything serious or the sort of deep story arc one might get in a Pixar film, look elsewhere. This is goofy Looney Tunes fun all the way. Jordan's acting chops aren't exactly A+, maybe not even C-, but they are good enough to hold their own in the world of Bugs, Daffy, and Porky.  The film does at least teach about teamwork, friendship, and using the power within, which is great, and the animated sequences hold up well.

The Video
Space Jam has come to 4K Ultra HD Blu-ray in a 1.85:1 HEVC 2160p (4K UHD) encodement with HDR10. It has a MaxLL of 910 nits with a MaxFall of 270 nits. It was originally shot on 35mm and uses a 4K DI. This does not appear to be a full restoration from original camera negative and/or animation cells, so this is just a "remaster" in 4K and at first glance, it doesn't really look that impressive. I would say it looks softer than one would expect from a film that was a new 4K restoration, especially the live action sequences. That said, comparing the 4K disc to the included Blu-ray one can see a marked improvement. The 4K has reined in the grain, expanded the color palette, and added some 'pop' to specular highlights. Overall, however, there is just something holding this one back.
The Audio
Space Jam gets a Dolby Atmos audio mix that expands the soundfield over what was already an aggressive lossless DTS-HD Master Audio 5.1 on the Blu-ray Disc. The low end is very deeply extended. You can hear some resounding lows when the alien spaceship crash lands during Michael Jordan's baseball game. The mix moves things around through the surround channels a lot and we get some good height awareness, but there could be better use of the height channels. For instance, when the spaceship comes through, there isn't exactly a strong sense of it flying overhead. Otherwise, the music thumps nicely and the dialogue is spot on.
The Supplements
The bonus features are all previously available and reside mainly on the included Blu-ray Disc except for the lighthearted audio commentary with the Bugs, Daffy, and the director.
Movies Anywhere Digital Code
Blu-ray Disc with Feature Film and Bonus Features
Commentary by Bugs Bunny, Daffy Duck, and Director Joe Pytka
Seal's Fly Like an Eagle Music Video (1.33:1; SD; 00:03:53)
Monstars Anthem Hit 'Em High (1.33:1; SD; 00:04:54)
Jammin' with Bugs Bunny and Michael Jordan (1.33:1; SD; 00:22:32)
Theatrical Trailer (SD)
The Final Assessment
Lighthearted popcorn fun which will be enjoyable for families with young basketball fans. Watch this in preparation for the new film coming soon.
Space Jam is out on 4K Ultra HD Combo July 6, 2021 from Warner Bros.
---
Rating Certificate: PG
Studios & Distributors: Warner Bros. Family Entertainment | An Ivan Reitman/David Falk-Ken Ross Production | Warner Bros. Animation | Warner Bros. Feature Animation | Warner Bros. Home Entertainment
Director: Joe Pytka
Written By: Leo Benvenuti | Steve Rudnick | Timothy Harris | Herschel Weingrod
Run Time: 87 Mins.
Street Date: 6 July 2021
Aspect Ratio: 1.85:1
Video Format: HEVC 2160p (4K UHD)
HDR Format: HDR10
Primary Audio: English Dolby Atmos
Secondary Audio: French DD 5.1 | German DD 5.1 | Italian DD 5.1 | Spanish (Castilian) DD 5.1 | Spanish Latino DD 5.1 | Danish DD 2.0 | Finnish DD 2.0 | Norwegian DD 2.0 | Swedish DD 2.0
Subtitles: English SDH | French | German SDH | Italian SDH | Spanish (Castilian) | Dutch | Spanish (Latino) | Danish | Finnish | Norwegian | Swedish