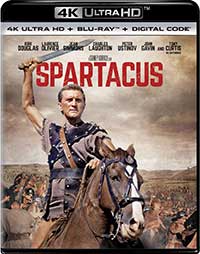 The producers (including Kirk Douglas) of the 1960 big-budget film Spartacus took a big gamble by turning its direction over to a 30-year-old Stanley Kubrick who had only made three feature-length films, the last of which was the critically acclaimed Paths of Glory. History proved that the gamble paid off and with its heroic score, Spartacus charged onto the big screen in October 1960 and received four Oscars at the 1961 Academy Awards Ceremony.
It is 70 B.C., and Spartacus (Douglas), a Thracian slave working in the Libyan mines is purchased by slave trader Lentulus Batiatus (Peter Ustinov) and taken to Capua for gladiator training. There he meets beautiful servant Varinia (Jean Simmons) but she is soon sold to Roman general and Senator Marcus Licinius Crassus (Laurence Olivier). Crassus is vying with his arch-rival Gracchus (Charles Laughton) for leadership of the Senate. Spartacus foments a gladiator revolt as his fellow slaves escape and go on a spree of looting and burning the country estates of wealthy Romans. The man-servant and entertainer Antoninus (Tony Curtis) and Varinia have both escaped from Crassus's estate and join Spartacus. The former becomes his adopted son, the latter his common-law wife. Marcus Glabrus (John Dall), commander of the Roman garrison takes his cohorts to put down the slave rebellion, but his forces are surprisingly routed by Spartacus's irregulars. In retaliation, the Senate sends several legions to prevent Spartacus and his army from reaching the coast and sailing to freedom. The epic battle that follows concludes with the defeat of Spartacus's forces who all either die on the battlefield or nailed to the cross.
Spartacus featured a cast with the kind of star power that would be nearly impossible to assemble today. Its production values certainly compare favorably with other epic films of this era like Ben Hur.  This new 4K UHD Blu-ray disc adds twelve minutes to a film that already ran a little over three hours but given its superb sights and sounds viewers will still relish every moment.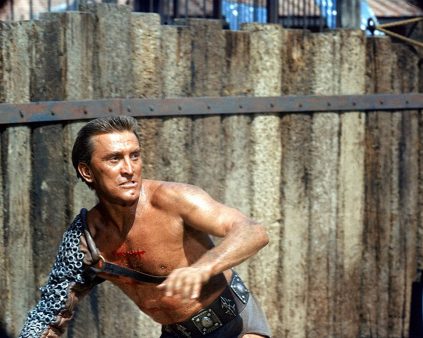 The Video
Given its HEVC 2160p encodement and Dolby Vision, the remastering of the 35 mm original print via a 4K intermediary master looks absolutely magnificent with its rich colors and details as exemplified by the spray-tanned faces of Douglas and many other male cast members. The ultra-high-resolution also, unfortunately, reveals the painted-in backgrounds of ancient Rome. Blacks are noticeably better than I remembered in this film's 2010 50th Anniversary Blu-ray version.  What really stands out are the massive battle scenes—the big money shots—that employed thousands of Spanish soldiers on the plains outside of Madrid.  The accompanying Blu-ray is very good but clearly outpointed in its colors and details by the 4K UHD disc.
The Audio
The DTS:X object-based format (DTS-HD Master Audio 7.1 core) provides little apparent involvement of the height channels. However, the resurrection of the original 70 mm 6-track soundtrack is a substantial improvement over the 2010 Blu-ray disc. Dialogue is clear, and Alex North's lavish score has been granted a spaciousness exceeding that of its predecessor. The accompanying Blu-ray is identical to the 2015 remastered version in DTS-HD Master Audio 7.1.
The Supplements
The extras on both discs are the same ones found on the 2015 Blu-ray version:
I Am Spartacus: A Conversation with Kirk Douglas (9:39) (English Dolby Digital Stereo)
Restoring Spartacus (9:00) (English Dolby Digital Stereo)
Four Deleted Scenes (7:47) (3:01) (English Dolby Digital Stereo)
Archival Interview with Peter Ustinov (3:01) (English Dolby Digital Stereo)
Archival Interview with Jean Simmons (3:49) (3:01) (English Dolby Digital Stereo)
Behind-The-Scenes Footage at the Gladiator School (5:12) (3:01) (English Dolby Digital Stereo)
Five Vintage Newsreels (5:00) (English Dolby Digital Stereo)
Theatrical Trailer
Image Gallery: Production Stills; Concept Art; Costume Designs; Saul Bass Storyboards; Posters & Print Ads (on Blu-ray disc only)
A digital download completes the list of extras.
The Final Assessment
The tender loving care that Universal Studios lavished on the remastering of Spartacus makes this 4K UHD disc a must-have for every cineaste's library.  Charlton Heston aside, there were few other leading men of the era that had the big-screen impact of Kirk Douglas in what most critics considered to be his defining silver screen role. Highest recommendation.
Spartacus is out on 4K Ultra HD Combo Pack July 21, 2020 from Universal
---
The Creative Content: 4.5/5
The Video (Overall): 4.5/5
HDR Effect: 4.5/5
The Audio: 3.5/5
The Supplements: 3.0/5
Rating Certificate: PG-13
Studios & Distributors: Bryna Productions | Universal Studios Home Entertainment
Director: Stanley Kubrick
Writer: Dalton Trumbo
Run Time: 197 Mins.
Original MSRP: $19.99
Street Date: 21 July 2020
Aspect Ratio: 2.20:1
Video Format: HEVC (H.265) 2160p (4K) | AVC 1080p (Blu-ray)
HDR Format: Dolby Vision (compatible w/ HDR10)
Primary Audio: English DTS:X (compatible w/ DTS-HD MA 7.1)
Secondary Audio: Spanish DTS 5.1 | Portuguese (Brazil) DTS 5.1 | Japanese DTS 5.1
Subtitles: English SDH | Spanish | French | Portuguese | Japanese