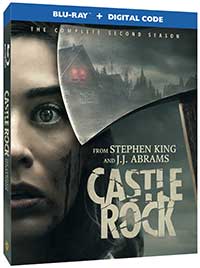 Season 2 of Castle Rock, the drama/fantasy anthology series set in the Stephen King multiverse, is a new story arc from the first season – and a much stronger one. Lizzy Caplan joins the series playing infamous King character Annie Wilkes of Misery fame. This season is no reboot or retelling of that novel or movie, however, this season is more like an origin story of Annie told from her perspective.
Mentally ill, future psychopath Annie Wilkes has been on the road constantly with her daughter, drifting from town to town, and she finds herself stuck in the rural town after a car accident just as a rivalry between the Merrills and a rival clan is heating up and the town is celebrating its 400th anniversary. This being Castle Rock, the rivalries and celebrations stir up supernatural elements that leave Annie spiraling out of control and confronting her most dangerous opponents yet.
Fans of Stephen King will absolutely love these episodes and the connection to the book and film and the Easter eggs that are sprinkled about in the ten, tense, thrilling episodes. In comparison to Season 1, this is a far more bingeable and easy to follow storyline. From family rivalries and the uprising of supernatural forces quietly plotting to take over this small town, and the rise of one of King's most notorious villains, this season shows the true potential of this series, particularly in the brilliant performance from Lizzy Caplan.
[envira-album id="113535″]
The Video
Castle Rock looks solid in this AVC 1080p encodement from Warner Bros. There is only some mild noise in the darker, shadowy areas, but basically, we have a clean, crisp, and nuanced encodement with rich details. I am disappointed that Warner did not release this second season on 4K Ultra HD Blu-ray as they did with season 1, but as far as this Blu-ray goes, it is definitely a step up in quality over the streaming version on Hulu.
The Audio
Only an English DTS-HD Master Audio Master Audio 5.1 audio mix is included along with English SDH subtitles. There are no dubs or other language subtitles. The audio mix is okay for a television series, but still a bit disappointing for a horror/fantasy program given it could be a lot more atmospheric and dynamic. The surrounds here are carrying mostly some low-level effects with the occasional loud effect that tends to seem out of place. Dialogue is clean and low end is sufficient for what is a mostly dialogue-driven, front-heavy mix.
The Supplements
Castle Rock: The Complete Second Season comes with only one bonus feature – a roughly 17-minute-long featurette with the cast and crew that explores the infamous Stephen King character Annie Wilkes, Annie Wilkes – Mother of Sorrow (1080p).  A digital code is also included.
The Final Assessment
An excellent second season that improves on the concept set up for this series in Season one that set out an incredible origin story for Annie Wilkes. This Blu-ray release is barebones, but still worth owning.
Castle Rock: The Complete Second Season is out on Blu-ray July 21, 2020 from Warner Bros.
---
The Creative Content: 4.0/5
The Video: 4.5/5
The Audio: 4.0/5
The Supplements: 0.5/5
Studios & Distributors: Bad Robot | Warner Bros. | Warner Home Video
Run Time: 484 Mins.
Street Date: 21 July 2020
Aspect Ratio: 2.00:1
Video Format: AVC 1080p
Primary Audio: English DTS-HD MA 5.1
Subtitles: English SDH