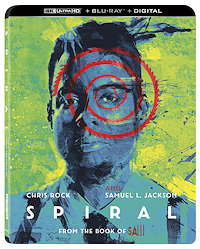 Spiral: From the Book of Saw is the latest entry in the successful torture/horror franchise. Chris Rock plays veteran detective Zeke Banks who is burdened with rookie William Schenk (Max Minghella) as his new partner. Banks is unliked on the force because he once turned in a dirty cop, so now he is known as a snitch, must watch his back, and already had an incident where he was out on a call and because no one would respond to his call for backup, he was shot. He struggles to live up to the precedent set by his father Marcus (Samuel L. Jackson), a retired police chief.
When several killings start happening that seem to be a copycat of the infamous Jigsaw killer, trapping people in elaborate traps that will either kill them or mutilate them, Banks and his new partner must investigate. They soon realize the killer is specifically targeting cops they have deemed corrupt.
This film stays close to the Saw mythos while bringing in a slightly new crime thriller angle and Darren Lynn Bousman direction is great at offering the gore and inventive traps that fans of the franchise have come to expect, but the screenplay from Josh Stolberg and Pete Goldfinger lacks strong character building, so we don't ever fully connect with Zeke, although we can somewhat empathize with the situation he finds himself in, being a standup cop who is an outcast on the force for turning in a dirty cop now having to hunt down a villain who is literally taking out corrupt cops.
The film may have its flaws and Chris Rock has garnered some unwarranted criticism for his performance, which I found to be no more or less believable than anyone else. The film is violent, dark, and somewhat convoluted, with an oddball twist at the end that makes for a weak ending, but it's still a good popcorn watch if this is your kind of thing.

The Video
Spiral was shot on the Sony CineAlta Venice in 6K and uses a 4K DI. It comes to 4K Ultra HD Blu-ray framed at 1.85:1 in an HEVC 2160p (4K UHD) encodement with HDR10. The disc is mastered with a MaxLL of 907 nits and MaxFALL of 185 nits. It doesn't seem like it will be very bright, but the results are beautiful contrasts and gradations, lovely colors, and superb specular highlight.
From the opening scene with the fireworks at night you know this is going to be a special, reference quality release and it doesn't disappoint from there. We get very wide contrast with deep, obsidian blacks but also some nuanced shadows and WCG give great 'pop' in colors like cool blues and vermillion. The specular highlights in flashlights, headlights, lamps look very realistic, bright, and three-dimensional. As for the resolution, there's more than enough here so we can see pores and bumps on Chris Rock's face and in the visual effects of severed limbs, they again look crisp and three-dimensional without needing any edge enhancement.
The Audio
The Dolby Atmos track for Spiral is strong one that leans towards spreading atmospheric foley and musical effects through the soundstage rather than very solid effects, but this works for a film like this. Height awareness is subtle most times, but there are some moments where the heights open up and reverberation comes from overhead. The strongest effect is the sound of the killer's voice that sort of a "voice of God" effect even when, oddly, it is meant to be playing back from a small handheld cassette player. That's a bit incongruous, but don't think too much about it.
The Supplements
The bonus features appear on both the 4K and Blu-ray but are in HD. The strongest features will be the audio commentaries and the hour-long 'making of'.
Audio Commentary with Director Darren Lynn Bousman, Co-Screenwriter Josh Stolberg and Composer Charlie Clouser
Audio Commentary with Producers Oren Koules and Mark Burg
The Consequences of Your Actions: Creating Spiral (1080p; 00:59:05)
Drawing Inspiration: Illustrated Trap Breakdowns (1080p; 00:08:45)
Decoding the Marketing Spiral (1080p; 00:06:12)
Theatrical Teaser Trailer (1080p)
Theatrical Trailer (1080p)
The Final Assessment
An imperfect but watchable entry in the Saw franchise that gets a reference 4K Ultra HD Blu-ray release from Lionsgate.
Spiral is out on 4K Ultra HD Combo July 20, 2021 from Lionsgate

---
Rating Certificate: R (for sequences of grisly bloody violence and torture, pervasive language, some sexual references and brief drug use)
Studios & Distributors: Lionsgate | Twisted Pictures | Serendipity Productions | Dahlstar | Canadian Film or Video Production Tax Credit (CPTC) | Lionsgate Home Entertainment
Director: Darren Lynn Bousman
Written By: Josh Stolberg | Pete Goldfinger
Run Time: 93 Mins.
Street Date: 20 July 2021
Aspect Ratio: 1.85:1
Video Format: HEVC 2160p (4K UHD)
HDR Format: HDR10
Primary Audio: English Dolby Atmos
Secondary Audio: English Descriptive Audio | Spanish DD 5.1
Subtitles: English | English SDH | Spanish | French