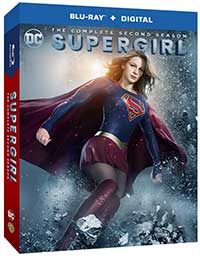 Supergirl: The Complete Second Season doesn't seem to do much to improve this series' lot over where it was in Season 1. The first season made this female hero seem like an insecure teenage girl who was more concerned about boys liking her than anything else. Season two doesn't do much better, even though it gives lip service to some larger themes of social justice.
In this second season, Supergirl/Kara Danvers (still played by Melissa Benoist) has boy troubles – big surprise. She finally settles in with James Olsen (Mehcad Brooks), but their relationship doesn't work out. A new guy shows up, a new alien from the same star system, Mon-El (Chris Wood). The cocky, self-centered alien with similar powers to Supergirl is from her neighboring, rival planet of Daxam. With Mon-El under observation at the D.E.O. Supergirl and the new alien at first butt heads as she tries to teach him to be a hero, but shortly they, of course, become close and end up in a relationship. Meanwhile Supergirl's adoptive human sister Alex (Chyler Leigh) comes to terms with something about herself as she enters a new relationship, and Winn (Jeremy Jordan) finds himself in a new relationship with a sexy alien woman that just happens to have an Aussie accent. Go figure. Even J'onn J'onzz (David Harewood) manages to find a love interest in a local alien barkeeper who turns out to another Martian (Sharon Leal).
The backdrop to these complicated relationships is the emergence of a nefarious organization led by Lillian Luthor (Brenda Strong) that wants to round-up all the aliens and kill them or send them off to be killed, and the King and Queen of Daxam (played by Kevin Sorbo and Teri Hatcher) arriving on earth to reclaim their son, Mon-El, and, of course, conquer the planet.
In these alien and super villain subplots are the wider issues that the series tackles that are meant to be parables for what is going on in society at large. The alien registry in Supergirl could be taken as a thinly veiled attempt at commentary on immigration, for instance. The problem is, nothing in this series is well done and the things that really standout in this season are the poorly done stories about the relationships. And the sad thing is that the producers and writers felt they had to take a series about a female hero and, 'naturally', make it all about romance and relationship issues.
The best thing about season two is getting to see Teri Hatcher and Dean Cain (who appears as the long-lost father of Alex) who have a connection to the Superman legend through their work on the 1990s series Lois & Clark.
The Video
Supergirl: The Complete Second Season was shot in HD on the Arri Alexa in the ProRes 4:4:4 (1080/24p) format and a 2K DI (Digital Intermediate) is used in post-processing. These technologies are hardly at the forefront these days, but the series looks solid with good color reproduction and brightness. Detail is good, but contrast isn't as strong as it could be. All things considered, the Blu-ray Disc of Supergirl is leaps and bounds above any broadcast or streaming version, with no visible posterization, compression noise, or color banding that can be seen in all other versions.
The Audio
Supergirl: The Complete Second Season arrives on Blu-ray with an English DTS-HD Master Audio 5.1 audio mix (a Portuguese Dolby Digital 2.0 stereo dub is also included). There's nothing in particular that stands out about this mix. There's a heavy emphasis on atmospherics during action scenes. You'll hear a lot of swipes of sound effects, pulsating music, and thumping of bullets, but very little solid, discrete effects and clear, balanced sound. The mix is best when it is quiet and the dialogue is the focus.
The Supplements
There's a good slate of special features included on Supergirl: The Complete Second Season that offer lots of interviews and some 'making of' type featurettes and an audio commentary for Kevin Smith and Andrew Kresiberg's episode "Supergirl Lives"
Digital HD UltraViolet
Supergirl: Alien Fight Night (HD, 10:06) – This documentary explores the episode "Survivors," where Supergirl and the downtrodden from other worlds are forced to compete in Roulette's Octagon
Commentary – Supergirl Lives! – Audio commentary for "Supergirl Lives" featuring Andrew Kreisberg and Kevin Smith
Supergirl: Aliens Among Us (HD, 20:05) – Examine the outsiders from beyond the stars and the visual effects that bring them to life.
Supergirl: 2016 Comic-Con Panel – The cast and executive producers of Supergirl talk about Season 2 at San Diego Comic-Con.
A Conversation with Andrew Kreisberg and Kevin Smith (HD, 03:55) – A discussion about directing Supergirl.
Supergirl: Did You Know?
The Final Assessment
A disappointing season of Supergirl that doesn't do much with what could be a great character. Other DC properties currently on TV are better watches, like The Flash or Gotham. This Blu-ray set, regardless of the quality of the series, is a solid release that is a vast improvement over the broadcasts and streams.
Own Supergirl: The Complete Second Season on Blu-ray & DVD August 22, 2017
[amazon_auto_links id="103837"]
Berlanti Productions | Warner Bros. Television | Warner Home Video
Studios & Distributors
Ali Adler (creator) | Greg Berlanti (creator) | Andrew Kreisberg (creator)
Writer
English DTS-HD MA 5.1
Audio
English SDH | French | Dutch | Portuguese | Spanish (Latino) | Danish | Finnish | Norwegian | Swedish
Subtitles
Portuguese DD 2.0 Stereo
Secondary Audio
Summary
The second season of Supergirl moves to The CW network, but doesn't improve much, being burdened by romantic melodrama and freak of the week storylines. The Blu-ray release is a solid set with good A/V.
What people say... Login to rate
Be the first to leave a review.
Show more