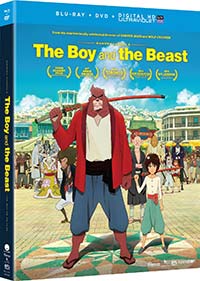 Hosoda Mamoru's latest film The Boy and the Beast falls in line with his more Miyazaki influenced thread of works such as 2006's The Girl Who Leapt Through Time and 2012's Wolf Children. While the film perhaps doesn't quite reach that same level of invention of Girl or the heartwarming sentimentality of Wolf Children, it is a fine coming of age fantasy in its own right.
The story is centered on the male protagonist Ren whom we meet when he is just nine-years-old. Ren has recently lost his mother and is obviously having trouble dealing with it. Not getting long with his guardians and with no word from his estranged father, Ren runs away from home, taking refuge in a darkened alley in the streets of Shibuya after stealing some food. Meanwhile, in what is known as the Beast Kingdom, where beasts have separated themselves from humans whom they fear all have a darkness inside of them that will eventually grow uncontrollable, the lazy martial arts master Kumatetsu is lonely and desperately in need of an apprentice. The master will be retiring to go on to become a god, and most likely Kumatetsu's rival will replace him, which Kumatetsu doesn't want.
While wandering the streets of Tokyo, Kumatetsu comes across Ren and makes the boy an offer to train him. Ren is antagonistic and against it, but he ends up following Kumatetsu back to Beast Kingdom anyway, where he finds himself lost and without a way to get back to the human world. There in the Beast Kingdom, Ren, now being called Kyota by Kumatetsu, is an outcast and feared by the populace. Eventually, Ren becomes closer to Kumatetsu and agrees to become his disciple, and it becomes clear to everyone that he has a lot of skill and even helps Kumatetsu improve as a master. But a rift grows as, after years pass, and the now teenage Ren desires to return to the human word to seek out his father.
One can definitely spot the Miyazaki influences in The Boy and the Beast, but unlike much of Miyazaki's works, and much of Hosoda's work where he uses Miyazaki as a main influence, The Boy and the Beast is quite obviously less female-centric. Hosoda seems to be borrowing more thematically from the other tines on his fork of works here like Summer Wars or One Piece, but wrapped up in that adolescent charm that Studio Ghibli is so good at. There is some flirtation with romance in The Boy and the Beast when Ren returns to the human world, but it is definitely from that awkward male perspective, less flowery, more blunt, and certainly not a central focal point for the dénouement of the film. We are reminded quickly that there is a magical battle to be fought, an evil nemesis lurking, and, like the best YA works, not everyone may come away unscathed.
The Video
The Boy and the Beast gets a beautiful AVC 1080p encodement framed at 1.78:1 worthy of the film itself. There is nothing much to complain about here. The picture looks bright, colorful, clean, and detailed.
The Audio
The original Japanese (and greatly superior) mix is included along with an English dub, both offered in Dolby TrueHD 5.1. What seem to be beautifully balanced, rich and atmospheric mixes with a good amount of discrete panning throughout the soundfield and clean dialogue is hindered, once again, by the perplexing manner in which FUNimation's audio tracks are mastered at such low volumes AND seem to lack much dynamic range. Is this some sort of signature sound they are going for? There are always a few exceptions here and there, but mostly, this is what you get. This one gets a couple marks up only because the mix itself stands out.
The Supplements
The limited number of extras is disappointing to say the least, but at least FUNimation has included a DVD and UltraViolet copy of the film. The included trailers are standard fare.
Digital HD UltraViolet
DVD
Original Teaser
Japanese Trailer #1
Japanese Trailer #2
S. Trailer
FUNimation Trailers
The Final Assessment
The Boy and the Beast is at its core the story of a boy coming of age and, basically a surrogate father and his adopted son. That it is transported to the story of a beast and a boy in a magical realm preparing for a supernatural battle and it still works just shows how strong the storytelling is, even if the fantasy elements here tend to drown out some of the more emotional layers. FUNimation puts together a good Blu-ray Combo pack with a beautiful 1080p image.
Review 0
PG-13 (for some violence and language)
Rating Certificate
Japanese Dolby TrueHD 5.1
Audio
English Dolby TrueHD 5.1
Secondary Audio
Summary
The Boy and the Beast is a thoroughly enjoyable coming of age fantasy that effortless mixes the two threads of director Hosoda Mamoru's style into one signature style.
What people say... Login to rate
Be the first to leave a review.
Show more