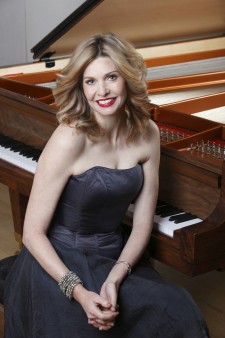 "Down Under" music fans will need little or no introduction to Fiona Joy. This Aussie artist has received numerous accolades from the Australian music industry for her inspired compositions and performances. Fiona Joy is not only an accomplished composer-musician, but also a very talented painter. Most recently, Fiona Joy recorded Signature Solo her first album for Cookie Marenco's audiophile label, Blue Coast Records.
I caught up with Fiona Joy as she was embarking on a month-long concert tour of the western United States and we chatted about her life and career in music.
TheaterByte: Let's start at the beginning. How did a young Fiona Joy get exposed to the piano in the first place and what inspired her to pursue a career in music?
Fiona Joy: When I was born, my grandmother moved in to look after me and brought a beautiful 80-year-old German piano into our home. My mother had learned to play this piano and showed me where the notes on the staff and stave appeared on the keys. At eight years old, I discovered Beethoven's Für Elise, and six weeks later, I was playing it. I begged my mother and grandmother for lessons, knowing that all I really wanted to do was write my own music.  As a child, I had Tourette's syndrome and the piano was a saving grace in my life. It was how I discovered who I was, how I could communicate, what I was good at and where I belonged.
I started writing music at age eight and my first album, Portrait of a Waterfall, featured "For the Roses" (written at age twelve) and "Escarpment Dreaming" (written at age fourteen). But it was not until I turned thirty-eight that I entered the recording studio and, after that, doors kept opening.  Now I have the International Radio's Best Piano Album and the Best New Age Artist awards for 2013.
BD: The 21st century has embraced every extant musical style from Gregorian chant to hip-hop allowing audiences to witness the evolution of musical expression for voice and instrument. Tell me about your musical influences throughout your career and how they have helped to make you the artist that you have become.
FJ: My influences are classical and world music. I adore world sounds – instruments and rhythms — and often find myself thinking of ways that I can incorporate them in a more classical modern-day setting. Numerous classical composers have influenced me, including Ravel, Prokofiev, and Stravinsky, but I always loved the Baroque period. When my piano teacher wasn't looking I would take a Bach piece and add the sustain pedal and a whole lot of rubato! I liked to think that Bach would have played it that way if he had a modern day piano with sustain.  Among today's composers, I love Michael Nyman and hoped one day that his film score, The Piano, would be staged and I would play the lead!
BD: Now about your music itself. Like you, I really don't care for the term "New Age" music since each "new" age, be it baroque, classical or "modern," has its own music. So let's start with your being a composer for our present times. Where do your ideas come from and what then informs your creative process?
FJ: Yes, the term New Age is not a good one – in fact I'm now refusing to use it. New Age has become so watered down that the term could mean almost anything from elevator to ambient to chill to smooth jazz to goodness only knows what else. If I have to have a pigeonhole, I would say: Fiona Joy-Contemporary Instrumental – with vocals.
Some people write their thoughts down with pen and paper. I sit down and write them at the piano. It makes perfect sense to me and I just hope that people can hear the stories in the music as clearly as I can when I write them. So I consider my music as my own way of communicating these stories to the audience.
BD: Your current musical catalog consists mostly of works for the piano, an instrument characterized by its wide range of expression, colors, and dynamics. But one of your current instruments is not just a seven-octave plus piano, but one to which Stuart & Sons has augmented the usual eighty-eight keys with fourteen more. What attracted you to this special piano and how does it influence your compositions?
FJ: I love the Stuart & Sons piano as well as an old Steinway B (provided it has character). I now have three albums on the Stuart piano and two on a Steinway B. Wayne Stuart pretty much re-invented the piano. The Stuart piano tuning system dictates that sound does not follow the traditional tuning peg in the decay of a note. On a regular piano there is a bend in the decay of a note, but not on the Stuart – the notes go on and on with lingering harmonics.
BD: As you are a performing artist and composer as well as a painter, I am interested in the role that painting has played in your music and vice versa.
FJ: You can paint to music and you can write music while looking at art. I started out painting, thinking that my music career would never take off because it is so difficult to break into the music industry. One night, while planning an art exhibition, I had an epiphany and wondered what would happen if I did a show that took music into the third dimension, one where you could see manuscript on the paintings, and hear the music played at the same time. I went into the recording studio for the first time for that project. What happened next changed my life. I sold half of the paintings and got 500 orders for an album and the next day a record label contacted me wanting not only that album but also the next five.
Typically, I ignored everything and started my own record label! Later, Will Ackerman (founder of Windham Hill Records) contacted me after my keyboard album was a finalist in the ZMR Radio Awards and beat piano legend George Winston.  Will said "I think you had better come over and record on the Steinway at Imaginary Road, you can do better than a keyboard".  Now I have nine albums with my own label Little Hartley Music and my new album with Blue Coast Records produced by Cookie Marenco for the audiophile market in the DSD high-resolution format.
BD: Looking toward the future, what does Fiona Joy have in store for her growing fan base and will there be more concertizing?
FJ: I plan to provide more high-resolution recordings from double DSD downloads (Blue Coast Records) to SACD to vinyl. I love that fact that the audiophile market understands the integrity of a single note and can hear and appreciate the intervening silence. I love doing concerts and also plan to write another album for Blue Coast Records. I also love the work I do with Cookie, a woman who is breaking new ground in an industry dominated by men!
BD: Thank you Fiona Joy for taking the time out of your busy schedule and good luck on your current United States concert tour. Music lovers can catch Fiona Joy in the United States during the next few weeks:
November 8: Boulder, CO: Boulder's Piano Gallery
November 9: Denver, CO: Lannie's Clocktower Cabaret
November 12: Grand Junction, CO: Moss Performing Arts Center
November 19: Albuquerque, NM: Unitarian Universalist Church of Albuquerque
November 20: Sedona, AZ: Sedona Creative Life Center
November 21: Tempe, AZ: King of Glory Church
November 22: Tucscon, AZ: Water of Life Church
December 2: Julian, CA: Julian Public Library
December 5: Agoura, Hills CA
For more information about this artist, visit www.fionajoy.com