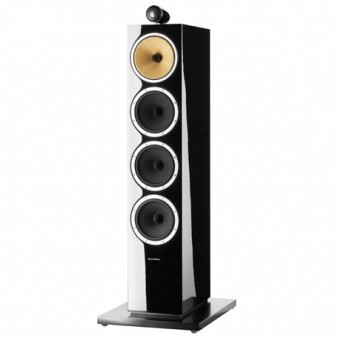 If any company knows anything about making first-rate loudspeakers, then that company would be Bowers & Wilkins or B&W.  Founded in Worthing, West Sussex, England in 1966 by John Bowers and Roy Wilkins, B&W was one of the first companies to open up a research facility dedicated to speaker design. Back in the 1980s, I owned a pair of B&W 801s. They were squat floor standers that, with their tweeter/midrange enclosures mounted on top of the woofer enclosure, bore an uncanny resemblance to Star Wars' R2D2! But, boy, did they ever put out great sound from top to bottom. Since then, B&W has forged ahead with more innovative speakers and the CM10 as their latest entry at the top of the new CM line.
Some Assembly Required
When these two tall shipping cartons arrived on a large moving van, I realized that I would need help in getting things started. With my able-bodied assistant Robert, the two of us hoisted a pair of stately 75-pound towers out of their boxes and then bolted them on to their respective plinths coupled to their spikes and reaching their final height of nearly four feet.  If ever a speaker had a great wife-acceptance-factor, the CM10 is that speaker. The glossy piano black finish was simply gorgeous, and, yes, there is that freestanding tweeter, now in its Nautilus configuration as a 1" dual aluminum dome.  If you thought that Kevlar® was only for body armor, think again. The CM10 has one 6" woven Kevlar® FST cone midrange driver and three 6.5" paper/ Kevlar® cone woofers. Crossovers occur at 350Hz and 4kHz.  Nominal impedance is 8 Ohms with a minimum of 3.1 Ohms. Sensitivity is 90 dB and on-axis frequency response, 45Hz to 28kHz (+ 3dB).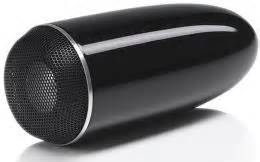 Given these specs, this speaker should not be difficult for most amplifiers to drive and, during my listening sessions, I found this to be absolutely true. Placement was non-fussy given their slim width (8") and depth (13") dimensions.  In my 16' x 12' x 8' listening room, 3' from rear and side walls and 8' apart worked best for my listening position that was 10' away. One point to consider is your seating height as the center of the tweeter is nearly 43" high.  While B&W supplies some nice grilles for the midrange and woofers, I found that these speakers sounded better naked. On the other hand, I kept the perforated grille on the tweeter for protection (it did not sound appreciably better with the grille removed). A final adjustment for bass response can be made by placing one or two concentric foam plugs in the ribbed port on the rear of each speaker. As these speakers can generate prodigious bass for their size, plugging the ports with the supplied foam inserts made for the best low end balance in my room.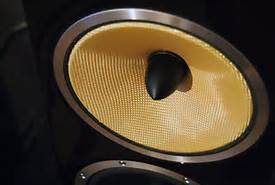 All listening was done with either a Pass INT-30A integrated amplifier or a Pass X-150.5 amplifier (with the INT-30 as the preamp). Music sources included an Oppo BDP-105 (CDs, SACDs, HRx DVD-Rs, and high-resolution downloads) and a Bryston BDP-1/BDA player/DAC combo for additional FLAC and high-res downloads.
Like many dynamic speakers, the CM10's drivers are relatively stiff out of the box and required about 150 hours to break in before they began to deliver the kind of sound that I was eagerly anticipating.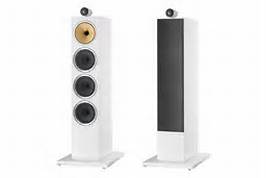 Looks Great, Sounds Even Better
Recently, I have been the lucky recipient of a gaggle of high-resolution downloads (176.4kHz/-24bit and DSD 64) from APO Records and more hi-res material (176.4kHz/24-bit downloads and DVD-Rs) from Reference Recordings. CDs and SACDs were also included in my listening sessions.
What I fondly remembered from my experience with the B&W 801s was the transparency of the higher frequencies, the solidity of the lower frequencies and (for the times) simply fabulous imaging.  I am here to tell you that the CM10s had all of these assets and then some.
I started out with a Reference Recordings favorite, Joel Fan's West of the Sun recital of Western Hemisphere piano works in its HRx format (DVD-R, 176.4kHz/24-bit WAV). The Ginastera Sonata has gobs of bass, peppered with flashes from the treble clef. Fan's instrument was right there, perfectly centered and sounding like it was in my room. Another RR HRx disc, Eiji Oue and the Minnesota Orchestra plays Stravinsky, generates a sonic tsunami in the Firebird Suite and that is exactly what the CM10s produced.
Shifting gears, I sampled APO Records hi-res reissue of Wild Child Butler's Sho' 'Nuff (DSD  64). On "Can You Use A Man Like Me," the integration of the repeating bass line, the subtle electric guitar, background drum kit, and Wild Child's voice and harmonica was just seamless. The MJQ's Blues on Bach (192kHz/24-bit FLAC) is a stunning example of what a good small ensemble recording (keyboards, drums, vibes, and bass) should be. "Regret," the opening number, was spacious with pinpoint location of each instrument.
Getting to Red Book CDs, I started with "Inutil Pasaijem" from Esperanza Spalding's Chamber Music Society. This deceptively simple track features Spalding's voice and acoustic bass alternating with Gretchen Parlato in a hypnotic Brazilian samba. The bass was taut and well-defined as was the slide of Spalding's fingers along the strings.  One of the best solo organ discs ever cut is Riago's Pipes Rhode Island, featuring a number of soloists and instruments from that tiny state. The Bach "Gigue" Fugue has Mark Steinbach playing a mighty instrument and its extremes of frequency and dynamics proved no problem for the CM10s.
B&W Belts It Out Of The Park
Over the two months that I lived with the B&W CM10s, there were several features about these speakers that simply stood out. First, the drivers were well integrated with strategically chosen crossover points that played to the strength of each one.  Second, with over 19" of bass drivers available (equally divided among the three woofers), the ability to tailor bass response in a given room makes placement less critical, surely a godsend for many listeners. Third, there was simply no musical genre that the CM10s did not like.  Fourth, these were among the easiest speakers to drive that I have ever had in my home, meaning that you do not need megawatt amps to get the audio job done. Fifth, like their beloved predecessors (the original 801s), they imaged like bandits.
The Good
Excellent build quality
Attractive finish and design
Smooth integration of drivers
Great imaging
High level of musicality
Adjustable bass response
The Bad
Higher than average tweeter placement (with stands) requires greater seating distance or height
The Scorecard:
Design/Ergonomics:
[Rating:4.5/5]
Performance:
[Rating:5/5]
Value:
[Rating:4.5/5]
Overall:
[Rating:4.5/5]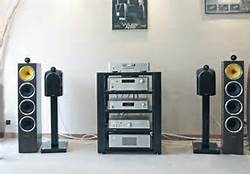 The Definitive Word
There is a series of "white papers" on the B&W website (www.bowers-wilkins.com) that describe the advanced technologies responsible for making these speakers the great sound transducers that they are. Potential buyers would benefit by reading these articles since they describe the incredible attention paid to the mechanics of sound reproduction and the clever routes that B&W has taken to get the most out of their speakers.  Technicalities aside, these speakers, while not inexpensive at $4000.00, should be considered a relative bargain, considering what you get in performance value. Simply put, the B&W CM10 is a speaker that I could unhesitatingly adopt into my audio family. Highly recommended for all music lovers.
Specifications :
Recommend Amplifier Power: 30 Watts (minimum) – 300 Watts (maximum)
Response

+

 3dB                    :  45 Hz-28 kHz
Sensitivity                               :  90dB spl
Harmonic distortion           :  2nd  and 3rd harmonics (90db, 1m) <1% 86Hz-28kHz
<0.5% 110Hz-20kHz
SPL Anechoic 1w/1m           :  85 dB
Crossover points                    :  160 Hz & 2.3 kHz
Tweeter                                    :  Single 1"dual layer aluminum dome
Midrange                                :  Single 6" woven Kevlar® cone
Woofer                                    :  Three 6.5" paper/Kevlar® cone
Crossover frequencies         : 350Hz, 4kHz
Dimensions (H x W x D)   :  39 x 7.9 x 13.3 (in); 990 x 200 x 337 (mm)   (with plinth : 42.8×14.4 x14.3 (in); 1087 x 366 x 384 (mm))
Weight                                     :  73.7 lbs; 33.5 kg
More Information:
Bowers & Wilkins CM10  (SRP $4000 USD)