– –
The Film
[Rating:4.5/5]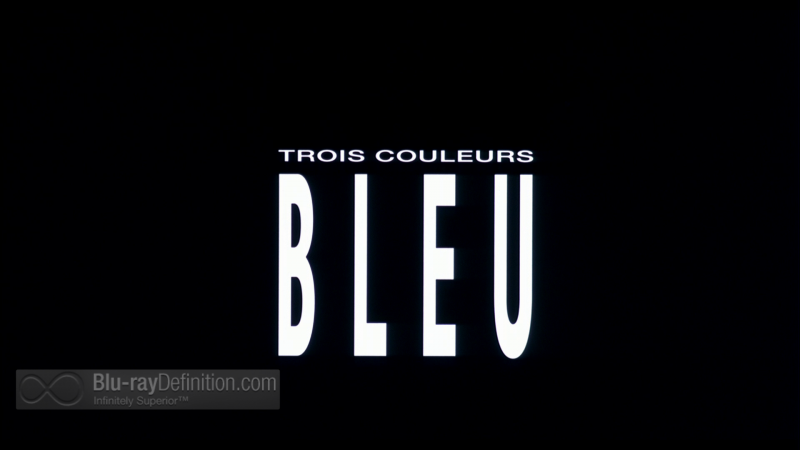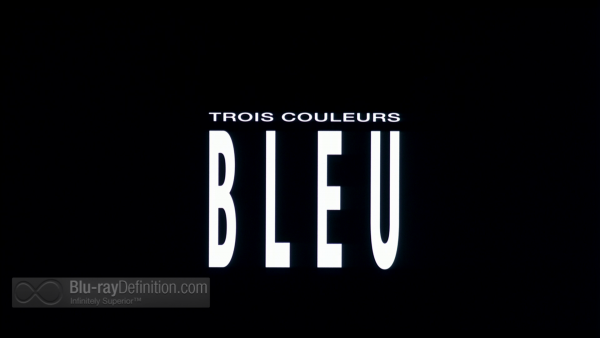 I don't know that I can describe Krzystof Kieṡlowski's (The Double Life of Veronique) Three Colours (Trois couleurs) as eloquently as our very own Chris Chiarella did in the TheaterByte Holiday Gift Guide 2011 and as Lawrence Devoe did in his review of the Criterion Collection release of Three Colors Trilogy, but I shall try my best.
A symphony of post-cold war European life taking as its inspiration the tri-colour of the French flag, blue, white, and red, symbolizing liberty, equality, and fraternity or brotherhood, Three Colours: Blue, White, and Red is probably the greatest cinematic achievement of the late 20th century. As far as trilogies go, no other trilogy is as artistically cohesive, as moving, and as inherently European as Three Colours. From the moving musical score, so reminiscent of the classical greats by Zbigniew Preisner, to the mixture of Euro cultures in White, Kieṡlowski modeled a fragment of continental life, the good, the bad, and mundane, that is honest and intriguing. Each film's color palette is dominated by its symbolic color, most difficultly captured in White, where each scene contains a white object.
True to its name, Blue, the first part of the trilogy, is a film drenched in melancholy and grief, following the life of Julie (Juliette Binoche) who has suffered the tragedy of losing her husband, a famous composer, and daughter in a car accident and is now trying desperately to liberate herself from her previous life. She moves out of her house into an apartment in the suburbs of Paris, but memories of her old life make it difficult for her to throw off her old life and start anew.
Kieṡlowski's film is drenched in the color whose name it bares and also filled with magnificent visual artistry, true to his signature style. It is eloquently handled and also makes use of his "fade-to-black" technique to keep viewers on edge, rather than using it to portray passage of time. Binoche is brilliant, as always, and shows great emotional range.
Blue was previously issued by Artificial Eye on Blu-ray as part of Three Colours Trilogy in 2011. This reissue is identical to the disc contained in that set.
Video Quality
[Rating:4.5/5]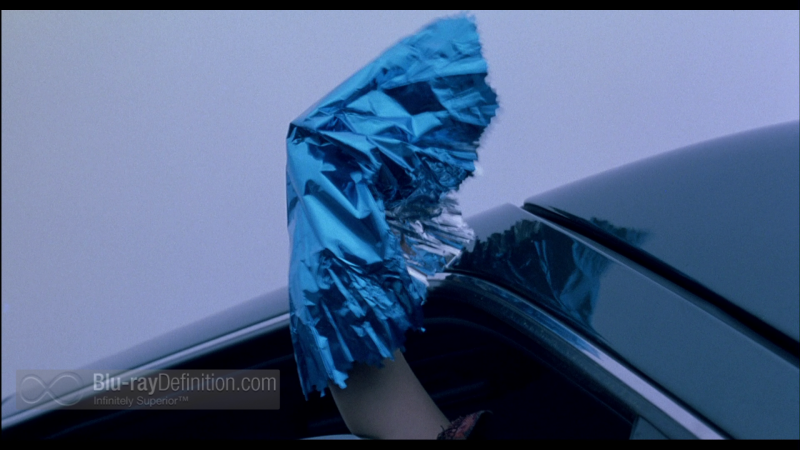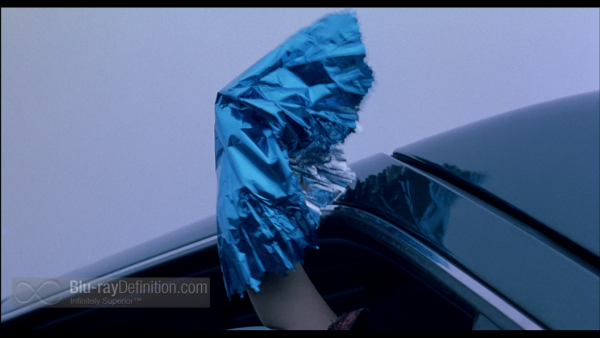 This transfer is identical to the Three Colours Trilogy previously released by Artificial Eye in the UK in 2011. These comparative screen shots should also help bear that out.
The AVC/MPEG-4 1080p/24 transfer from Artificial Eye looks rather filmic with beautiful flesh tones and good reproduction of grain. Contrast is strong, but could have been just a bit better, as darks don't always look quite as deep as I would like them to be and the overall image sometimes flattens, but shadow details are greatly extended and I see no evidence of edge enhancement or compression artifacts. The colors do look nicely saturated, and, as is so crucial here, the primary colors pop, particularly the blues, which range from icy cool and indigo, to midnight.
Audio Quality
[Rating:4/5]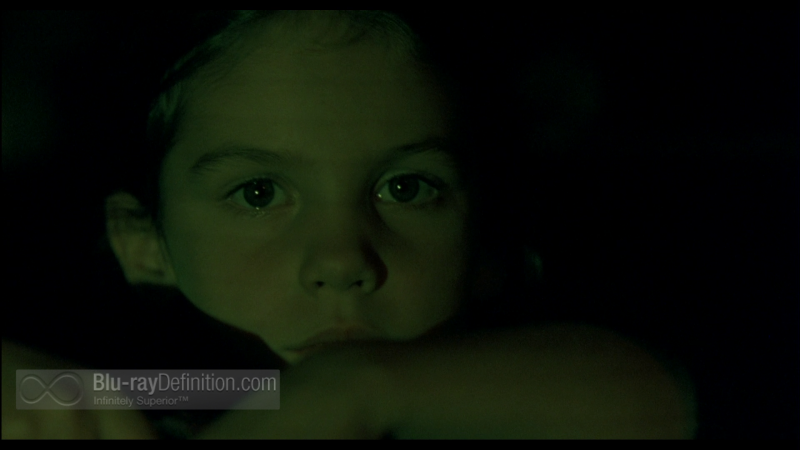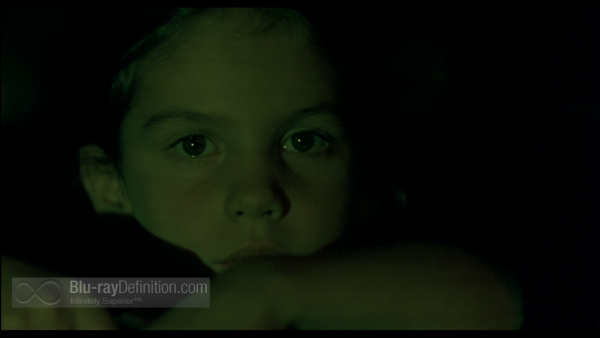 Two acceptable audio tracks are provided for the film, one in LPCM 2.0 Stereo (48kHz/24-bit) and one in DTS-HD Master Audio 5.0 (48kHz/24-bit). The 5.0 surround mix is more subtle and ambient than full-on and bombastic and seems to allow more breathing room. It has more dynamic range and slightly more subtle high frequencies across the board. The stereo mix, on the other hand, seems to be generally louder and have sound effects pushed forward a bit more in the mix with less range and a slightly more jarring high frequency response. Both mixes, however, have some clipping in the dialogue on occasion, particularly when voices rise.
Supplemental Materials
[Rating:2.5/5]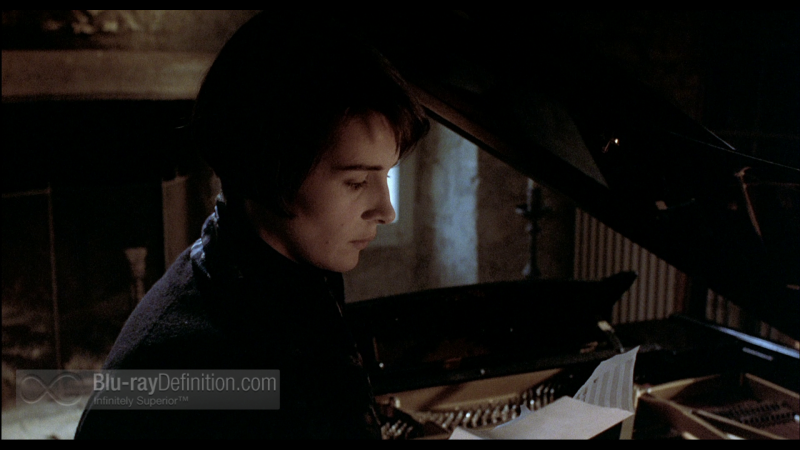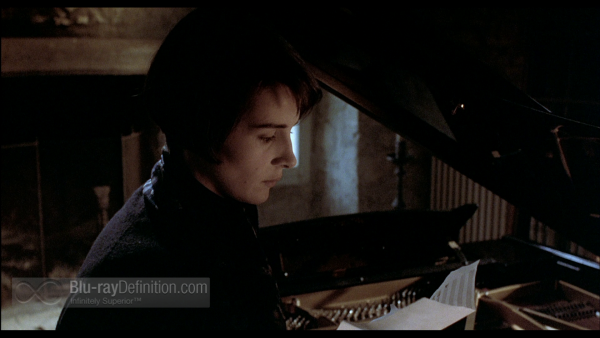 We get nothing new here, just the same extras included on the disc in complete trilogy release:
Krzystof Kieṡlowski's Masterclass (1994) (1.33:1; SD/PAL; 00:07:30)
Interviews (1.78:1; SD/PAL):

Juliet Binoche
Jacque Witta, Editor
Main Karmitz, Producer

Theatrical Trailers (1.33:1; SD/PAL):

Three Colours Blue
Three Colours White
Three Colours Red
The Definitive Word
Overall:
[Rating:4/5]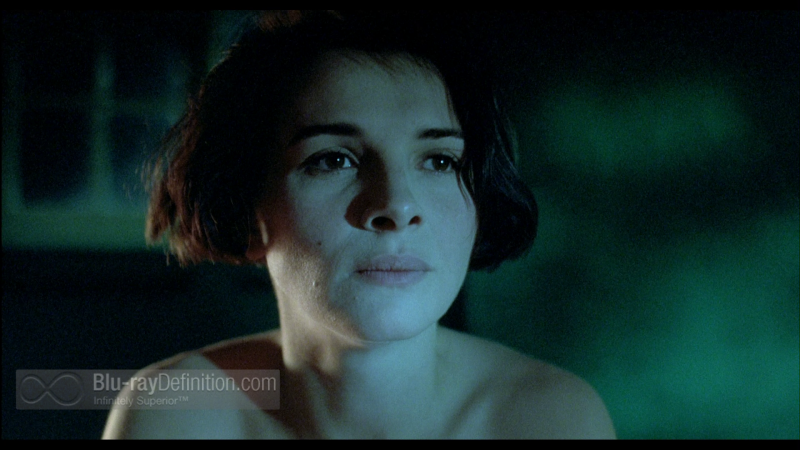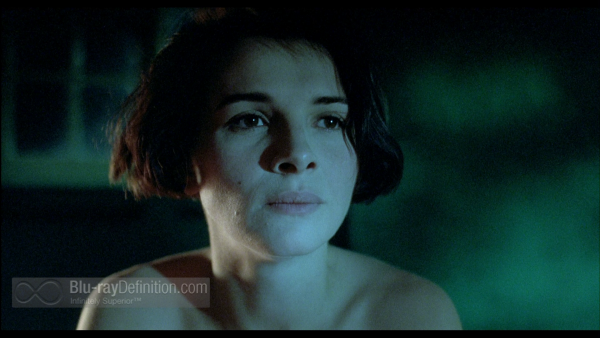 It may be a difficult thing to do to divorce Blue from the other two films of its trilogy, although it may very well be the strongest of the three films. While the films stand as a trilogy in name, they are more then capable of standing on their own and do not require the other to be understood or fully enjoyed. That is part of Kieṡlowski's genius. Blue is magnificent alone, but even better together with the remaining two films.
Additional Screen Captures
[amazon-product region="uk" tracking_id="bluraydefinit-21″]B00ENHM702[/amazon-product]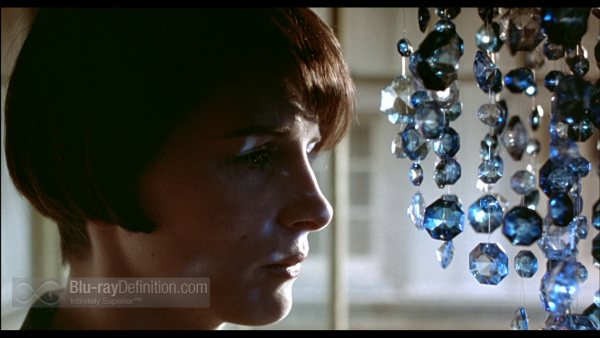 [amazon-product region="uk" tracking_id="bluraydefinit-21″]B00ENHM702[/amazon-product]