Bryston BIT 15 Isolation Transformer

The Bryston company has run the veritable gamut in home audio equipment: power amplifiers, preamplifiers, surround sound processors, digital-analogue convertors, digital players, CD players, and loudspeakers. But, truth be told, a critical link in the audio reproduction chain is the one that gets the electrical current from the wall outlet to your precious equipment. If you think that getting the best sound from your audio or video system is simply a matter of plugging all of your components' power cords into the wall sockets, you had better rethink that notion. Fortunately, Bryston has already rethought it for you and the BIT Isolation Transformer Series fills that missing link in their extensive product line.
Power conditioners, surge protectors, and isolation transformers: the importance of being earnest
Electricity must travel a great distance to reach your home, moving from power grids to substations and local distribution centers to ensure that your power outlets get the right voltage. In an ideal world, voltage would never vary, and the electrical current going into your home grid and wall outlets would be stable. However, ours is not an ideal world and, depending on environmental conditions and the number of users, line voltage may vary considerably. Suppose your house loses its electrical power due to a downed power line or a substation failure. Once power is restored, a tremendous line surge may occur that, under worst circumstances, could fry your A/V components.
Transformers are intended to provide sufficient current for all associated devices, so that they deliver optimal performance. Mechanical isolation of a system's power supply from the outside grid is essential to reduce electrical "noise" that can degrade sound.
Bryston has taken all of these factors into consideration in the design of their Bryston Isolation Transformer (BIT) and cites the following advantages:
Very low impedance and high current for power amplifiers. The proprietary transformer uses technology developed by Plitron Manufacturing. This enables the handling of high instantaneous peaks that an amplifier may need and that cannot be managed straight out of the wall outlet.
Surge suppression that exceeds the performance of a metal-oxide varistor (MOV). MOVs can allow up to several hundred volts to reach components while BIT devices clamp voltage onset around 2V above nominal voltage, offering far better protection against damage. MOVs also "shunt" to ground, resulting in higher ground voltage that affects both audio and video signals. MOVs are "sacrificial," meaning that they eventually wear out and fail.
BIT toroidal transformers isolate devices from outside power grids. External noise sources like refrigerator motors or lights can be easily rejected in ranges from 2KHz to 1MHz as opposed to typical transformer-based isolation devices that do not kick in until 10KHz.
BIT devices use "LONO" (Low Noise) transformer design. This eliminates audible transformer noise regardless of line conditions, DC offset and overvoltage.
BIT devices use "NBT" (Narrow Bandwidth Technology.) NBT attenuates differential and common-mode noise at a lower corner frequency (2KHz), eliminating the need for an external filter.
If this sounds like overkill, consider that many A/V system owners have already invested lots of money into their equipment, so these design elements will help to better protect these sizeable investments.

This is one heavy little dude!

The BIT 15 is in the middle of the Bryston BIT 120V Single Phase series. My first major surprise was the BIT 15's heft; a concentrated lift and jerk effort was required to get its 44 lbs (!) out of the box.  The BIT 15's façade resembles many Bryston power amplifiers, and, adorned simply with a power switch/15A circuit breaker and logo, comes in either silver (my review sample) or black. It is rated for 15 amps of current and can withstand 6000 Volts, and 3000 Amps for 1000 repeats.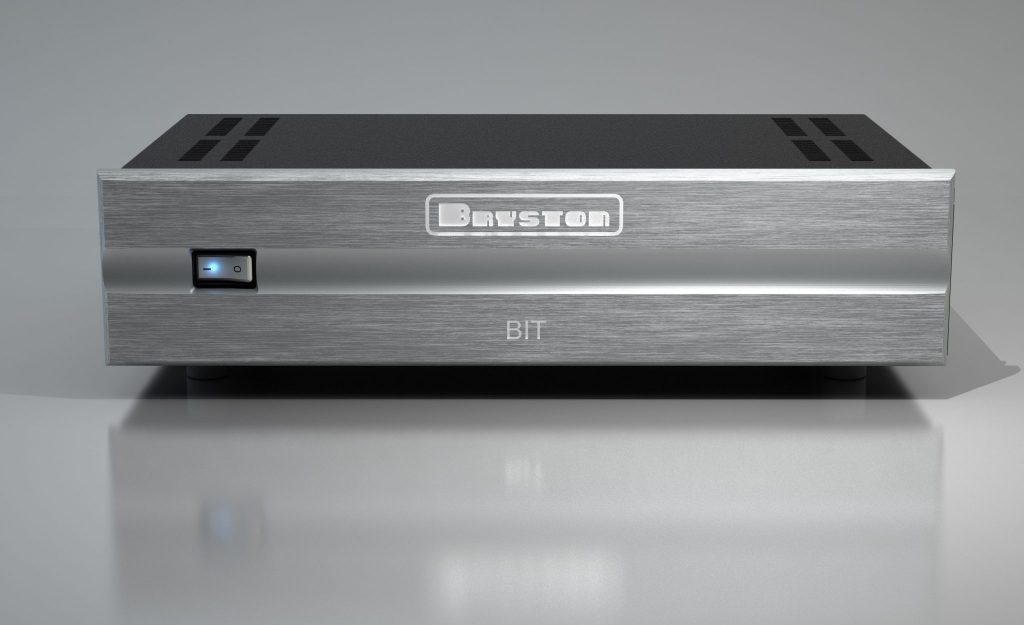 The rear panel has five medical grade duplex outlets, a ground, and a power cord receptacle.
The top is vented for heat dissipation if needed but what you do not see, unless you remove the top cover, is one mother-of-a-transformer that occupies much of the interior real estate.

To serve and protect

I have truly lost count of the number of power conditioner/surge protectors that have graced my various systems over the past three decades. Some have affected phase, some have altered dynamics, and some have not made any noticeable difference. My holy grail search for a power conditioner was to find one that would lower the noise floor beyond audibility, keep out grunge, protect my equipment, and allow the sound to emerge as openly as possible.
For a number of years, I have been using Running Springs Audio power conditioners for my source components and power amplifiers, and they have consistently met all of the above criteria, but these power conditioners are quite costly. The Bryston BIT 15 represents a significant departure in design and comes in at a lower price ($2195). But how would it perform in the field?
Most source equipment makes modest demands on a home power grid, so I kept these components mostly the same and simply changed amplifiers during the evaluation period.  I had a Classé Audio Sigma SSP surround sound preamp/processor and its matching Sigma Amp5 amplifier under review when I received the BIT15. Using the pre/pro and amp in balanced two-channel mode and with an Oppo BDP-105 universal player delivering a bunch of CDs, SACDs, Blu-ray Pure Audio discs, and high-resolution downloads, I settled in for a number of listening sessions, following a 100 hour break-in period. Loudspeakers were a pair of Totem Mani-2 Signatures, relatively inefficient (sensitivity: 85dB) two-way mini-monitors, supported by Sound Anchor custom-built stands.
During many hours of music ranging from rock/pop (Counting Crows, Led Zeppelin, Michael Jackson) to folk (Joni Mitchell, James Taylor) to classical (Minnesota Orchestra, San Francisco Symphony) and, finally to jazz (Miles Davis, Modern Jazz Quartet, David Chesky), every note, every chord, every downbeat was crystal-clear, liberated from noise, hum, or any other sonic distraction. In short, my experience with the BIT15 was characterized by the liberation of all sound sources from their environmental bonds.
Of course, there are both upsides and downsides to effective line noise suppression. Great sounding recordings like Alison Krauss and Union Station's Paper Airplane or the Minnesota Orchestra's rendition of the Rachmaninoff Symphonic Dances come across as purely sensational. Conversely, the heavy compression of downloads like The Knack's Get the Knack was clearly exposed as the sonic veils were stripped away.

Making the Best Match

Not willing to let well enough alone, I checked out the BIT15 with a Class A integrated amplifier, the Pass INT-30A. The sonic results differed noticeably from those obtained with the Classé ensemble powering the same speakers. The noise reduction remained extraordinarily low and there was a smoothness that I have always heard with the Pass integrated. In contrast, the Classé preamp/amp combination, using the same audio tracks, sounded more forward and "punchier." My take-home message from this comparison is that a top-notch isolation transformer will expose sonic differences in equipment made more obvious with the removal of extraneous noise.
The Good
Excellent build quality
Outstanding elimination of line noise
Clarifies the sound picture
The Bad
Quite hefty for such a small footprint
The Scorecard:
Design/Ergonomics:
[Rating:4.5/5]
Performance:
[Rating:4.5/5]
Value:
[Rating:4.5/5]
Overall:
[Rating:4.5/5]

The Definitive Word

I have used many power conditioners/surge suppressors but none designed quite like the Bryston BIT15 isolation transformer. As today's home environments can profoundly affect the delivery of stable, noise-free electricity, I would consider power conditioners to be essential for audio/video systems.  While not cheap, the BIT15 represents a very sound investment for home theaters that often run into the thousands of dollars. Highly recommended.
Specifications:
Current: 15 amps
V-In (VAC): 120

+

10
Frequency (Hz): 60

+

 3
Input current limit: 15A breaker
Number of outlets: 10
Dimensions: W (19) x D (11.3) x H (4) inches
Faceplate: Silver or Black
Weight: 44.5 lbs  (20 kg)
More Information:
Bryston BIT15 Isolation Transformer (SRP $2195 USD)