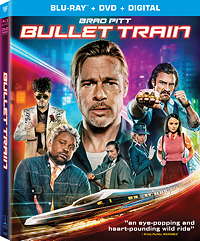 Director David Leitch's Bullet Train, based on the best-selling novel by Isaka Kôtarô, started its life as an Antoine Fuqua production and a serious crime drama. The film eventually transitioned into an action comedy, Leitch was brought on to direct, and Brad Pitt was attached to the film. The rest is history, as they say.
Set mostly on the Japanese bullet train from Tokyo to Kyoto, the story involves a group of assassins, including Pitt who plays an assassin codenamed Ladybug, a pair of hitmen called "the twins" codenamed Tangerine (Aaron Taylor-Johnson) and Lemon (Brian Tyree Henry), an assassin fighting to save the life if his hospitalized child who is being threatened, Kimura (Andrew Koji), and a young woman who is somehow tied in to all of this, calling herself the Prince (Joey King).
Ladybug ends up on the train in place of another assassin assigned to obtain an attaché case full of cash. It just so happens that The Twins are also there to both recover that same attaché case while also rescuing the son of nefarious and deadly mob boss White Death (Michael Shannon). Prince ends up foiling everyone's plans but no one really understands what her connection is to anything.
Bullet Train is an amalgamation of many quick-talking con-man dark comedies, mostly from the mind of Tarantino. Think Reservoir Dogs (the code names) and Kill Bill (the visual aesthetic). But it feels more akin to a jumping into one of those films from a side entrance, like Lucky Number Slevin, for instance.
There is more than enough action and real comedic moments to carry this film three-quarters of the way, however, but it does begin to derail by the time we reach the final act. Fortunately, Brad Pitt's fantastic performance is enough to keep us interested. He brings his A-game straight through, and it must be said that Brian Tyree Henry is also comedic gold and a standout in Bullet Train.
The Video
Bullet Train was shot on various Arri cameras with mainly 4.5K and 2.6K resolution with some sequences shot on 35mm film stock. A 4K digital intermediate was used and it was mastered in Dolby Vision. Sony only sent me the Blu-ray for review purposes (there is 4K Ultra HD Blu-ray release available). So, obviously, there is no Dolby Vision on this release. It is encoded in AVC at 1080p resolution with a 2.39:1 framing. The image is pristine and the colors, though lacking the wide color gamut of HDR, still come across with a good bit of candy color 'pop.' Some of the flames and lighting look a bit flatter than they would in Dolby Vision or HDR10, but otherwise there is nothing to complain about here.
The Audio
Sony provides the Blu-ray of Bullet Train with an effective, balanced, and aggressive English DTS-HD Master Audio 5.1 audio mix that is bombastic, filled with solid effects in the surround channels, and has a beefy low-end while maintaining clean and intelligible dialogue.
The Supplements
There is a well-rounded choice of 'making of' type featurettes and a funny blooper real included. The audio commentary is always a welcome inclusion.
Movies Anywhere Digital Code
DVD
Mission Accomplished: Making of Bullet Train (1080p; 00:06:10)
All Aboard the Pain Train: Stunts (1080p; 00:05:12)
Outtakes & Bloopers (1080p; 00:02:59)
Filmmaker Commentary
Trained Professionals: The Cast (1080p; 00:06:52)
Catch What You Missed: Easter Eggs (1080p; 00:04:14)
Select Scene Stunt Previs (1080p; 00:03:55)
Bullet Train Goes Off the Rails (1080p; 00:04:35)
The Final Assessment
Bullet Train is a raucous, eye-popping, adrenalin rush that looks and sounds great on Blu-ray. A 4K Ultra HD is also available. Recommended.
---
Rating Certificate: R (for strong and bloody violence, pervasive language, and brief sexuality.)
Studios & Distributors: 87North | CTB Inc. | Hill District Media | Sony Pictures Entertainment (SPE) | Columbia Pictures | Sony Pictures Home Entertainment
Director: David Leitch
Written By: Zak Olkewicz (screenplay by) | Kôtarô Isaka (based on the book by)
Run Time: 127 Mins.
Street Date: 18 October 2022
Aspect Ratio: 2.39:1
Video Format: AVC 1080p
Primary Audio: English DTS-HD MA 5.1
Secondary Audio: English Descriptive Audio | French DTS-HD MA 5.1 | Portuguese DTS-HD MA 5.1 | Spanish DD 5.1 | Thai DD 5.1
Subtitles: English | English SDH | Chinese Simplified | Chinese Traditional | French | Korean | Portuguese | Spanish | Thai