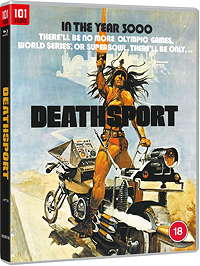 The 1978 B-movie classic from producer Roger Corman, Deathsport, co-directed by Allan Arkush and Nicholas Niciphor is an outlandish dystopian sci-fi exploitation flick with gladiators on motorcycles and a bevy of naked women.
Set in the year 3000 after what are called "The Great Neutron Wars," the world has been divided into desert wastelands and isolated domed city states. An authoritarian dictator, Lord Zirpola (David McLean) has banned any form of freedom and fun making, and he has it out for the nomads who travel through the desert wastelands, the "rangers." One particular "ranger guide," Kaz (David Carradine sporting a snazzy loin cloth) is captured by Zirpola's henchman, the
"Statesman" Ankar Moor (Richard Lynch) and thrown together with the beautiful ranger guide woman Deneer (Claudia Jennings). The two are forced to battle in Zirpola's dangerous battle royale on motorcycles, the Death Sport, set inside a tunnel in which only one person can emerge alive.
It is best not to do much thinking going into this film because it does not give much to think about. The stilted dialogue like "as much as I would enjoy killing you here tonight, I will enjoy watching you die more in the Deathsport tomorrow" will not elevate the intellectual level at all. This is all about the insanity of dueling on motorcycles and the lasciviousness of sadistic villains having women strip naked and walk in the dark being electroshocked, and, yes, whatever you personally think about her acting talents, Claudia Jennings is here basically as window dressing. Even as a B exploitation film, there are films that manage to craft better narratives and more energetic action sequences. This one just never gets above poor TV movie levels.
The Video
Deathsport arrives in a 1.85:1 AVC 1080p encodement on Blu-ray from 101 Films. The image is underwhelming overall, with a soft look and a lot of detail roll-off in the backgrounds. There is some visible source damage throughout and a thicket of coarse and sometimes noisy looking grain. That said the color reproduction, especially in the primary colors, is strong. Look at the ~30:20 mark where the red flood lights flash. They have superb vibrancy. Also, the scenes where Lord Zirpola tortures the women in his weird electrical chamber thing has a good bit of shadow detail and contrast.
The Audio
For whatever reason, this release comes with a lossy English Dolby Digital encodement of its original mono soundtrack. There is nothing spectacular about this track or the sound. The audio effects come across with a strong midrange and dialogue is intelligible, but one could not call this a top tier audio presentation given some issues with clipping and narrow dynamics.
The Supplements
Most of the supplements included are just the usual trailers and promos. The main attraction is the audio commentary with co-director Arkush and editor Bock offering up anecdotes in their very conversational commentary.
Commentary with co-director Allan Arkush and editor Larry Bock
Theatrical Trailer (1080p)
TV Spot (1080p)
Radio Spot (1080p)
Still Gallery (1080i)
The Final Assessment
With a film produced by Roger Corman you pretty much know what you are going to get, sometimes it works and sometimes it is just a miss. This film falls more on the miss side. Genre fans may still enjoy this and Corman completists will still like to get this.
Deathsport is out on Blu-ray in the UK 17 October 2022 from 101 Films
---
Rating Certificate: UK-18
Studios & Distributors: New World Pictures | 101 Films
Director: Allan Arkush | Nicholas Niciphor | Roger Corman (uncredited)
Written By: Nicholas Niciphor (screenplay by) | Donald E. Stewart (screenplay by) | Frances Doel (story by)
Run Time: 82 Mins.
Street Date: 17 October 2022
Aspect Ratio: 1.85:1
Video Format: AVC 1080p
Primary Audio: English DD 2.0 Mono
Subtitles: English SDH