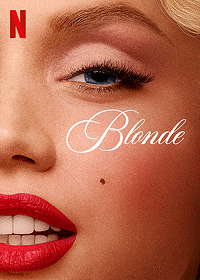 The principal reason for watching this overly long (nearly 3 hours' running time) adaptation of Joyce Carol Oates' fictionalized account of Marilyn Monroe's short life is the stunning performance turned in by Ana de Armas who has hit the big screen running over the past five years while appearing in a dozen films.
Blonde opens with a seven-year-old Norma Jeane Mortenson, Monroe's real name, (Lily Fisher) whose schizophrenic mother Gladys (Julianne Nicholson) tries to drown her in a bathtub. Fortunately, Norma Jeane ends up in a neighbor's house and later is sent to an orphanage while her mother is placed in a psychiatric hospital. Norma Jeane adopts the stage name of "Marilyn Monroe" and begins a modeling career. This leads to a series of small film roles and an acting triumph in Niagara. Along the way Marilyn enters an odd-trio relationship with the sons of two famous screen actors, Charles "Cass" Chaplin, Jr. (Xavier Samuel) and Edward G. "Eddy" Robinson Jr. (Evan Williams). After aborting Cass' child due to her fears that it will inherit her mother's mental illness,  Marilyn meets and eventually marries retired baseball player Joe DiMaggio (Bobby Canavale). Their marriage hits the rocks after the New York Yankee legend turns into a real slugger and wife abuser.
When Marilyn reads for a new play by famous playwright Arthur Miller, she does not get the part, but the pair become romantically involved and eventually marry. A pregnancy ends in a miscarriage and as Marilyn begins filming Some Like It Hot, her on-set behavior becomes erratic. Meanwhile her marriage to Arthur is failing and she develops a dependence on tranquilizers and booze that will eventually lead to her death from an overdose at age 36 in 1962.
Writer-director Andrew Dominik gives viewers a quasi-arthouse approach to this highly fictionalized biopic with a mélange of actual film clips, a mostly 1.33:1 aspect ratio, color and black-and-white scenes, babies in utero (that were much farther along than Monroe's actual pregnancies), and outright sensationalism that subjugates Marilyn's real life to Hollywood fantasy. Did she call all her lovers (and husbands) daddy? Probably not but this underscores the fact that her biological father was missing in her life. What about the menage a trois with two lovers? Most likely she dated these sons of famous actors at two different times. Was the JFK sex scene an outright assault and rape? No one actually knows but it was incredibly hard to watch. And so it goes. At the end, when Marilyn finds relief in death, I was simply relieved that this film was finally over. In spite of everything, Ms. de Armas manages to cope with the self-indulgent material she was given and, who knows, she might even garner an Oscar nomination for her portrayal of one of Hollywood's more complex characters. Marilyn Monroe completists will probably watch this film with bated breath but viewers who are not MMophiles will find it slow-paced and often tedious.
Blonde is streaming now on Netflix
---
Rating Certificate: NC-17 (for some sexual content)
Studios & Distributors: Plan B Entertainment | Netflix
Country: USA
Language: English
Run Time: 166 Mins.
Aspect Ratio: 1.33:1 | 2.39:1
Director: Andrew Dominik
Written By: Andrew Dominik
Release Date: 28 September 2022