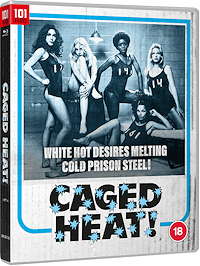 Jonathan Demme, like many great directors including Coppola, Howard, Bogdanovich, Scorsese, and Cameron, began his career working for the undisputed king of the American exploitation film genre, Roger Corman, long before he struck it big in the mainstream with films like The Silence of the Lambs and Philadelphia. With his debut, Caged Heat, Demme helmed the production for Corman as writer and director, to deliver what has gone on to become known as the quintessential women-in-prison exploitation film.
When gorgeous brunette Jacqueline (Erica Gavin, Beyond the Valley of the Dolls) is picked up by law enforcement for petty crimes, she's thrown into the penitentiary in Connorville run by the cruel and crazy, wheelchair bound female warden McQueen (Barbara Steele, Dark Shadows). She must face violent inmates and is forced to undergo torture sessions when she's falsely accused of trying to escape. After Jacqueline forms a tentative friendship with fellow inmate Maggie (Juanita Brown), they plan a real escape, but decide to come back to rescue a fellow inmate who they find out is undergoing an illegal lobotomy and being sexually assaulted by the prison's perverted doctor. Their adventure takes them on a wild and violent ride that includes a bank robbery in which the women stumble across a robbery already in progress and turn the tables the bank robbers before heading back to Connerville to rescue their friend.
Is Caged Heat any sort of great filmmaking? No, not really. It is what it is, an exploitation film meant to entice, titillate, and paint a hyper-sexualized view of sexy women together in prison. There are no depths it won't sink to, even drug-rape (think Bill Cosby), but can it also be seen as a feminist manifesto of some sort? Well, Demme's script does make the Warden a woman and put the women in the driver's seat during the breakout and ultimately, they always seem to get the upper hand. However, let's not get out of hand with this. This is meant to show sexy women behind bars and R-rated sex highlighted by violence. It delivers the goods and sets the standards for this subgenre.
The Video
Coming from a 2K scan of the original camera negative, the low budget (~$180,000)  women-in-prison exploitation flick Caged Heat looks better than it has any right to on Blu-ray. It's hardly flawless, but much of what one might take issue with in this 1.85:1 AVC 1080p encodement is inherent to the production more so than the restoration or encodement. This is a gritty looking film with lots of grain that often tips into noise, but there are some very diffuse scenes, some that look quite out of focus as well. Color looks natural with peachy hues on cheeks, a typical sort of early 1970s neo-realist look with minimal heavily stylized color timing. One can spot some source damage here and there, but it is minimal, and this mostly looks like a natural and satisfying presentation for this sort of genre film.
The Audio
The original mono audio mix for Caged Heat is supplied in LPCM 2.0 mono on this Blu-ray from 101 Films. The sound is more than satisfying and doesn't suffer from any inordinate amounts of aging issues, damage, hiss, pops, clicks, or things you'd expect to creep into low budget affairs like crackle and clipping. The midrange and low-end has good punch and if you add your subwoofer into this 2-channel mono mix it has decent heft.
The Supplements
The audio commentary with Demme, director of photography Tak Fujimoto, and actress Erica Gavin is an interesting and revelatory listen. The interview with Roger Corman is too brief, but also quite fun.
Commentary with Jonathan Demme, Tak Fujimoto, and Erica Gavin
Leonard Maltin Interviews Roger Corman (up-scaled 1080p; 00:04:58)
Theatrical Trailer (1080p)
Stills Gallery (1080p)
The Final Assessment
Hot women, sex, violence, and a very satisfying transfer for this genre-defining cult favorite. Recommended.
Caged Heat is out on Blu-ray in the UK for the first time 13th June 2022 from 101 Films
---
Rating Certificate: UK: 18
Studios & Distributors: Artists Entertainment Complex | Renegade Women Company | New World Pictures | 101 Films
Director: Jonathan Demme
Written By: Jonathan Demme
Run Time: 83 Mins.
Street Date: 13 June 2022
Aspect Ratio: 1.85:1
Video Format: AVC 1080p
Primary Audio: English LPCM 2.0 Mono
Subtitles: English SDH