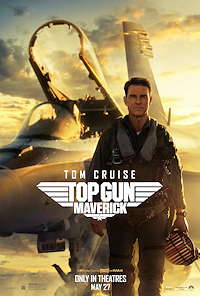 Thirty six years after the original Top Gun was on its way to becoming an iconic film in spite of its less than stellar reviews, we get a sequel in which Tom Cruise reprises the role of Captain Pete "Maverick" Mitchell, a flight instructor who avoids promotion to a desk job so he can continue testing hypersonic aircraft for the "Darkstar" project. Unfortunately, Admiral Chester Cain (Ed Harris) is on his way to shut down this program when Maverick performs his last test flight, reaching Mach 10, before ditching his jet. Thanks to long-time friend and former Top Gun classmate, Admiral Tom "Iceman" Kazansky (Val Kilmer), Maverick is transferred to North Island where he is assigned to train the next generation of Top Gun wannabes selected by Vice Admiral Beau "Cyclone" Simpson (Jon Hamm) and Rear Admiral Solomon "Warlock" Bates (Charles Parnell) to fly their jet fighters to a remote location and take out a foreign uranium-enrichment laboratory.
To accomplish this hazardous mission since the lab is at the bottom of a canyon, defended by SAM batteries and a fully-equipped airfield, Maverick must train his pilots to perform a daring flight plan that is initially nixed by two of his trainees, Lieutenants Jake "Hangman" Seresin (Glen Powell) and Bradley "Rooster" Bradshaw (Miles Teller). Further complicating matters, Rooster is the son of the late Nick "Goose" Bradshaw who died while on a training flight with Maverick and he dislikes the older pilot for delaying his application to the US Naval Academy. However, Maverick perseveres and shows the younger pilots and his superior officers how this mission could be successfully accomplished with dare-devil flying maneuvers.
Overcoming Cyclone's opposition to his tactical approach, Maverick selects his team of four pairs of young pilots and weapons officers. As their fighter jets take off from USS Theodore Roosevelt stationed near the Philippine Islands, viewers will be treated to a truly white-knuckle display of death-defying aerial stunts as the raid commences.
In many respects, Top Gun: Maverick is a better film than its predecessor, reuniting sexagenarians Cruise and Kilmer from the original cast, even if the latter's contribution is merely a cameo appearance and also a case of art imitating life due to the actor's throat cancer. Director Joseph Kosinski takes the new screenplay by Ehren Kruger, Eric Warren Singer, and Christopher McQuarrie and rapidly ramps it up to warp speed with some stunning views of the jets in action that fuel almost continual visual excitement.  Per Tom Cruise's wishes, there were no CGI or green screen effects during the flight sequences, making the contributions of the cast even more remarkable. Hardly a dialogue-driven movie, the plot element with the least interest was the trumped-up reunion and nascent romance between Maverick and former girlfriend Penny Benjamin (Jennifer Connelly), the proprietress of the Hard Deck bar, a favorite hang-out for the aviators. With no backstory to speak of, their brief encounter in Penny's bed generates zero excitement but does keep the film from exceeding its PG-13 rating.  Like the original Top Gun, as much as it stretches the credulity of the audience, this is very much the ageless Cruise's show with excellent support turned in by his foils Teller and Powell. I kept hoping we would find out where the mission's destination was located—North Korea, perhaps?—but in the end, storyline details notwithstanding, this film provides excitement for excitement's sake. If the purpose of action films is to divert their audiences from some of the less enjoyable aspects of real life, then Top Gun: Maverick more than succeeds on that account and deserves to be seen on the big screen. Highly recommended.
Top Gun: Maverick is now showing in theaters
---
Rating Certificate: PG-13 (for sequences of intense action and some strong language)
Studios & Distributors: Paramount Pictures | Skydance Media | Don Simpson/Jerry Bruckheimer Films
Country: USA
Language: English
Run Time: 131 Mins.
Aspect Ratio: 2.39:1
Director: Joseph Kosinski
Written By: Ehren Kruger | Eric Warren Singer | Christopher McQuarrie
Release Date: 27 May 2022