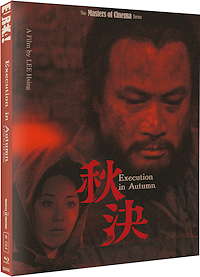 Director Lee Hsing has become known as the godfather of Taiwanese cinema. At the time of his making Execution in Autumn in 1974, serious filmmaking in Taiwan was still in its infancy.
Sharing much in common with the historical epics of Kurosawa and the elegant spectacles of the Shaw Brothers films out of Hong Kong, and the masterful works of King Hu. There's a scene early on where people are running through the forests and it very much hints at the wuxia visuals of King Hu, but this is no wuxia film. There's not a kung fu fight in sight.
Lee's film traces the story of a prisoner, Pei Gang (Ou Wei), the spoiled only son of a wealthy local family who is convicted of murdering three people, including his mistress and mother of his illegitimate son. As he awaits his execution on an unknown date in autumn, a year away, his only hope for release is his grandmother's ability to use her family's vast wealth and political connections to get him out of his bind.
Pei Gang is initially a very unsympathetic character, and Lee makes it so from the opening trial where Pei Gang gloats in front of the judge over killing the men and the unarmed woman and how he butts heads with the veteran prison guard giving off a feeling of superiority. As the film progresses, however, Lee manages the impossible and turns this boorish, entitled murderer into a sympathetic and sorry human being.
It doesn't hurt that Lee's handling of the visual aesthetics is superb, even given the tight quarters of the jail cell in which much of the film takes. Lee and cinematographer Lai Chen-ing give us lush surroundings outside the jail, atmospheric nights in the rain, and Pei Gang's family home with intricate ornamentation and beautifully nuanced use of shadows. The closeups on faces and framing of scenes, such as one where we see the camera shoot through a double set of prison bars symbolizing both the literal and societal imprisonment of its characters.
Lee Hsing would go on to do dozens more films into the early 1980s before retiring and stepping aside for such Taiwan New Wave filmmakers like Ang Lee who would define and change the nation's filmmaking business and art and finally bring it screaming into international audiences.
Execution in Autumn (1974)
The Video
Execution in Autumn is presented from a 2K restoration of the 35mm source. It arrives in a 2.35:1 AVC 1080p encodement on Blu-ray. Watching the included restoration featurette one can see what an amazing job was done to bring this film back to life, and it does look good even if it's still quite gritty and at times murky in the shadows. Still, given the rather high bitrate for a Blu-ray and the overall natural look for the grain structure, this is a good-looking transfer that doesn't suffer from DNR, softness, or edge enhancement and motion artifacts.
The Audio
The Mandarin mono mix is supplied in LPCM 2.0. This audio will not set your sound system on fire anytime soon. While the dialogue is fine and there aren't major issues with hiss or pop, louder sounds and the score does suffer from a scratchiness and clipping that is inherent to the source and perhaps unavoidable.
The Supplements
What we are missing in this Masters of Cinema release from Eureka is an audio commentary, which would really tie this whole package together. Even though we don't get that, we get a fine video essay/interview from the always informed and interesting Tony Rayns, who gives a rundown on Taiwan cinema and Lee Hsing as well as the film. In addition, we can learn even more on Lee and his films in the essay from Philip Kemp included in the booklet.
Tony Rayns on Execution in Autumn (1080p; 00:44:09)
Restoration Featurette – Before and After Demonstration (1080p; 00:05:02)
Limited-Edition O-card Slipcase
Collector's Booklet featuring new essay on the director and the film by Philip Kemp
The Final Assessment
A brilliant piece of emotional, historical melodrama that is both evocative of Hong Kong filmmaking, Japanese filmmaking, and something all its own, this is one film that perhaps many Westerners are not familiar with but should be. Eureka offers that opportunity now with this gorgeous Blu-ray on their Masters of Cinema imprint.
Execution in Autumn (Special Edition) is out on Blu-ray in the UK 20 June 2022 from Eureka Entertainment
---
Rating Certificate: UK:15
Studios & Distributors: Central Motion Pictures | Eureka Entertainment
Director: Lee Hsing
Written By: Chang Yung-Hsiang
Run Time: 99 Mins.
Street Date: 20 June 2022
Aspect Ratio: 2.35:1
Video Format: 2.35:1
Primary Audio: Mandarin LPCM 2.0 Mono
Subtitles: English