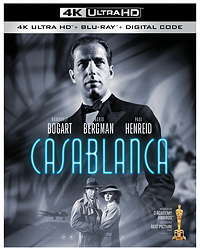 The indefinable and timeless wartime classic from director Michael Curtiz, Casablanca, was a surprise hit from Warner Bros. Today the surprise is that it was a surprise the film would be as loved and successful as it turned out to be.
First things first, the misquoted line "play it again, Sam" does not appear I this film. Now, moving on, the film is about Rick Blaine (Humphrey Bogart), a cynical American expatriate in French Morocco, running a nightclub in the early part of World War II, that acts as a sort of way station for international refugees looking to purchase illicit letters of transit which will allow them to escape to the United States. To his surprise, a lover from his past, Ilsa (Ingrid Bergman) passes through his establishment with her Czechoslovakian husband Victor Laszlo (Paul Henreid) who is on the run from the Nazis. Now Rick must decide whether he should help his old love interest, for whom he still harbors feelings, or not. Anyone familiar with the movie knows that, after some simmering romantic scenes between Bogart and Bergman and some expected anti-Nazi messaging worked into the film, we get a bittersweet ending, one the most classic in all of movie history.
Based on a play and set in a Morocco that did not really exist, Curtiz's Casablanca was a cinematic gem that blended the best of Hollywood styles, from Film noir to the lavish romance dramas like It Happened One Night. The infinitely quotable screenplay ("Of all the gin joints, in all the towns, in all the world, she walks into mine.") yields a number of standout performances from Humphrey Bogart, Ingrid Bergman, and Claude Rains as the corrupt yet amiable French Captain Louis Renault.
What started production as a film that was almost an afterthought at Warner Bros. is now one of the most the most perfect films ever produced and is always magical when watched. "Play it once, Sam. For old times' sake."

The Video
For this new 4K Ultra HD release of Casablanca the image was restored and remastered from a 2022 4K 16-bit film scan of the best-surviving nitrate film elements. It comes with a 1.37:1 HEVC 2160p (4K UHD) HDR10 encodement. This is without question the best-looking release to date of this film on home video, and there have been at least two earlier restorations on Blu-ray. The first thing you will notice is the film grain structure looks a more natural on this release even if there are some scenes that look a little bit on the smooth side. Overall, however, this looks very organic and detailed. The HDR10, which has a metadata reading of a MaxLL of 760 nits and a MaxFALL of 39 nits, offers an extended amount of contrast in the rich, black and white, almost noir, cinematography and good 'pop' in specular highlights in lights, flames in cigarette lighters, and the lights on the front of Rick's caffe.
The Audio
Casablanca hits 4K Ultra HD with its original monaural soundtrack supplied in lossless English DTS-HD Master Audio 2.0 and various dubs. The English DTS-HD MA track sounds about as good as can be, given the age and technologies of the time. It supplies clean dialogue with little noise and the score comes through cleanly as well.
The Supplements
There are no new supplements included in this release, but what is included is still interesting for anyone who has not already seen these bonus features. I particularly like the Merry Melodies and Looney Tunes animated shorts, perhaps that is just the kid in me.
Introduction by Lauren Bacall (1080p; 00:02:09)
Commentary by Roger Ebert
Commentary by Rudy Behlmer
Warner Night at the Movies (SD)*:

Now, Voyager Theatrical Trailer (00:02:19)
Newsreel (00:04:36)
Vaudeville Days (00:20:18)
The Bird Came C.O.D. (00:07:43) – Merrie Melodies animated short
The Squawkin' Hawk (00:06:41) — Merrie Melodies animated short
*The Dover Boys at Pimento University (1080p; 00:08:58) — Merrie Melodies animated short

Behind the Story:

Great Performances: Bacall on Bogart (SD; 01:23:27)
Michael Curtiz: The Greatest Director You Never Heard Of (1080p; 00:37:20)
Casablanca: An Unlikely Classic (1080p; 00:34:59)
You Must Remember This: A Tribute to Casablanca (SD; 00:34:38)
As Time Goes By: The Children Remember (SD; 00:06:45)

Additional Footage:

Deleted Scenes (SD; 00:01:40)
Outtakes (SD; 00:04:58)
Who Holds Tomorrow? (SD; 00:18:37)
Carrotblanca (SD; 00:08:02) – Looney Tunes
The Final Assessment
A timeless classic, always enjoyable to watch, infinitely quotable, and now looking better than it ever has on home video in this beautiful 4K Ultra HD release from Warner Bros. Highly recommended.
Casablanca is out on 4K Ultra HD Combo November 8, 2022 from Warner Bros.

---
Rating Certificate: PG (for mild violence)
Studios & Distributors: Warner Bros. | Warner Home Video
Director: Michael Curtiz
Written By: Julius J. Epstein (screenplay) | Philip G. Epstein (screenplay) | Howard Koch (screenplay) | Murray Burnett (play) | Joan Alison (play)
Run Time: 102 Mins.
Street Date: 8 November 2022
Aspect Ratio: 1.37:1
Video Format: HEVC 2160p (4K UHD)
HDR Format: HDR10
HDR10 Metadata:

MaxLL: 760 nits
MaxFALL: 39 nits

Primary Audio: English DTS-HD MA 2.0
Secondary Audio: French DD 1.0 | German DD 1.0 | Italian DD 1.0 | Spanish (Castilian) DD 1.0 | Spanish (Latino) DD 2.0 Mono | Mandarin DD 2.0 Mono | Czech DD 1.0 | Hungarian DD 1.0 | Polish Lektor DD 1.0
Subtitles: English SDH | German SDH | Spanish (Castilian) |Spanish (Latino) | Chinese (Traditional) | Chinese (Simplified) | Korean | Czech | Polish | French | Italian SDH | Dutch | Hungarian | Romanian