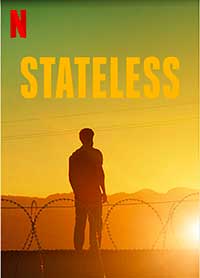 The Australian limited series Stateless was "inspired by true events," i.e., the case of Cornelia Rau, an Australian permanent resident working as a flight attendant before being diagnosed with schizophrenia and later unjustly detained by the Department of Immigration and Multicultural and Indigenous Affairs (DIMIA) for ten months. This limited series' storyline focuses on four people who at a DIMIA detention center: Sofie Werner (Ivonne Strahovski) a former flight attendant; Cam Sandford (Jai Courtney) a detention center guard; Afghan refugee Ameer (Faysaal Bazzi); Clare Kowitz (Asher Keddie), the center's new general manager.
Stateless open with Sofie's gradual descent into madness as she bombs out at the dance contest held by GOPA, a cult run by Gordon Masters (Dominic West) and his wife Pat (Cate Blanchett). Sofie quits her job as a flight attendant and assumes the identity of a German tourist, Eva Hoffmann, whose passport she has stolen (and later chucked into the bay).  In the process of hitching her way through Australia, she is picked up by local police and when she cannot produce any identification, is taken to the Barton DIMIA center. Her frantic sister Margot (Marta Dusseldorp) goes all out and against staggering odd thanks to DIMIA to find out if the "Eva" at Barton is her missing Sofie.
Ameer's story is much more tragic. His efforts to send his family on a boat to Australia are nearly thwarted until he finally gets his wife Najeeba (Saajeda Saama) and daughters Mina (Soraya Heidari) and Sadiqa (Ilaha Raheemi) on board. Ameer is nearly beaten to death before getting passage on another vessel.  He arrives at Barton as undocumented noncitizen (UNC) where Mina has been housed only to find out from his daughter that Najeeba and Sadiqa had drowned during their voyage. After being drugged by the center's nurses, he recovers and becomes a model inmate to improve his chances at getting a visa.
[envira-album id="124210″]
Cam's new job as a contractor with the Korvo company boosts his income enough to buy a better house with a pool for his family to enjoy. Unfortunately, he must deal with the deplorable conditions for the refugees housed at Barton, as well as the brutality of assistant superintendent Harriett (Rachel House). His malaise spills over into his family life and puts him at odds with his older sister Janice (Kate Box) who organizes daily "freedom" demonstrations outside the gates of the compound.
The final arrival, Clare finds conditions at Barton to be far worse than she expected and her Draconian measures to restore law and order only incite more rioting and fuel a brief escape by Sofie, Javad (Phoenix Raei), and three other refugees. Her old acquaintance, investigative journalist David Meakin (Dan Spielman), is staying at the same motel as Clare and seeks the sensationalist story that will blow the lid off of Barton.
Netflix does a fine job of cherry-picking the Aussie network's line-up, and Stateless proves to be no exception. The mostly Australian cast is first-rate, and the sweeping panoramic views of the Outback will encourage viewers to consider taking a trip to the Down Under.  Yvonne Strahovski's embodiment of a young woman who is losing her grip on reality is simply stunning while Faysaal Bazzi will tug at your heartstrings as his Ameer hopes against hope that he and his daughter will be allowed to stay in Australia. I have appreciated the previous efforts of directors Emma Freeman (Glitch, Secret City) and Jocelyn Moorhouse (The Dressmaker) and they both bring their respective A-games to this project.  While Stateless was never intended to be an easy watch, given the grim nature of its subject matter, what emerges over its six episodes is a deeply moving and realistic portrayal of life in an internment camp and the unabashed hopelessness of many of its residents. This is an absolute must-see series and highly recommended.
Stateless is streaming now in its entirety on Netflix
[youtube https://www.youtube.com/watch?v=C-Xep8pU_J0&w=853&h=480]
---
The Creative Content: 4.0/5
Show Creators: Tony Ayres | Cate Blanchett | Elise McCredie
Original Release Date: 8 July 2020
Streaming Service: Netflix
Ep. Run Time: 60 Mins.
No. Eps.: 6
Studios & Distributors: Screen Australia | The Australian Broadcasting Corporation | The South Australian Film Corporation | Dirty FilmsMatchbox Pictures | Netflix
Rating Certificate: TV-MA