Classé Sigma-Amp5 Five-Channel Amplifier

Classé Audio has always made top-flight stereo amplifiers and, more recently has started to design and manufacture home theater components. Following the introduction of behemoth five-channel Class AB amplifiers, the CA-5300 and CT-5300, Classé has produced the more energy-efficient multichannel Class D amplifiers as reflected by its Sigma-Amp5 amplifier

The Amp5 Arrives

Being accustomed to needing help when hoisting high-powered amplifiers out of their shipping cartons, I was mighty relieved to find that the Sigma-Amp5 tilted the beams at less than twenty-five pounds! Like its companion piece, the Sigma-SSP surround preamplifier/processor (with which it was mated during this review), the front panel is quite Spartan, sporting only a standby button that changes from red to blue when powered on and the Classé logo. An included rack mount kit is also an integral part of the unit's design.

The rear panel is busier. At the top left is a USB port for firmware upgrades, an RS-232 control port, CAN-Bus control ports for linking to other Classé components, mini-jacks for IR input and output and DC trigger input and output. Below are a fuse holder, power cord receptacle, a pair of balanced inputs and single-ended inputs and three more single-ended inputs for the remaining channels. On the right are five-way binding posts for each channel. The CAN-bus connection links  other Classé components for operation and displaying status, but this feature was not activated on my review sample.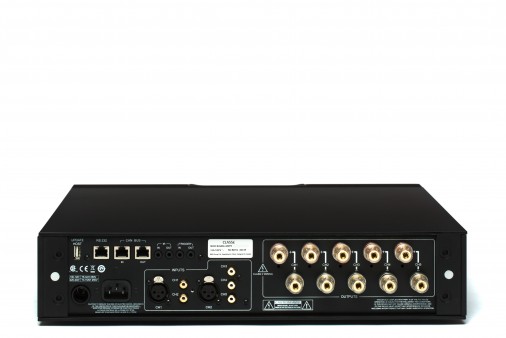 The choice of Class D or switching amplification allows the Sigma-Amp5 to generate a lot of power without generating a lot of heat. For most home theater systems, this is more than enough wattage to drive five conventional speakers and reduces the concerns about placement or ventilation fans. While Class D amplifiers have long been used in lower fidelity applications such as automobile sound systems, they have gradually migrated into high-end audio components such as powered subwoofers and stand-alone two-channel and multichannel amplifiers. The past decade has seen a tremendous improvement in audio performance and many companies that manufacture audiophile-grade equipment have at least one Class D amplifier in their product line.

The Sigma-Amp5 gets turned on

As noted above, I coupled this amplifier with its matching Sigma-SSP pre/pro since it is obvious that this was Classé's intent when these components were designed and manufactured. An Oppo BDP-105 delivered all of the audio content that put this amplifier through its paces. The surround speaker system consisted of Martin Logan ESLs (CLX front speakers, Stage X center channel, and EFX surround speakers) and a pair of powered subwoofers, the Balanced Force 212s.
I started with audio-only sources, as Classé's long-stated goal has to deliver great sound. After about 100 hours of break-in time, a number of Pure Audio Blu-ray discs began my listening sessions. These discs included Ravel's Orchestral Works (Tacet) with a pulse-pounding rendition of Bolero by the Netherlands Philharmonic Orchestra in true surround sound. The Los Angeles Percussion Quartet's multichannel disc, The Year Before Yesterday (Sono Luminus) followed. The presentation of the overtones and dynamics of the multiple percussion instruments- drums, vibraphones, chimes and others- was sensational.
Two-channel recordings were also used to demonstrate the increase in power (up to 400 watts per channel) when the other channels are turned off. Piano recordings, because of their wide dynamic range and tonal spectrum, provide real challenges for all of the elements in the audio chain, particularly amplifiers. In this case, Joel Fan's West of the Sun (Reference Recordings) on a DVD-R (176.4kHz/24-bit, WAV) is a powerhouse disc that can make lesser power plants run out of gas and audibly clip. No problem here, as I got the distinct impression that the Sigma-Amp5 was continuing to tell me "just bring it on."
Of course, home theater fans really want to watch lots of movies and a number of them have really good soundtracks. Starting with the recent Blu-ray releases of Unbroken and Into The Woods, I got a real sense of what this compact amplifier could deliver. There were simply oodles of soundstage with excellent presentation of the orchestral scores and audio effects. To put the frosting on the audio cake, I turned to a VUDU-streamed Interstellar. Its Dolby Digital Plus 5.1 surround soundtrack, while lossy, has some spectacular surround channel effects. I cranked the volume up to higher than usual and never felt that the Amp5 was the least bit strained.

Class D gets an A

During extensive listening sessions, I was continually impressed by the clear power of the Sigma-Amp5. There was none of the harshness of the previous generation Class D amplifiers and had I not known that this was not a conventional Class AB amplifier, I would have been completely fooled.  Clearly, Classé has done its homework and, true to its well-established tradition, has released a product that easily meets its own high audio standards.

The Good
Excellent construction values
Plenty of power
Runs very cool
The Bad
The Scorecard:
Design/Ergonomics:
[Rating:4.5/5]
Performance:
[Rating:4.5/5]
Value:
[Rating:4/5]
Overall:
[Rating:4.5/5]
The Definitive Word

The Classé Sigma-Amp5 five-channel is, simply put, the last multichannel amplifier that you may ever need. Those who want seven-channel playback, an option that is becoming more common in Blu-ray soundtracks, there is a matching two-channel amplifier, the Sigma-Amp2, that can also be linked through the CAN-Bus connection. The Sigma-Amp5's cool running ensures that it will perform trouble-free for many years and will drive nearly every conventional speaker out there. Matched with the Sigma-SSP pre/pro, you will get state-of-the-art electronics that will get the most out of your audio/video library. Highly recommended.

Specifications:
Frequency response: 10Hz – 20kHz -1dB into 4Ω
Output power: 200W rms into 8Ω (all channels driven), 400W rms into 4Ω (any two channels driven)
Harmonic distortion: 0.018% @1kHz All channels, 1/8th power into 8Ω
Peak Output Voltage: 116V peak to peak, 58V rms, no load or into 8Ω
Input impedance 100kΩ Balanced/50kΩ SE
Voltage gain: 29 dB
Input level at clipping 1.4Vrms Balanced/SE
Intermodulation distortion >80 dB below fundamental into 8Ω SE
Signal-to-noise ratio: -100dB at peak output into 8Ω
Rated power consumption: 200w@ 1/8th power into 8Ω
Mains voltage: 90-264 V, 50/60 Hz
Overall dimensions: 17.0" (433 mm) x 14.57" (370 mm) x 3.75" (95 mm) (W x D x H)
Net Weight: 23 lb (10.48 kg)
More Information:
Classé Sigma-Amp5 five channel amplifier  (SRP $5000)