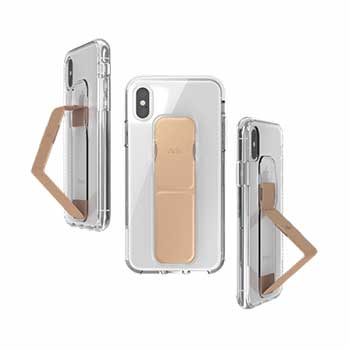 Occasionally when I see a neat new device or accessory, I ask myself: "where has this been all of my life?" And, of course, I will usually just go out and get one for myself. The ubiquity of smartphones, nearly all of us have at least one, has created some novel situations. Suppose, you want do a teleconference or make a presentation. Or, suppose you want to maintain a secure grip on those slippery little guys that have a propensity to slip out of your hand at just the wrong moment. Or, suppose you just want to make a hands-free phone call while you are performing your daily multi-tasking. SHAZAAM! here comes the CLCKR (just sound it out!) smartphone grip and universal stand all in one tidy package.
Set-Up
This is a proverbial piece of cake. There is even a brief illustrated set of directions for the technically challenged among us.  For phones with smooth backs, there is a peel-off adhesive strip that will allow for a smooth connection. CLCKR also has small (the one that I received for this review) and large (watch out for those rear-mounted cameras) versions that will accommodate virtually all of the contemporary phones on the market.
There are a host of colors available (mine came in rose gold) to match nearly every phone case color out there so fashionistas will be quite delighted when they find the compatible CLCKR for their haute-couture phone cases.
The name actually refers to the sounds the device makes when you change modes from handgrip to phone stand.
Does It Really Work?
In less than five minutes, I affixed my CLCKR to my iPhone 10, made a secure bond, and put it through its paces. Did the grip keep my hand securely attached to the phone while I made my usual gestures during a long phone conversation? Check.  Could I open the stand and get my phone securely positioned in a horizontal or vertical position? Check, check. Am I going to keep affixed to my phone? Check, check, check.
The Final Assessment
Those smartphone users who get quite animated (read: hand gestures) during their phone calls and have dropped their phones in the process will appreciate a grip that goes for $14.99 (basic version like mine) and will save them the outrageous screen replacement costs if you don't have a cellphone insurance plan. Smartphone businesspeople who use their phones as an accessory for presenting a slide show or for phone conferencing will appreciate the ability to park their phones on a desk while freeing their hands for dramatic emphasis. So what's not to like? Low price (unless you go for the high-fashion models), ease of installation, rock-solid performance. Hey, you probably paid hundreds of dollars if not more for your latest and greatest iPhone or Galaxy, so spend a few bucks more and kiss your worries goodbye. Highly recommended.
---
Pros:
Excellent build quality
Works as advertised
Cons:
So many colors to choose from
The Performance: 4.5/5
Design/Ergonomics: 4.5/5
Value: 4.5/5