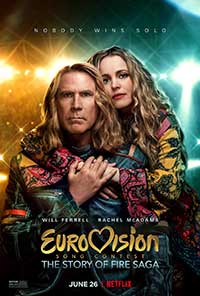 If laughter is truly the best remedy for what ails us, then look no further than the madcap Netflix comedy Eurovision Song Contest: The Story of Fire Saga, headlined by Will Ferrell as Lars Erickssong and Rachel McAdams as Sigrit Ericksdottir. These two have been best friends since childhood (Sigrit has always had a secret crush on Lars) in the little town of Husavik, Iceland, and decide to pursue a career in popular music after seeing ABBA's 1974 Eurovision winning performance on television.
It is now 2019 and Lars and Sigrit, known as Fire Saga, are playing in the local bar where the hard-drinking locals just want to hear their signature song "Jaja Ding Dong." Erick, Lars' widowed father (Pierce Brosnan), thinks that his son is frittering away his life and should just be a fisherman like the rest of the men in this small town, but Lars is obsessed with winning the Eurovision annual singing contest. He and Sigrit catch a break when the producers of the Songvakeppnin, Iceland's preliminary Eurovision contest, randomly select their entry.  Katiana (Demi Lovato) is the runaway competition winner, while Lars and Sigrit bomb out.  But when a party boat that contains all of the contestants except for our two losers blows up, Fire Saga becomes Iceland's default 2020 Eurovision entry.
[envira-album id="123894″]
Lars and Sigrit travel to Edinburgh for the 2020 contest but struggle with the new arrangement of their song and the complexity of the staging. After a disastrous rehearsal session, they go to a party at the luxurious home of Russian Alexander Lemtov (Dan Stevens), favored to win Eurovision, where they meet the other competitors. Disaster almost strikes again when Lars spends a sex-free night with Greek singer Mita (Melissanthi Mahut) while Sigrit hits the sack with Alex (who is only into other men). They reunite in time for the semi-finals that go well until Sigrit's dress tangles with Lars's human hamster wheel taking both of them down. Amazingly, they are voted into the finals. If Fire Saga wins, this will pose a serious problem for Iceland's Eurovision committee since it cannot afford to host the next year's event. What follows is a true comedy of errors, but we already know that, in the end, this being a Will Ferrell comedy, always seems to work out.
Sporting somewhat laughable Icelandic accents and blonde wigs, Ferrell and McAdams create characters enhanced by some truly over-the-top performance costumes. Crusty Pierce Brosnan provides a nice comic foil to Ferrell and McAdams who actually sing their own songs (aided by vocal mixes from Swedish singer Molly Sanden).  The fifteen-song soundtrack is one of  high points of this film as 2017 Eurovision winner Salvador Sobral and other former Eurovision contestants get in on the act.  Another bright light is the terrific on-location film footage in Iceland and Glasgow's SSE Hydro arena, the site of the Eurovision contest. Ferrell and Andrew Steele gave director David Dobkin a script loaded with physical comedy and mostly forgettable dialogue that runs a bit too long for my taste. But, hey, when Ferrell is on his game, his straight-faced comic delivery is second to none. I guarantee viewers that there will be plenty of laugh-out-loud moments and they will definitely be diverted from the gloom and doom in today's news headlines.
Eurovision Song Contest: The Story of Fire Saga is streaming now on Netflix
[youtube https://www.youtube.com/watch?v=7q6Co-nd0lM&w=752&h=423]
---
The Film: 3.0/5
Studios & Distributors: Gary Sanchez Productions | Gloria Sanchez Productions | EBU | Netflix
Rating Certificate: PG-13
Country: USA | Iceland | Scotland
Language: English | Icelandic
Run Time: 123 Mins.
Aspect Ratio: 2.35:1
Director: David Dobkin
Writers: Will Ferrell | Andrew Steele
Release Date: 26 June 2020