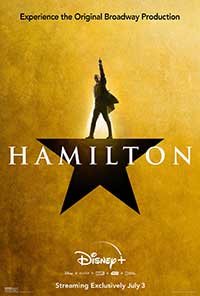 Lin-Manuel Miranda, who plays the title role and created the smash-hit Broadway musical Hamilton, must have been prescient when he had this show filmed in June 2016.  The Disney+ network bought the film rights for a planned theatrical release for October 2021, that was scuttled when the COVID-19 pandemic shut down movie theaters across the country. This resulting streaming debut fortuitously coincides with the Fourth of July weekend.
This retelling of Alexander Hamilton's relatively short life begins with his leaving the island of Nevis at age 21 to continue his education in New York.  The Revolutionary War is in full swing and this enterprising young law student works his way up the ranks of the Continental Army to become a trusted aide to General George Washington (Christopher Jackson).  He crosses paths with Aaron Burr (Leslie Odom, Jr.) who starts off as a friend but later becomes a deadly rival.
Hamilton marries Eliza Schuyler (Phillipa Soo), the daughter of a wealthy New York family, and his star continues its rapid ascent as he became President Washington's Secretary of the Treasury. However, his ideas for the Federal Bank run afoul of Secretary of State Thomas Jefferson (Daveed Diggs), James Madison (Okieriete Onaodowan), and Burr. Confronted with his earlier brief affair with the married Maria Reynolds (Jasmine Cephas Jones), rather than sweep it under the carpet,  Hamilton chooses to publicize it in his writings. This decision damages both his marriage to his long-suffering wife and any chance of holding a higher political office. Hamilton's endorsement of Jefferson in the 1800 Presidential campaign infuriates Burr who deemed himself as a viable candidate. Eventually, the two men meet in a duel, and after hamilton is killed, his posthumous stock soars while Burr is cast in the lifelong role as a villain.
[envira-album id="123856″]
I am among the many who did not get to see this original cast production when it ran at the Richard Rodgers Theater, as tickets to catch Miranda and company quickly became extremely hard to get and super expensive to boot.  Not to worry, as this televised production is blessed with Declan Quinn's superb cinematography, Thomas Kail's spot-on direction, and Andy Blakenbuehler's amazingly limber choreography. Besides Lin-Manuel Miranda's definitive portrayal of Hamilton and Leslie Odom, Jr.'s equally strong Burr, additional shout-outs go to David Diggs's dual impersonation of Marquis de Lafayette and Thomas Jefferson, Chris Jackson's Washington and Phillipa Soo and Renee Elise Goldberry as the Schuyler sisters. Jonathan Groff makes the most out of his delightful turn in the small role as the prissy King George III. Miranda's huge playlist embraces a broad range of styles from the now-expected rap numbers to hearty anthems and heart-rending ballads. Rather than being the typical Broadway musical, this show resembles L-MM's In the Heights, in its celebration of life's many arcs.
I know that there were history purists who were offended by some "revisionist" history like the deliberate omission of Hamilton's support for his in-laws who owned slaves. On the other hand, this brilliant cast of predominantly black and brown actors portraying their white counterparts is a stroke of sheer genius that elevates Hamilton above the roiling fray of racism that has dominated today's headlines. I am thankful that the Disney+ studios made the decision to enable a much larger audience to see these wonderful performers tell a story that is well worth repeating.  There has been no mention of how long Hamilton will be available to see on this streaming network, but I would recommend that viewers get it while it is hot.  Besides, at the $6.99 monthly fee, you could see this original cast production one hundred times or more and still have a much cheaper (and probably better) seat than what many paid for actual theater tickets. Highest recommendation.
Hamilton will continue to stream indefinitely on Disney+

[youtube https://www.youtube.com/watch?v=DSCKfXpAGHc&w=752&h=423]
---
The Film: 5/5
Studios & Distributors: Walt Disney Pictures | 5000 Broadway Productions, RadicalMedia, Nevis Productions, Disney+
Rating Certificate: PG-13
Country: USA
Language: English
Run Time: 160 Mins.
Aspect Ratio: 1.78:1
Director: Thomas Kail
Writer: Lin-Manuel Miranda
Original Release Date: 3 July 2020 (USA)