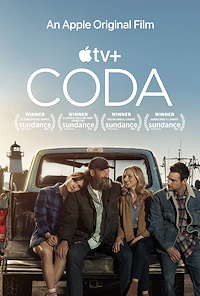 CODA refers to a "child of deaf adults." In this case, the child is high school student Ruby Rossi (Emilia Jones) whose deaf parents are Frank (Troy Kotsur) and Jackie (Marlee Matlin). Ruby works as the "ears" of her father and deaf brother Leo (Daniel Durant)who work as fishermen off the rough coast of Gloucester, Massachusetts. A turning point in young Ruby's life occurs when she has an awkward tryout for her school choir and meets music director Bernardo Villalobos aka "Mr. V" (Eugenio Derbez) who recognizes her raw vocal talent.
Seeing an opportunity to improve Ruby's singing, Mr. V takes her on as a private student, hoping that she might apply to Boston's Berklee College of Music. He next pairs her up with classmate Miles (Ferdia Walsh-Peelo), a singer and guitarist. As the two students get better acquainted, their Motown song duets improve, and some sparks fly  between them.  Frank and Leo find themselves at odds with the local fisherman's board over new and higher fees, so Frank decides to start his own fishing business, helped by Ruby as his spokesperson. This extra effort on the young girl's part gets her on Mr. V's bad side because it makes her constantly late and unprepared for her lessons.
On a day when Ruby is not aboard the Rossi fishing boat, neither Frank nor Leo hear the Coast Guard warning signals and get their fishing licenses suspended until they can find a hearing person to accompany them. Ruby decides to join the family fishing business rather than to apply to college, but Leo assures her that he and Frank can get by without her help. After Ruby stars in the school choir recital, her family takes her to Boston for the big Berklee audition that will determine if she can pursue her dream of a musical career.
It is easy to see why CODA was so well received at the 2021 Sundance Film Festival. Writer-director Sian Heder adapted the highly successful 2014 French film, La Famille Bélier, with essentially the same dramatic premise but set on the coast rather than on a farm. Going beyond the expected, Heder learned American Sign Language (ASL) and turned in a script in which nearly half of the "dialogue" is conveyed in ASL (with some laugh-out-loud subtitles).  Emilia Jones also learned ASL before filming began and took singing lessons, the end results of which were a pleasant voice but not one that I thought would be good enough to contend for a real Berklee music scholarship.  There was not enough onscreen chemistry between Jones and Walsh-Peelo to make me believe that their  relationship would endure much beyond the end credits.  The two pillars of strength in this cast, Matlin and Kotsur, did convince me that they have the true grit to succeed in their hardscrabble life.  Eugenio Derbez was perfectly cast as the hard-driving music teacher, although I wondered how he could afford a really nice house with an ocean view on a music teacher's salary!  I should also call attention to Paula Huidobro's outstanding cinematography that captures the essence of this small seaside town that was also featured in such films as Manchester by the Sea and The Perfect Storm. Any quibbles aside, CODA comes across as a feel-good film and, if the obstacles put in Ruby's path are fairly predictable and the running time is a bit long, this is still one of the most thoroughly rewarding films that I have seen this summer. Highly recommended.
CODA is now screening in movie theaters and streaming on Apple TV+
---
Rating Certificate: PG-13 (Strong sexual content and language and drug use)
Studios & Distributors: Vendome Pictures | Pathe Films | Perfect Picture Federation | Apple TV+
Country: USA
Language: English
Run Time: 151 Mins.
Aspect Ratio: 1.85:1
Director: Sian Heder
Written By: Sian Heder
Release Date: 13 August 2021