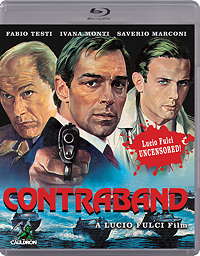 Fresh off the success of his film Zombie, director Lucio Fulci helmed this 1980 crime drama, Contraband, starring Italian film regular Fabio Testi (Letters to Juliet).
In Naples, Italy, the idealistic cigarette smuggler Luca (Testi) and his brother run afoul of a violent drug dealing gangster from France trying to take over their territory. When Luca's brother is killed during the escalating tensions, Luca finds himself aligning with the local mafia to fight back against the French mobsters – cue the bullets and body count.
Fulci does not hold back in this film, bringing in some of his signature horror style, like the practical effects and gore during the some of the most ridiculous and visceral over-the-top shootouts ever put to film. Add to this the fearlessness of the Italian stuntmen (Testi himself started his career as a stuntman in spaghetti Westerns) such as when Luca's brother is shot and takes a tumble down a cliffside, and Contraband has all the makings of an enjoyable genre classic.
Testi's performance is bit scaled back in this film. He does not rage so much as quietly seethe as well as ooze sexuality, which is a good thing in what amounts to an elevated crime/exploitation film.
The Video
This first-ever Blu-ray release of Contraband comes from a 4K restoration of the original camera negative and is framed at 1.85:1 in an AVC 1080p encodement. Having no other reference to go from, I can't personally say how this film should look, but I see some issues with the transfer like some streaking noise in some places and most problematic is the white levels that clip. Lights, clouds in the sky, light coming through windows – all these things tend to blow out and flatten the detail. Apart from these issues, we do see some decent detail in the transfer and a rich layer of grain, natural flesh tones, and good shadow detail. The elevated white levels, however, do tend to make the overall color palette look a bit washed out.
The Audio
The soundtrack for Contraband is provided in the original Italian and English dubs in LPCM 2.0 mono. The sound for either version comes with some necessary warts, unfortunately. Never mind the syncing issues that always come with these Italian productions where everything is dubbed, whether Italian or English version, but there is some distortion inherent in the source. That said, the music, which has some late 1970s Euro-disco beats, has excellent low-end punch.
The Supplements
Cauldron Films packs this release with a number of new and archival interviews and a fantastic audio commentary that really lays out a lot of information on the film's production and Fulci.
Reversible Blu-ray sleeve with alternate artwork
NEW Interview with writer Giorgio Mariuzzo (1080p; 00:13:24)
NEW Interview with actress Ivana Motti (1080p; 00:21:54)
NEW Interview with actor Saverio Marconi (1080p; 00:19:58)
NEW Interview with cinematographer Sergio Salvati (1080p; 00:17:52)
Archival interview with actor Fabrizio Jovine (1080p; 00:05:34)
Archival interview with actor Venantino Venantini (1080p; 00:05:11)
Archival interview with cinematographer Sergio Salvati (1080p; 00:05:51)
Archival Interview with composer Fabio Frizzi (1080p; 00:02:07)
NEW Audio commentary with Troy Howarth, Nathaniel Thomson, and Bruce Holecheck
Trailer – English (1080p)
Trailer –Italian (1080p)
Image Gallery (1080p; 00:04:22)
The Final Assessment
This is Lucio Fulci expanding beyond the horror territory and crafting what is almost a horror-tinged crime giallo. It may not be his most accomplished film, but it is a visceral and entertaining one. Cauldron have done a good job bringing what seems like a difficult source to Blu-ray with a strong slate of bonus features in tow. Recommended.
Contraband is out on Blu-ray November 22, 2022, from Cauldron Films
---
Rating Certificate: Not Rated
Studios & Distributors: CMR International | Primex Italiana | Cauldron Films
Director: Lucio Fulci
Written By: Lucio Fulci
Run Time: 97 Mins.
Street Date: 22 November 2022
Aspect Ratio: 1.85:1
Video Format: AVC 1080p
Primary Audio: Italian LPCM 2.0 Mono
Secondary Audio: English LPCM 2.0 Mono
Subtitles: English for Italian Audio | English SDH