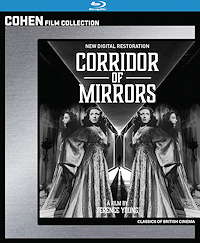 Corridor of Mirrors is a 1948 film directed by Terence Young (From Russia with Love, Dr. No). Based on a novel by Chris Massie, this film was the British film industry's attempt to mirror, no pun intended, the visual artistry and poignancy of the late 1940s French cinema.
Eric Portman plays a contemporary artist who is obsessed with the Renaissance era. He lives in a mansion he has adorned with Renaissance art; he likes to dress in the clothing of the era and be driven around in a hansom cab. When he meets the beautiful Mifanwy (Edana Romney), a married woman he makes his lover, he becomes convinced the two of them are reincarnations of lovers from the Renaissance who were once in a marriage that ended badly Mifanwy becomes caught up in the fantasy, dressing up in elaborate renaissance gowns he has made up for her behind mirrors in the titular corridor that gives the film its titles.
Terence Young infuses the film with many different elements of the era, from early film noir and gothic horror, romantic melodrama. Corridor of Mirrors doesn't ever find its footing in a particular genre, but it is fascinating to watch. Portman is pitch perfect as the unhinged artist lost in his Renaissance fantasy, but Romney, who also co-wrote the screenplay, is a bit hammy in her role. That said, it all comes back to how Young handles the camera with his high and low angles and uses the high contrast cinematography of André Thomas to create a visual masterpiece, but one with a story that seems to dither a bit too much. This film also marks the screen debut of Christopher Lee (The Lord of the Rings)
Corridor of Mirrors (1948)
The Video
This is labeled as a "new digital restoration" by Cohen Film Collection. The film dates from 1948 and is a black and white production shot on 35mm. Framed at 1.37:1, it arrives on Blu-ray in an AVC 1080p encodement. There is heavy grain and film softness, but it looks natural and there isn't a lot of processing in the image. It hasn't been made to look like it was shot in 2019 nor has it been DNRd to death. The detail extension is middling, but is more than good enough given how organic the image looks and how well it does handle blacks and contrast.
The Audio
The monaural mix is provided in English DTS-HD Master Audio 2.0. Many of the issues with this track are related to age and the technological limits of the time. The sound has been allowed to remain natural sounding, but the mastering level is quite low, requiring a big hike in volume levels to get comfortable listening levels. Hiss can be heard, but that's not surprising.
The Supplements
There are no bonus features included.
The Final Assessment
A fine effort from Terence Young and a satisfying restoration from Cohen Film Collection of this 1948 film, this one may be one that could work for a horror marathon during this season.
Corridor of Mirrors is out on Blu-ray October 18, 2021 from Cohen Film Collection
---
Rating Certificate: NR
Studios & Distributors: Apollo | Universal Pictures | Cohen Film Collection | Kino Lorber
Director: Terence Young
Written By: Christopher Massie (inspired by the novel) | Rudolph Cartier (screenplay) | Edana Romney (screenplay)
Run Time: 96 Mins.
Street Date: 19 October 2021
Aspect Ratio: 1.37:1
Video Format: AVC 1080p (B&W)
Primary Audio: English DTS-HD MA 2.0 Mono
Subtitles: English SDH