October 5, 2021. After a year and a half of a silent house and a darkened stage, New York's Metropolitan Opera has made a triumphant return with two sharply contrasting productions.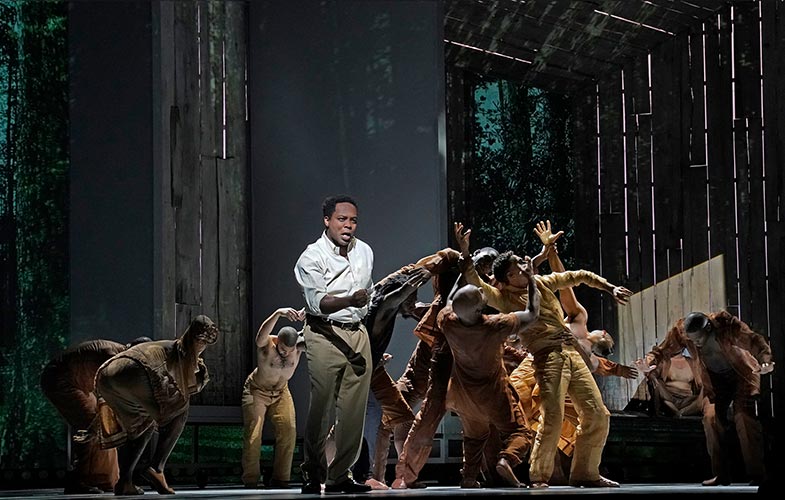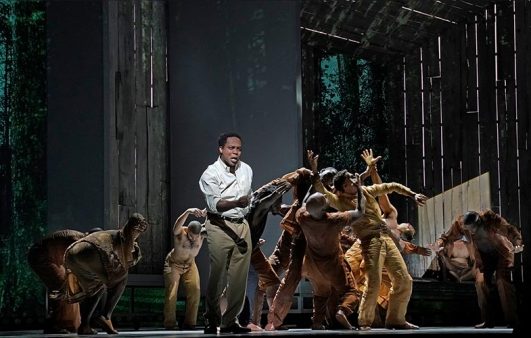 The first opera is the long-anticipated Fire Shut Up in My Bones by the celebrated jazz artist Terence Blanchard with libretto from Kasi Lemmons. After its 2019 world premiere at Opera of St. Louis, Fire was one of numerous casualties of the pandemic-cancelled 2020-21 season. But judging from what the September 28, 2021 opening night audience saw and heard, this multi-faceted musical production was well worth the long wait.  Met music director Yannick Nezhat-Sequin led a starry cast headed by baritone Will Livermore and sopranos Latonia Moore and Angela Blue in a coming-of-age story adapted from Charles M. Blow's award-winning memoir. Using a series of flashbacks that chronicle a young Black man's journey from childhood abuse to plotting his revenge as an adult—the latter deed does not happen—this is a stunning realization of the first complete opera by a Black composer ever to be staged at the Met.
Boris Godunov, the only opera completed by Russian composer Modest Mussorgsky  during his lifetime, is seen in Stephen Wadsworth's 2010 production on the Met's stage in its original 1869 seven-scene version that opened on September 29, 2021. With a running time of slightly over two hours and without an intermission, this Boris is noticeably shorter than the more commonly performed Rimsky-Korsakov revised edition.  German bass Rene Pape undertakes the title role as the troubled seventeenth-century Russian ruler whose brief reign ends with a popular uprising led by a pretender to the throne,  the monk Dmitri (David Butt Philip). There is relentless darkness in this work that is only briefly relieved by a light-hearted tavern scene featuring bass-baritone Ryan Speedo Green as the drunken monk Varlaam and a few touching moments spent with Boris's children Xenia (Erika Baikoff) and Feodor (Megan Marino). The renowned Metropolitan Opera Chorus makes its mighty presence felt during crowd scenes that are interspersed throughout the opera. Maestro Sebastian Weigle delivers a well-controlled account of what is a towering but, at times, unwieldy score.
Live in HD Broadcasts of both operas will be shown in selected theaters: Boris Godunov on October 9, 2021 and Fire Shut Up in My Bones on October 23, 2021