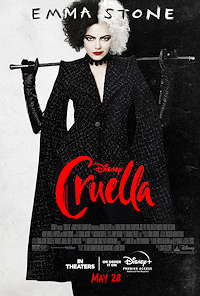 It is hard to believe that the Disney hit animated feature One Hundred and One Dalmatians first screened over sixty years ago! If you ever wondered where all of those dogs came from, you will find out in this brand-new prequel Cruella that, at least from what I saw, is aiming at an entirely new audience with its PG-13 rating. What transpires over the 134-minute running time is a tour de force duel between the two Emmas—Stone and Thompson—as haute couture rivals in 1970s London.
Estella Miller (Tipper Seifert-Cleveland) has a gift for fashion design but, like her half-black half-white hair, she is burdened with a dual personality, and it is her alter ego of "Cruella" that lands her into trouble at school. Her mother Catherine (Emily Beecham) decides to move Estella to London but a side trip to the castle of Baroness von Hellman (Thompson) changes everything. Catherine had planned to ask the wealthy widow for money but, instead, she gets pushed off a cliff by the Baroness's trio of Dalmatians.  Estella, now an orphan, hitches a ride to London and meets up with two petty thieves, Jasper (Ziggy Gardner) and Horace (Joseph McDonald). As the years pass, Estella (Stone) works on her fashion designs but the closest she gets to the fashion business is working as a night-time cleaning woman at the famous Liberty Department Store. One night, after having had too much to drink, Estella "rearranges" a fashion window display which gets the Baroness's attention.
Hired as a low-level employee of the Baroness, Estella notices that she wears a necklace that had belonged to her late mother and sends Jasper (Joel Fry) and Horace (Paul Walter Hauser) on a mission to recover it. Assuming the role of Cruella, she crashes a party thrown by the Baroness and realizes that it was the older woman's Dalmatians that caused her mother to fall to her death. Cruella becomes a thorn in the Baroness's side by wearing outrageous vintage outfits obtained from clothing store owner Artie (John McCrea) and gets publicity help from a nother childhood friend, the gossip columnist Anita Darling (Kirby Howell-Baptiste). Just for the record, the characters of the Baroness' former attorney Roger (Kayvan Novak) and Anita, his future wife, figure prominently in Disney's One Hundred and One Dalmatians.
Open warfare breaks out between the Baroness and Cruella, resulting in the jailing of Jasper and Horace, who had temporarily stolen the Dalmatians. Meanwhile, a bound Cruella is left to die in an apartment fire set by the Baroness's henchmen. John (Mark Strong) the Baroness's valet saves Cruella, and it is revealed that the Baroness is really her mother who ordered John to take baby Estella off to die. However, the Baroness's maid Catherine intervened and became Estella's new mother.  After freeing Jasper and Horace from jail, Cruella engages them and Artie in an artful high-fashion plan for revenge that will unfold at the Baroness's gala party.
This dark comedy is one of the few cinematic breaths of fresh air that I have experienced during the ongoing pandemic. Emma Thompson gives the Baroness just the right The Devil Wears Prada vibe while the other Emma is absolutely brilliant as the young Cruella who switches her two personas seemingly at will.  Her two co-conspirators, the gangling Fry and the chubby Hauser provide perfect comic foils and generate plenty of laughs during their various capers. Being a film about the fashion world, the visuals are absolutely drop-dead gorgeous as each of the respective costumes worn by the two Emmas is introduced in one lavish setting after another. Screenwriters Dana Fox and Tony McNamara give director Craig Gillespie an absolutely juicy script that his talented cast absolutely laps up. Laughable moments abound and this crime comedy, while longish, scampers along at a brisk pace.  The 60's and 70's pop song playlist provides the perfect soundtrack for a film that simply demands repeated viewings. Highly recommended.
---
If you found this article useful please consider clicking the button below and donating to help keep TheaterByte funded, which will allow us to continue posting great content.
---
Cruella is available for streaming on Disney+ with Premiere Access and screening in theaters
---
Rating Certificate: PG (for some violence and thematic elements)
Studios & Distributors: Gunn Films | Marc Platt Productions | TSG Entertainment | Walt Disney Pictures | Disney+
Country: UK | USA
Language: English
Run Time: 134 Mins.
Aspect Ratio: 1.85:1
Director: Craig Gillespie
Written By: Dana Fox | Tony McNamara
Release Date: 28 May 2021