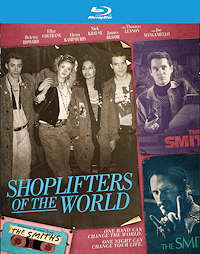 Shoplifters of the World is set in 1987 in Denver, Colorado. The band The Smiths have just broken up and a group of college-age friends, all diehard fans of the band who each feels like a misfit in his or her own way, are devastated by the news. Cleo (Helena Howard) doesn't know what she wants to do with her life, she doesn't want to end up stuck in Denver or like her mom. Billy (Nick Krause) is about to head off for the army. His best friend and Morrissey fanatic Patrick (James Bloor) is struggling with his sexuality while trying to remain celibate with girlfriend Sheila (Elena Kampouris), who really just wants to get laid and dress like Madonna without looking too much like Madonna. Meanwhile, local record store clerk Dean (Ellar Coltrane) is crushing hard on Cleo but too timid to tell her. He strikes on a master plan to get her attention – he's going to hold the DJ (Joe Manganiello) at the local heavy metal radio station hostage at gunpoint and force him to play The Smiths all night long. As one crazy night of experiences and realities plays out for the group, music of The Smiths play as the soundtrack to their confrontation of coming of age.
Shoplifters of the World, written and directed by documentary filmmaker Stephen Kijak, is an interesting concept in visual style and Kijiak certainly captures the look of the era both aesthetically in the wardrobe and the camera techniques that he chooses, which evoke the MTV Era music videos, but the film doesn't grow beyond that. It is obviously an ode to The Smiths with some caricatures built around that theme. And the cliché of every Smiths fan being an outcast in some way — gay, shy, the biracial girl – is so well worn so as not to be edgy anymore. If you like the music of The Smiths, surely there are better ways to get your fix.

Shoplifters of the World (2021)
The Video
Shoplifters of the World was shot on the Arri Alexa Mini with Zeiss Super Speed lenses in ARRIRAW at 2.8K. It comes to Blu-ray in a strong 2.39:1 AVC 1080p encodement from RLJE Films. There isn't anything to complain about with this transfer. It looks clean, crisp, and free from banding or noise but also has a filmic appearance. Detail is strong, shadow detail is nicely extended, flesh tones are natural, and depth of field is strong as well.
The Audio
The sole audio track is an English DTS-HD Master Audio 5.1 that has clean and full dialogue and serves to mostly serve up the excellent music of The Smiths with good 'punch' and dynamics. The surrounds carry mostly low-level atmospherics and the low-end extends down to the upper ranges but has good musicality for the soundtrack.
The Supplements
Two brief featurettes are included, and the titles are pretty self-explanatory. Each offers interviews with the cast and crew.
Story and Inspiration (1080p; 00:06:01)
Look and Feel (1080p; 00:05:58)
The Final Assessment
A stylish ode to The Smiths via a story of college-age kids confronting adulthood that struggles to rise above cliché and caricatures even at is does well at evoking the era. The Blu-ray is a reference picture and sound.
---
If you found this article useful please consider clicking the button below and donating to help keep TheaterByte funded, which will allow us to continue posting great content.
---
Shoplifters of the World is out on Blu-ray June 1, 2021 from RLJE Films
---
Studios & Distributors: Oscura Film (United States) | 3:59 | Untitled Entertainment | RLJE Films
Director: Stephen Kijak
Written By: Stephen Kijak | Lorianne Hall (story by)
Run Time: 90 Mins.
Street Date: 1 June 2021
Aspect Ratio: 2.39:1
Video Format: AVC 1080p
Primary Audio: English DTS-HD MA 5.1
Subtitles: English SDH | Spanish