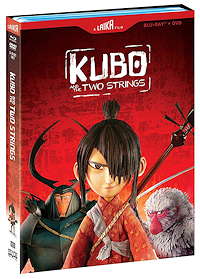 Kubo and the Two Strings is another magical stop-motion animated film from LAIKA Studios. Directed by Travis Knight, this one takes us to a fantastical ancient Japan and follows the young Kubo (voiced by Art Parkinson). Kubo ekes out a living as street performer entertaining the people of his village with his ability to tell tall tales and manipulate his paper puppets and he lives alone with his protective mother (voiced by Charlize Theron). Kubo's world is shattered when he breaks his mother's rule of never staying out past dark and he ends up summoning forces out to get him to fulfill an ancient vendetta. His mother sacrifices herself to save him and Kubo must go on the run, but not alone. In one last effort to save her son, Kubo's mother used her magic to bring to life his monkey charm (voiced by Charlize Theron). He also finds himself accompanied by the friendly and clumsy Beetle (voiced by Matthew McConaughey) as he tries to uncover the mystery of his father, supposedly the greatest samurai that ever lived, while staying on the run from the Moon King (Ralph Fiennes) and two evil twin sisters (voiced by Rooney Mara). Along his journey, Kubo must learn to to wield his magical stringed instrument to protect himself and his loved ones against those seeking to harm him.
Kubo and the Two Strings is a wonderfully realized film that takes the coming-of-age trope and thrusts it into a fantastical world, so it feels at once familiar and like a new fairytale. Kubo as a character is very sympathetic as an orphan, as a boy searching for answers about his past, and generally as a kid trying to find his voice. The voice cast starting from Parkinson and all the way through the A-list cast of Charlize Theron, Matthew McConaughey and Ralph Fiennes is superb in this film. Put together with the miraculous work of the puppeteers at LAIKA and the oversight of Travis Knight, this is a film that has wide appeal to audiences of all sorts from kids to adults, enthusiasts to cinephiles.

Kubo and the Two Strings (2016)
The Video
Shout! labels this release as "newly restored" but it's hard to tell. The original film was from 2016 and looked great. This Blu-ray, framed at 2.40:1 and encoded in AVC 1080p also looks great. The imagery is clean, and the stop-motion animation is very three-dimensional. The color reproduction and contrast add even more dimensionality to the image. The color of flames and the flash of light from Kubo's magic, for instance. There are no issues with banding or motion artifacts.
The Audio
The English DTS-HD Master Audio 5.1 mix for Kubo and the Two Strings is an aggressive yet balanced mix that puts you at the center of the action with plenty of solid sound effects panned through the surrounds, deep extension into the lower frequencies so you can feel the action sequences, and clear dialogue. The score is also sweeping, balanced nicely into the action and calmer scenes with good clarity and dynamics.
The Supplements
This LAIKA Studios Edition is loaded with new and previously issued bonus features capturing the making of the film, digging into the details of the puppets and the story.
DVD with feature and bonus features.
Commentary with director/producer Travis Knight
NEW Inside LAIKA: Confronting the Epic Challenges of Kubo and the Two Strings (1080p; 00:13:37)
NEW Inside LAIKA: Revisiting the Puppets with LAIKA's Animation Team (1080p):

Little Hanzo (00:01:53)
Monkey (00:02:01)
The Sisters (00:01:45)
Beetle (00:01:46)
Moon King (00:02:04)
Mother (00:02:12)
Kubo (00:01:59)

NEW Feature-Length Storyboards
Kubo's Journey (1080p; 00:28:26)
Corners of the Earth (1080p; 00:03:06)
The Myth of Kubo (1080p; 00:02:32)
Still Galleries (1080p):

Character Art
Concept Art
Behind the Scenes

Trailer (1080p)
The Final Assessment
A splendid film gets an equally splendid release on Blu-ray with this LAIKA Studios Edition from Shout! Factory. It looks great, sounds great, and it's packed with bonus features. Highly recommended.
Kubo and the Two Strings (LAIKA Studios Edition) is available on Blu-ray Combo September 14, 2021 from Shout! Factory
---
Rating Certificate: PG (for thematic elements, scary images, action and peril)
Studios & Distributors: Focus Features | Laika Entertainment | Shout! Factory
Director: Travis Knight
Written By: Marc Haimes (screenplay by) | Chris Butler (screenplay by) | Shannon Tindle (story by)
Run Time: 102 Mins.
Street Date: 14 September 2021
Aspect Ratio: 2.40:1
Video Format: AVC 1080p
Primary Audio: English DTS-HD MA 5.1
Secondary Audio: English DVS | Spanish DTS 5.1 | French DTS 5.1